Rated

5

out of

5
 by
redbluebird
love them
I have had the original "old" style door rack sack, and the sacks are no longer available. The container store has bags that fit, continous feed rolls & have handles on them, so very happy with the purchase.
May 4, 2014
Rated

5

out of

5
 by
bliss52
Absolutely better than the original bags!
I have had a Rack Sack trash can for over 30 years and found it harder and harder to find the replacement bags. I finally found these replacements online and have to say that they are even better than the original bags! The handles slip over the little loops on the sides of the frame and keep this keeps the top of the bag open even if overfilled. I used to have problems with the top of the bag slipping off of the lip of the frame and dumping the contents onto the floor. That never happens anymore. Please keep carrying these!
January 9, 2011
Rated

5

out of

5
 by
Sherman
Quality product
These bags are the only thing I've found that really fits my Rack Sack--plastic grocery sacks don't fit right, and tend to break easily., and other styles of garbage bags are too narrow, too short, or otherwise just don't fit right. Although buying any garbage bag seems silly (paying money to throw it away?) if you have to buy them, get one that really does the job. These bags are strong, fit the rack sack perfectly, and with the new ties, they're even more convenient. I'm really sorry to hear the Rack Sack itself has been discontinued. It was a good solution for those of us with limited options for placing a garbage pail . I've had mine for nearly 20 years and it's still going strong.
March 13, 2010
Rated

5

out of

5
 by
Bonita1
Rack Sack
We have used the Rack Sack system for many years. The bags are sturdy, and hold more than you think. I highly recommend them!
December 15, 2016
Rated

1

out of

5
 by
shaboo
very disappointing
First bags I ordered from you about a year ago were great. The bags I just ordered are next to useless. They tear easily and the handles almost always break when removing the bags. I will throw these bags out and use grocery bags instead. Probably will not buy anything from Container Store again if I cant trust its quality.
July 29, 2014
Rated

5

out of

5
 by
DJteach
Rack Sack refill
I have had a Rack Sack for at least 20 years. Loved it so much I bought several for family members. Was pleased to get refills to continue the ease of incidental trash by my sink area. My order was filled fast and efficiently. Only wish the 3 gallon original rack was still being produced - BUT grateful that the refills are. When my daughter moved, her husband failed to bring her Rack Sack with them. She has bemoaned the omission ever since.
January 28, 2014
Rated

1

out of

5
 by
curtbaney
Refill Rack Sack Plastic Bags
Bags are poor quality and although fit like the original, tend to stretch and tear quite easily. Unfortunately, I am unaware of alternatives.
December 31, 2013
Rated

5

out of

5
 by
lefty6565
Good product and good service
Easy to order and came as stated. Product meets all my expectations.
July 1, 2013
Rated

5

out of

5
 by
denthomp
One of the best
Review Text Should Be At least 50 Characters... The trash rack system is one if the best purchases I ever made. My husband was skeptical about the strength of the bags, but he got over it quickly! Even when they get overstuffed (as they often do in our home), they don't tear or leak.
June 22, 2013
Rated

5

out of

5
 by
latrellrox
Keep stinky out of sight
This is very easy to install and is great in hiding garbage out of kids and pets. Will work with any plastic bags.
April 28, 2013
Rated

5

out of

5
 by
tdoc
Works
We have been using this for many years now and it works very well in a small kitchen.
April 19, 2013
Rated

5

out of

5
 by
JDA66
Rack Sack refill bags
We recently bought a house that had a Rack Sack on the cabinet door. I still forget to use the rack sack but the bags are great and the only place I could find that sells them is Container Store.
April 4, 2013
Rated

5

out of

5
 by
DivaJewel
Sturdy Bags
Although I don't like that I have to buy custom bags for my under sink trash rack, these are great bags and I love that they have never tore or leaked despite my tendency to over stuff them...
March 13, 2013
Rated

5

out of

5
 by
james98188
Space Efficiency & Convenience
I've a smaller home so space efficiency is very important. I've had a Rack Sack system under my kitchen sink for many years and I'm just thrilled that I can still get these refills.
January 27, 2013
Rated

5

out of

5
 by
Saragee
Love my Rack N Sack
I have had a Rack N Sack for years. I keep it under my sink attached to the door. It is great for clean up and cooking prep work, as it is right there. Yes, it is not as large as a regular garbage can, but the advantage of having it by the sink while cooking far outweighs having to walk to a garbage can in a different part of the kitchen. I will say the quality of the refill bags has dropped over the years but I still would not give up my Rack N Sack.
January 9, 2013
Rated

5

out of

5
 by
grizzy88
Good product
We have two Rack Sack units. We were well pleased with one so we bought a second, one in our camper and one in the house. This purchase is for another set of Replacement bags. They work well in either unit.
October 8, 2012
Rated

5

out of

5
 by
Retired34
Handy, Dandy, Garbage Disposal
My husband installed the Rack Sack when we moved to our retirement home in 1999. He bought a case of boxes of sacks. After he passed away in 2009, I realized that I would run out. It did not happen until June this year. I ordered more on line and even though they are not the original, they are still great. Fill it up gradually. Tie it up. Toss it in the garbage. Neat. Clean. Handy.
July 20, 2012
Rated

5

out of

5
 by
Malagash
Glad to find these
These bags are great, but hard to find. So glad you stock them.
July 17, 2012
Rated

5

out of

5
 by
sgre144
Refill Rack Sack Plastic Bags
Product was exactly what was required. Is the perfect replacement bag.
April 21, 2012
Rated

5

out of

5
 by
Colm
Love This Product
I use this for recycle materials, and I recycle my grocery bags in the bin, so useful, and out of the way
February 15, 2012
Rated

5

out of

5
 by
bonniem
Good Service
I live in EL PASO, tx and there are no stores here that sell rack sacks so I have to order online and I have always gotten good service and fast delivery from you.
January 20, 2012
Rated

3

out of

5
 by
MissKittytoo
ok - but not as good as the Sunbeam ones
the Sunbeam bags that we bought last time were stronger. These are ok, but the plastic is very thin, at least at the handles, and the handles rip out easily when going to tie them off. One must be very careful and not put too much stress on them. Otherwise they work fine.
June 23, 2011
Rated

5

out of

5
 by
Winkiejane
Best kitchen trash bags!
Have used these for years and thank goodness Container Store still carries them! Can't beat 'em! They're out of sight but oh so convenient to dispose of and start anew.. Practical as can be. My latest shipment arrived as we filled the last bag on the roll!
June 4, 2011
Rated

5

out of

5
 by
cheesy
Best Purchase Ever
So happy I can still purchase 5 gal. rack sack plastic bags online at the Container Store. The stores no longer have them in stock. Like the way they tear off and each one has "handles". Big enough to hold a lot of trash and have never had one 'leak' through.
April 2, 2011
Rated

5

out of

5
 by
Scoop
Works with simplehuman bag holder
The 5-gal bag also works perfectly with the "simplehuman grocery bag can with bag holder" because the bags are sturdier and don't leak like grocery bags. Since the bags come in rolls of 100, a roll fits right in the bottom storage area. The per-bag price is the best I've been able to find.
January 6, 2011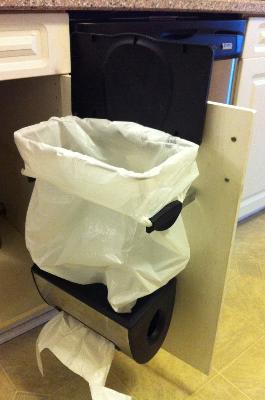 Rated

5

out of

5
 by
VAbirdwatcher
Best trash bags ever!
I've been using this product for over 30 years. Great!
November 11, 2010
Rated

5

out of

5
 by
siesta
Missed these bags
Love the behind the scene trash can and could never get these refills I had my mom send them up from FL from her local store Happy to be able to order on line Great find Great product.The thickness or guage of the plastic is a little thinner that it used to be but durable enough for what I need.
August 29, 2010
Rated

5

out of

5
 by
bowlingblue32
Great garbage can liners
I love the rack sack garbage bags. I have one of the older style holders & they are perfect. Hope they will continue to make the bags because nothing else seems to do the job!!!!
August 29, 2010
Rated

5

out of

5
 by
Milt
Terrific new trash bag
Concerned about the trash bags for my container being discontinued, I kept search for a replacement item and suddenly there it was - an even better bag with built-in ties. Two problems were solved - the bags themselves and keeping enough ties on hand. Thanks Container Store.
August 28, 2010
Rated

5

out of

5
 by
xtchr
Couldn't find it anywhere
I needed refills for my Rack Sack which requires 5 gallon refill plastic bags. The Rack Sack is no longer being manufactured in the style I have, but I really enjoy using it. The bags hold an adequate quantity, but can't be found easily. Thanks Container Store.
August 14, 2010