Rated

5

out of

5
 by
blendedlib
Does Exactly What I Need
I was looking for a container where I could mix my flax and bran and have it ready to go at meal time so I didn't have to keep opening multiple packages. The Perfect Seal Container gets the job done and the lock top keeps the mixture fresh. When the top is locked there's no chance of a spill. These are great for keeping food items fresh and secure.
September 18, 2016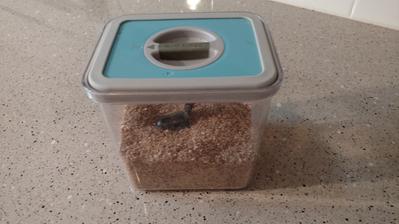 Rated

5

out of

5
 by
SML1234
Great product
I bought these canisters because the were air tight. We developed a moth problem in the pantry and I wanted canisters that were both air tight and easy to use. My kids use these canisters and I love it because they close the kids each time. They even think they are fun to use. They are a little expensive, but worth it for their ease of use in terms of locking and unlocking.
April 14, 2016
Rated

5

out of

5
 by
Tooldiva
Easy to use lid
I bought this canister to use for kitchen scraps - we keep them in the refrigerator until we take our trash to the transfer station (rural area). I love the lid design and the square shape holds a lot while not taking up too much space. I wish they came in an opaque version.
February 4, 2016
Rated

2

out of

5
 by
judymarlborough
selas aren't so perfect
i did not like this product. The seals aren't perfect. I've played with them every which way to make sure I didn't fail to turn the top to lock. First of all, even when the top is in the locked position, you can pull the lid right off. Second, it's too easy to move the handle lock if you are putting these into a crowded pantry. I had two spills with mini oyster crackers and one with cereal - - in the pantry! What a mess. I'm done. I don't recommend these.
June 28, 2014
Rated

5

out of

5
 by
Tesicat
Smart Storage!
Love these storage containers! They are great for all kinds of food and keep things fresh as well as critter free!
April 25, 2014
Rated

1

out of

5
 by
fiore
NOT Air-Tight
Ugh. They are so beautiful... so am very sad that they didn't work out. As soon as I received my order, I immediately purchased several more. Since then, I've discovered that they're not airtight. My sugar is rock hard, and now see that the lid (while in the lock position) easily pulls off. Not all of them have this problem. I'm still deciding whether to just return the defective ones, or return all of them now in case they all eventually become non-airtight. I washed them all by hand before using them the first time, and found the lids are next to impossible to get dry. If you plan to wash them often, it will get to be a pain.
March 1, 2014
Rated

1

out of

5
 by
NoraJ
adhesive residue
Re: 3.7 qt. Square Perfect SE 10059285. $14.99. I purchased this today at the Container Store in Scottsdale.The label on the front of the container does not remove. The unti has been soaking more than two hours and is still in hot, soapy water. I used an abrasive in an attempt to remove the adhesive residue. I have spent an inordinate amount of time scratching at the 2/1/2 x 3" residue.It is no longer "ultra clear" The adhesive used for the barcode/pricing and origin label on the base of the container removed with issue. Very disappointed in product.
February 22, 2014
Rated

5

out of

5
 by
tuliplady
Pantry Transformed!
Classy, neat containers --stack well. Seal tight but easy to open (unlike some where you have to pry lids off) Clear plastic ---easy to see inside.
January 24, 2014
Rated

5

out of

5
 by
PetTheBlob
Stylish and easy to use!
Love using these to store bulk items in the pantry!
November 7, 2013
Rated

5

out of

5
 by
PetTheBlob
Great for Pantry
Easy to use the locking lid and neatly display baking items like sugar, flour, etc...
November 7, 2013
Rated

4

out of

5
 by
PizzaGuy
Very good product, just 1 problem!
The container is great, very smart design with a fantastic and ingenious seal mechanism. I just wish the container was dishwasher safe! The lid is, but not the container itself!
November 6, 2013
Rated

5

out of

5
 by
Tuesdaynext
Great Containers
I have some oxo containers I really like as well but these were nice and the color matches my kitchen. They keep cookies fresh so far. very pleased.
October 29, 2013
Rated

3

out of

5
 by
DJWstl
Like them BUT. . .
I like these containers b/c they help me keep my kitchen cabinets organized. BUT can someone tell me why they put stickers (manufacturer's labels AND price tags) on these that you need who-knows-what to remove the sticky goo? Then they put cleaning instructions inside and RUBBER CEMENT them to the bottom of the the container. Takes forever to remove the stuff. Totally unnecessary. Frustrating.
August 18, 2013
Rated

3

out of

5
 by
CandyBar70
disappointed
I like their shape and that they are air tight and stackable. I don't even mind that they need to be washed by hand. However, if you get the covers wet, they have to be taken apart and are not easy to get dry.
July 24, 2013
Rated

5

out of

5
 by
DonnaB
Great Product
Love the seal-keeps even brown sugar fresh. Love the way they stack and fit my cupboard. Plan to buy as a gift soon
April 11, 2013
Rated

5

out of

5
 by
TxBreeze01
So far so good!
I bought these about 2 weeks ago. They stack GREAT! When washed the seal came off, but I was very easily able to put it back on. Love them!
March 13, 2013
Rated

5

out of

5
 by
TJELovesOrg
Thick Top, But It Works Great
I purchased 6 of these for our pantry. I use them to store opened bags of lentils, sweet chips, and opened packets of dry mixes. Leftover marshmallows as well. I love that they are clear and the seal works great. I was a little concerned that the soft bottom to the lid would prevent the seal if I packed too much into the container, but no sweat...they really work and the seal is still strong. The turn top to lock the lid is easy to manage.
February 23, 2013
Rated

4

out of

5
 by
anrada
easy to use
since i have mild arthritis i am always in search for containers which are easy to open and also airtight. this one suits my needs
February 17, 2013