Rated

4

out of

5
 by
ChocolateSugarfoot1
YOU GOT MILK!
Glass gets cold fast Wide mouth top easy to pour Nice looking bottle
January 8, 2017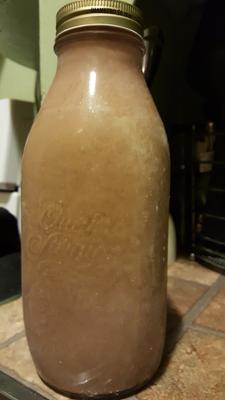 Rated

5

out of

5
 by
signora
wonderful bottles -- buy extra tops
Very handy size and weight. We always transfer milk from plastic containers to these glass bottles to keep it fresh longer. However, after a while the tops get a bit rusty, so having an extra set of tops is very helpful.
February 13, 2016
Rated

3

out of

5
 by
prochefinal
Drips, Runs, and Crusties... OH MY!
I wanted to love this bottle. I mean it, I really, really wanted to love it. I love the other items I have from the Quattro Stagioni Collection. But this one... just disappoints. I picked up several of these to keep milk and half & half in. What I learned is that there is no way to pour cleanly from this bottle. No matter how carefully I worked, I was unable to avoid drips and product running down the outside of the bottle. If you don't wipe the threads on the top (after every single use) before recapping, it will crust there virtually gluing the cap on. What I don't understand is how it seems nobody else has this problem, or at least doesn't seem to mind it. Furthermore, I can't believe that all of the bottles I purchased are defective but no one else has a defective bottle. I will probably get some use from them by using to store dried beans or pasta- or else I will donate them to charity. I do not like to just throw stuff away, especially items that are as well made as these are.
April 3, 2015
Rated

5

out of

5
 by
nanarbus
Love this retro juice jar
I'm a sucker for these jars and this brand in particular. Sturdy and very cool.
March 16, 2015
Rated

5

out of

5
 by
FlowerPower
Love This Bottle!
I use these bottles for half & half that I put in sauces, to make choco. milk with, and for a dollop in my scrambled eggs. Reminds me of days gone by when the milkman used to come to our house a couple of times per week and leave milk in bottles. Attached is a photo of how they look in my VERY well organized frig... thanks to the Container Store (you'll see other Container Store "residents" in my frig too).
July 24, 2014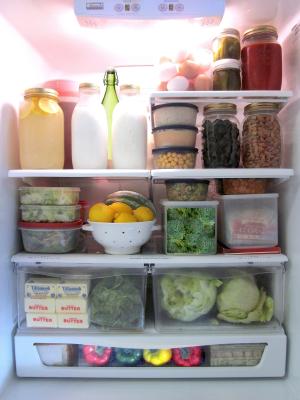 Rated

5

out of

5
 by
sandyvon
quattro stagioni bottles
got 2- to store filtered water in fridge- SO COLD!
July 4, 2014
Rated

5

out of

5
 by
Angelhiker
Just what I needed
Perfect size and shape for juices and leftover soups. Easy to handle straight out of the fridge with out the bottle being slippy with condensation. A nice addition to my collection of this brand.
June 20, 2014
Rated

5

out of

5
 by
JoeD
Exemplary Product
I use the bottles and two sizes of the jars. I can set the empty bottle on my kitchen scale, set the tare to zero, and fill with 92 grams of powdered milk for the makings of one quart of reconstituted fluid milk. Repacking partially emptied refrigerator items frees up space and lets you consider whether they should be saved or not. The containers clean easily in the dishwasher, and because they are massive in relation to plastic, they dry completely even on air dry, whereas plastic containers do not. Extra lids are a good idea. The bottle lids, for me anyway, got bent at least one time and that irregularity can cause rust to form on the inside edges of the lid. Putting your stuff in standard, see through containers helps you see the product for what it is, not for what the advertising label wants you to see. I suggest using plastic for dry foods and glass for anything liquid or that must go in the refrigerator. These will improve your life.
June 12, 2014
Rated

5

out of

5
 by
GreenGoddess
Perfect for juice!
I recently started juicing and needed something in which to store leftover juice, something large enough that I could skip a day between preparation. The search was harder than I anticipated; many glass bottles have an opening too small for a botlle-washing brush, and too small to enable the dishwasher to do a good job. At first I had settled on the straight-sided French working glasses (from the popular high end kitchen store) that come with plastic lids. What a mistake! Homade juices need to be swirled before drinking, because they settle and separate after being in the fridge for a while. The lids on the working glasses aren't tight enough; the juice easily seeps out around the lid and I always ended up with icky looking green juice all over the countertop, my hands, everywhere! Don't waste your money.... But these bottles are perfect in every way! And they're attractive! I even use them to take water with me when I go out.
May 12, 2014
Rated

5

out of

5
 by
SMEF
why did i wait
very handy and look a lot better than those plastic pitchers
March 30, 2014
Rated

5

out of

5
 by
coco47
Solved my "juicing container" problem
Love these bottles. I am now juicing my vegetables. Have digestion issues and juicing seems to be helping a lot! With the Quattro Stagioni Bottles, I get the benefit of color identification at a glance! Thanks Container Store!
March 8, 2014
Rated

5

out of

5
 by
marlee12
Great glass bottle
I love this glass bottle. I do not like drinking out of plastic even if it is BPA free. You can use these for just about any liquid.
February 23, 2014
Rated

5

out of

5
 by
brvon
LOVE LOVE LOVE THESE
These bottles are the best! My green smoothies are always so much colder when I put them in these. Love the shape of these.
September 25, 2013
Rated

5

out of

5
 by
Frankieann
Nice
These are perfect! I buy whole milk from a local farm and these jars are just what I needed to store my milk in. They are just the right size and look nice setting on the table with meals.
September 23, 2013
Rated

5

out of

5
 by
ErinOD
Great for leftover fresh juice
I am new to juicing and am finding it tricky to estimate how much juice each batch will make. So I end up with huge amounts of juice, and these bottles are great for storing the extra for when my husband comes home. Cover seals tight, bottle fits on fridge door, and wide mouth makes it easy to clean. No more open glasses of juice on the fridge shelf just waiting to be knocked over. And I believe the nutritional value of the fresh squeezed juice is best preserved when you store in it an airtight container. So all good.
September 23, 2013
Rated

5

out of

5
 by
Athene
I can USE these!
These bottles are rather like the old glass quart milk bottles, only better. The raised embossing on the sides offers a secure grip, and the well-made screw on caps are wonderful. I bought a few extra of the caps, just to guard against future loss. So far, I've used the bottles for making kefir or buttermilk, and I couldn't be more pleased. I can shake up the contents without a worry concerning drips or leakage, and I might add that I was pleased with the extra head-room too, which makes shaking, adding ice, etc. very easy. The bottles have a wide enough neck to clean well in the automatic dishwasher, although rinsing sticky residue first might be a good precaution.
September 22, 2013
Rated

5

out of

5
 by
EBR1018
Great little jar
I use this for homemade almond milk and rice milk. It's a lovely little jar. If anyone is considering purchasing it for use with pre-bottled juices, etc, I would caution you to make sure to check the the size needed. This bottle holds 1 Liter/33 ounces which is perfect for homemade milks since they need to be consumed within a few days.
July 8, 2013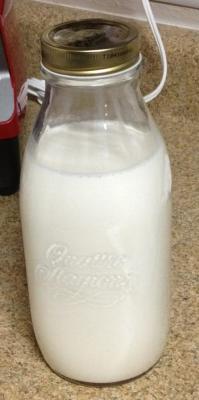 Rated

5

out of

5
 by
Baygo
Beautiful Jars
I love this jar. I only ordered one to start but will definitely order more! I keep my homemade almond milk in it. It looks lovely in the fridge. Keeps liquids colder than cartons and everything tastes better in glass anyway!
June 13, 2013
Rated

5

out of

5
 by
speedie
Makes Food Storage FUN!
Glass is just better and more environmentally friendly! Plastic containers do not hold up over time (hairline cracks at point where lid meets the container). Plastic will retain food odors no mater what the manufacturer tells you! So, after 30+ years of 1st-gen. clear plastic, I'm going back to glass for all food storage. I use these for storing beverages (OJ, milk, choc. milk) for everyday use. They're easy to hold and shake (no leaks), and look pretty in the fridge. There is a cute design on the front that makes them look even fancier. (I use CS's Glass Refrigerator Pitchers--#s10015515/6, same company, behind these for surplus beverage storage--which are used to refill these bottles as needed). For the pantry, I keep pastas, rice, and cereal in these. I use my label maker to make labels, and since these bottles are glass, it's easy to remove the labels at any time. I like that I can POUR dry foods from these into a measuring cup. The glass terrines are great, but you cannot fit a 1 cup measure through the top (even 1/2 cup isn't easy). THIS bottle is a great solution! I have more photos, but they only let you post two. For expiration dates, I use CS's Erasable Food Storage Labels (#454090). For the dry goods in the pantry, I put the label on the back. In the fridge, I put the labels on the lid. This makes cooking fun, and it's easy to find expiration dates at a glance--instead of searching in different places on various products for the date. CS sells replaceable lids, which is great, because some foods do retain a smell. The lids have a built-in silicone seal, so they seal tight and can be shaken without leaking. I keep extra lids on hand, and if I want to use the bottle for another item--just put on a new lid and I'm done. I store the lids with other product scents in plastic bags and note which item (smell) is embedded. This makes it easy to reuse the lid for a particular item. Love these bottles!
May 5, 2013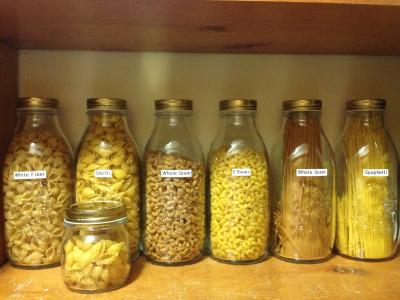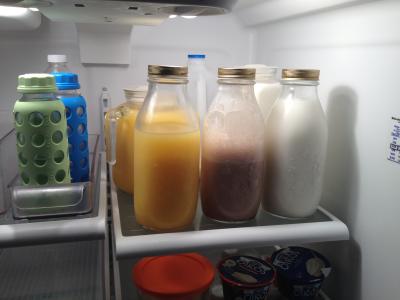 Rated

5

out of

5
 by
cainwm
Love it!
I purchased one of these in the store I was visiting. After using it for kefir, I loved it so much I ordered 3 more of them as well as the extra lids. Great product.
April 28, 2013
Rated

5

out of

5
 by
Verified Reviewer
Great Glass
I love this glass. I was looking for a glass container that I could store my infants formula in as I like to make a days worth and store in the fridge. I hate plastic and all that BPA talk and it was important for me to be very careful about what the formula was put in, as I wasn't able to breast feed. This was perfect and I loved the old time feel of it. Very stylish! Also the delivery was fast and it was packaged very carefully, which is a plus. I will for sure buy from container store again!
April 26, 2013
Rated

5

out of

5
 by
katdeu
great value, handy product
I have limited use of my hands. I had been buying milk in plastic bottles (easy open), but the milk company decided to discontinue them (isn't that what usually happens when you find a good product?#. So...I went online to look for a bottle into which I could decant my milk from those old fashioned waxed cardbord containers and found this. It also has replacable lids #great feature). It also is very inexpensive.
April 24, 2013
Rated

5

out of

5
 by
FootwearBuyer
Cute For the KItchen
I use these jars as a decorative way to store my flour/sugar. Very cute and still functional.
April 20, 2013
Rated

5

out of

5
 by
MSC9
Love this versatile bottle
So far I have used it for storing milk from the carton and Chai tea from the carton. Keeps my beverages very cold. Love it!
April 16, 2013
Rated

4

out of

5
 by
StowMom
Great bottle
The Quattro Stagioni Bottle is a great glass bottle with sealing cap. This bottle is larger than I expected, which makes it a little awkward for our purposes -- carrying iced tea to work and back. It would be great for at home juice storage. Overall, we're satisfied, and they've held up well to 3 months of regular use.
March 18, 2013
Rated

5

out of

5
 by
skunkladytoo
Quattro Stagioni Bottle
I really like the size of this bottle for putting my homemade syrups in. I can buy replacement lids at the Container Store.
March 5, 2013
Rated

5

out of

5
 by
pattysdaughter
Gotta love glass!
I purchased this glass bottle to store our half and half in. We like it because it keeps it nice and fresh!
January 1, 2013
Rated

5

out of

5
 by
annieinsf
Great for juice
This 1 liter bottle is great to keep freshly extracted juice in the fridge for the day (up to 2 days). It's air tight and a nice shape. I wish they made a 1/2 liter. I do wish it came without writing. I would love if it had nothing on it.
October 20, 2012
Rated

5

out of

5
 by
kascox
Great for Laundry products
I was tired of lifting large and heavy bottles of laundry products so I am using these pretty bottles to store laundry liquids..They are so attractive they can be left on laundry room counter and also easy to pour and handle. I bought the matching labels so I could label what was in them.
October 20, 2012
Rated

5

out of

5
 by
sfSF
Perfect for all types of food storage
Love these! I use them for storing all types of rice, pasta, dried beans, raisins, etc. They're the perfect size for food you want to have around but don't eat on a daily basis. The bottles are slender and fit next to each other neatly in our older cabinetry, making good use of vertical space. And the screw-on/off lids are well-made and easy to use.
June 5, 2012