Rated

5

out of

5
 by
LaineyMac
Simple, functional design
I just bought a second one of these pet food containers. The first one I use outdoors for bird seed and the other is in my pantry for dog food. They are airtight, so no bugs or moisture get in and no smells get out. The wheels function smoothly and the sheer plastic makes it easy to see at a glance if it's time to restock.
June 29, 2015
Rated

5

out of

5
 by
NicolePiper
Best Dog Food Bin
This is the best dog food bin I've used or come across! Best in terms of: amount of food it holds, mobility with the wheels, aesthetics, ease of opening and closing, and the price! I've had mine for a year and it is in fantastic condition. 5 stars.
April 22, 2015
Rated

5

out of

5
 by
BrownEyedBaker
For More Than Pet Food
I bought this product to store my flour and sugar. I do a ton of baking and these containers have made it easier to store my ingredients. The containers ensure my ingredients stay fresh and inaccessible to rodents, bugs, and my dogs. They also are easily moved throughout the kitchen. It's wonderful!
April 8, 2013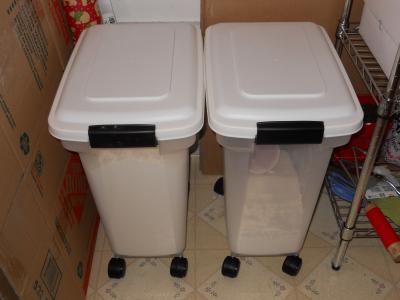 Rated

5

out of

5
 by
ShihTzuMom
Finally got the 2nd container!
My first container lasted YEARS of food for foster dogs spanning over 12 years and many foster babies. After broken wheels and duck tape I finally said "Enough.. get a new one!" So with my 25% off coupon (YEAH!) I set out to CS and got the new, larger pet food container! AND I LOVE IT!! My old one lasted a long time and feed lots of fur babies with fresh food. The new container will no doubt do the same. This is a great product and I highly recommend getting this product! I have attached a picture of the sad old container now living in retirement at an unknown location!
January 13, 2017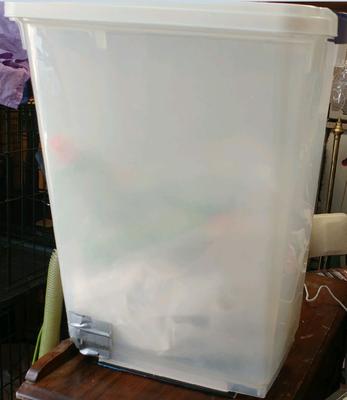 Rated

5

out of

5
 by
Ballerina
Dog insists I buy another
Bought largest container years ago: no food smell, no half-filled bags, easy to fill, mobile on sturdy wheels. Original has aged. I'm off to replace it.
January 1, 2017
Rated

5

out of

5
 by
Japhira
Great for spare bedding etc
I'm short on closet shelf space for linens etc. I find that the largest of the containers stores extra bed linens and the rollers make it handy to store in the odd spaces in my house, like my under-the-stairs closet. I just ordered some more to store my extra seasonal table linens, etc. Just roll them into the odd spaces and roll them out again. I can 'layer' them one in front of the other and still get to what I want. Fantastic!
December 20, 2016
Rated

5

out of

5
 by
QueenLLW
45 lb Pet Food Container
I love this air tight container. I am using it to store the different kinds of rice I have at home; brown rice, long grain rice, sweet rice and Sushi rice. It works perfect, it easily fits my 25 lb long grain rice and three other different kinds of rice at 10 lb each. I am very glad that I found this product at the Container Store website. Highly recommended and it's on wheels too!
December 2, 2016
Rated

5

out of

5
 by
Koketa
So convenient
Just slide and scoop your pets food! Just Love love this container!
November 22, 2016
Rated

5

out of

5
 by
TovahsMom
10+ years
We've had 3 of these containers for 10+ years. We use them to store pet food. Just now purchasing 3 more. The old ones are beat up looking so we will move them to garage for my husband to use.
November 4, 2016
Rated

5

out of

5
 by
Indigo323
You will not regret this purchase
We have now had this container for about a year. It does exactly what it's supposed to. Cannot be more pleased with this product!
October 2, 2016
Rated

5

out of

5
 by
AudreyE
Great Product
I bought this since we have 3 very large dogs & need to store 35 lbs of dog food. Since getting older & an aging back this works great, especially since it is on wheels. They were on sale & I bought 2. The 2nd one I use for ice melt. Do not want to lift heavy bags of it or heavy containers. Very pleased with both & function extremely well. I just wish the closure piece was white but otherwise a very good choice.
September 14, 2016
Rated

5

out of

5
 by
AVGardener
Excellent Pet Food Storage option
After several years of storing our large dog food bags in a tote that did not have wheels we upgraded. The wheels make moving the larger container a breeze. The sealing lid helps keep the food fresh longer. And, the whole bag fits inside, so the food isn't exposed to plastic. Wish we would have made the change long ago.
July 20, 2016
Rated

5

out of

5
 by
OPERAG
excellent pet food storage
Each of my pets requires a different type of food. With this container, I can separate and label each food - especially good when you have a pet-sittter. Because it is clear, I can manage when it's time to buy more; as you can easily see when you are getting low. Also, it helps to contain any odor of the dog or cat food. Looks nice and tidy in the laundry room. Helpful to be able to roll them around as well.
July 9, 2016
Rated

2

out of

5
 by
shaelyn
Won't Keep Out Ants
These are supposed to be air tight, but I wouldn't recommend purchasing one if you're at all concerned about bugs. I had hoped to use one for bulk food storage, but ended up with a serious ant invasion. I'd used one before and didn't have this problem, so perhaps the quality has deteriorated or this one was defective.
June 11, 2016
Rated

5

out of

5
 by
janebailey
excellent product
I use this as a trash can to deposit cat litter. I use sand so it's heavy when wet. The wheels make it easy for me to move the container around. I've had it since 2009. One of the wheels came off due to constant use. I simply reattach using super glue and it is as good as new. Highly recommended!
April 9, 2016
Rated

3

out of

5
 by
Jessiesmom
Quality Has Gone Down
I ordered two of these several years ago and am still using them. I just ordered a third, and the quality is not as good as the two I already own. One of the slots the wheels go in did not want to fit any of the wheels. It took quite some time to force a wheel in. Also, the black "snapover" to hold the lid shut doesn't want to reach over the top of the white lid, and I have to force it shut and it doesn't want to lock. Very disappointed with this item now. Like most things these days, quality has gone down but prices have not.
March 28, 2016
Rated

5

out of

5
 by
BullneseMom
It Does Exactly What It's Suppose To!
I bought this container to keep my dog's food fresh and easily accessible. It also locks in the smell of the food!
March 22, 2016
Rated

5

out of

5
 by
Tamwise
perfect
You know how when you see something on line and think it is just what you need, but you are still a bit apprehensive because you can't see it in person? That is how I was with this product. I was looking for something to store my pet's food in and be able to throw away the large bag, so I ordered this. When I received it, the box was much smaller than I anticipated, but when I opened the box, I found the perfect size product for what I needed and where I needed to put it. I was thrilled. I know, it is just a pet food container, but when something works out as well as this purchase did, you can't help but tell others. Thanks Container Store!
March 7, 2016
Rated

5

out of

5
 by
Leslie123
Great
I wanted a simple functioning tall dog food bin to replace the standard "tub-style" with a larger footprint. The 44-lb dog food bin is perfect. easy lid to use even for my 5 year old who often feeds the dog. Container Store scores once again.
February 22, 2016
Rated

5

out of

5
 by
dms01
Other use
I purchased one of these containers for something other than dog food and it was a perfect find! I didn't need a dog food container but had looked high and low for a container to hold towels outside for the pool and happened upon this. This is perfect, keeps towels dry and still available and portable. Am purchasing another one because our movers broke it when we moved from one state to another!
February 10, 2016
Rated

5

out of

5
 by
nrcook
Great option with wheels
Yes, I use this to store pet food, but I also use it to store all of my plastic grocery bags and in the garage to store lawn fertilizer. I love that it has wheels, so that is why I continually go back to this product!
January 14, 2016
Rated

5

out of

5
 by
wonka
nice
Got a couple of these a few years ago and they were great, I used one for bird seed and one for rock salt. this time I got it for the cat food. I like them because it keeps them fresh and love the rollers!!
April 30, 2015
Rated

4

out of

5
 by
Izzy2
Fantastic for Bulk Food
I am very happy with these, especially for the price! I bought these to store bulk bought flour and rice, without having to lift each bag/box each time! These do the job perfectly. Only small issue, is I do find them a little top heavy at times, so I am just careful to wheel them so they don't tip over!
March 18, 2015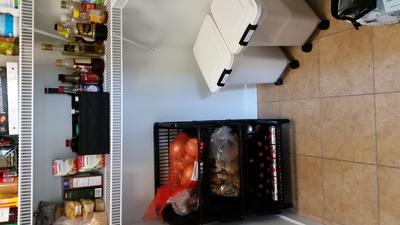 Rated

5

out of

5
 by
GraphicDesigner
Perfect for Food Storage
We have three of these 22 lb containers and we use them to store rice, flour and sugar. These are, by far, the best containers for food storage that we have found. They seal perfectly and keep all of our food fresh and dry. The wheels are easy to remove and reattach. We've moved a few times since buying these and, based on our available storage area, have sometimes used the wheels (which is great on hardwood floors) and have sometimes not (which makes them easy to stack). I highly recommend them.
March 6, 2015
Rated

3

out of

5
 by
maxhouse55
Wheels broke first day
One of the wheels broke the very first day and they cannot be replaced die to the size. These swivel casters have an odd size stem and you cannot find them anywhere. Regular swivel casters will not fit on this container because the stems are too thick. One of them cracked in half when I was installing them so I cannot use them at all. I was really looking forward to using this container on wheels because I am disabled and cannot lift it when it is full of dog food. I would even pay for a spare wheel but due to its small size they are not available anywhere.
January 15, 2015
Rated

5

out of

5
 by
Tessie67
Great storage container
I use these containers to store large amounts of birdseed. With clear container, it is easier to tell when I need to buy more. The wheels move easily even when it is full. I also bought the larger container & it is just as great'
September 1, 2014
Rated

5

out of

5
 by
Dolphinlover523
Can't go wrong!
I wish I would have bought these sooner! Excellent quality & value! This container makes feeding our dogs so much easier. We were previously feeding from the original bags, then closing them back each time by folding over & securing with chip-clips. Pain in the but. I love the hinged lid with the locking clamp and the airtight seal. The easy to install casters are a nice addition too! Money well spent & I will probably purchase more for storing other bulk items as well!
July 17, 2014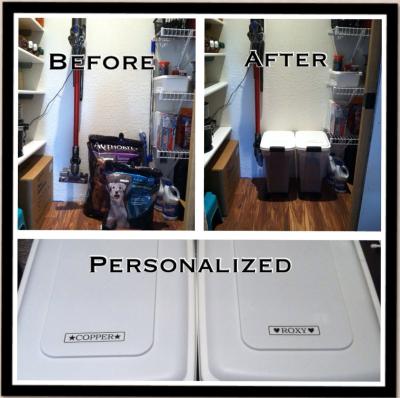 Rated

5

out of

5
 by
Dinocatlover
So Much Easier To Maneuver Than Bags!
Why didn't I think of this before? After I signed up on the website , this was offered as a suggestion! Now moving the dry cat food to wherever I want is sooo much easier. I'm using the second one to move my crochet projects from living room to balcony/patio as needed! I will purchase another one for bird seed/food!
July 7, 2014
Rated

5

out of

5
 by
CLOWE
Love this!
This is actually the third time we have bought this item. We have four dogs, and three different dog foods. These containers make it easy to store the food safely but also helps with ease of use. The wheels are great, but you don't have to use them which is awesome. I can't recommend these containers enough.
June 26, 2014
Rated

5

out of

5
 by
needlelady
goo product
very nice large capacity container. great for holding dog food, cat food and even chicken feed.
June 22, 2014