Rated

5

out of

5
 by
ContemporaryHome
Fantastic
Very nice product. Easy to stack, sturdy, holds the perfect amount for our needs (potatoes, onions, tomatoes, fruit, etc) in our pantry.
March 30, 2014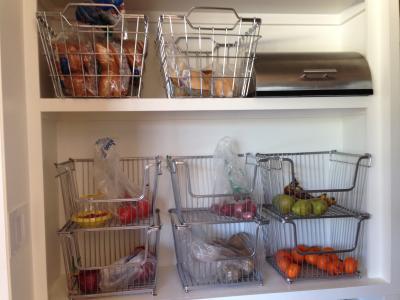 Rated

5

out of

5
 by
threeboxers
Expensive but very nice quality and work great
I echo the other reviews here - these are very nice quality and look good out on a countertop holding produce and our various bags of dog treats. We previously had a cheap looking/feeling basket and these are a real upgrade and worth the money for their versatility. A note on the bronze color for anyone wondering - it is a warm chocolate brown with a very subtle shimmer to it that looks very high quality.
May 17, 2013
Rated

5

out of

5
 by
Snab
Best veggie/fruit container ever!
I love keeping our veggies and fruits out so the kids will see them and want to eat more of them. This large york open stack basket works well with the smaller one on top when you have it out on your counter top.
March 13, 2013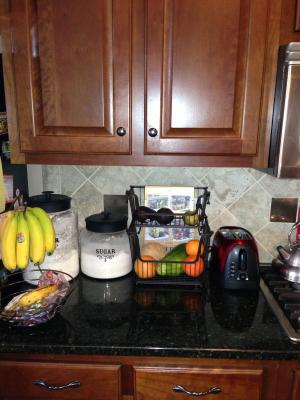 Rated

5

out of

5
 by
AnaD
Hesitant due to expense, but happy bought!
I have 3 small bronze baskets and 2 large ones. I use 4 in my pantry to organize pasta and noodles which can be a pain to find a good spot for and keep organized. I stack the smaller ones on top for smaller items that are also loose, oddly shaped or hard to stack. PERFECTION! The other one I use by my front door for gloves or things I take in and out of my purse but use regularly so they appear as neat as possible but are easy to grab and go and helps keep me from forgetting things in the morning rush. I think they are very attractive and look nice out on display.
January 24, 2017
Rated

5

out of

5
 by
zzazz
Making your pantry items easy to see and access while being organized.
December 30, 2016
Rated

5

out of

5
 by
calla49
Excellent!
Very well packaged! They are a perfect size and I can see multiple uses, so I will probably order more. Heavier duty than I expected. I love the bronze finish.
August 29, 2016
Rated

5

out of

5
 by
supersweetmia
Kid friendly organization
I bought two of these containers for a friend who's pantry I was reorganizing. I used both of them for the snacks for the kids and left them on the bottom shelf for easy access, getting stuff out and putting stuff away after grocery shopping. If you buy a lot of books snack items I would highly recommend these baskets for storage and easy access.
March 27, 2016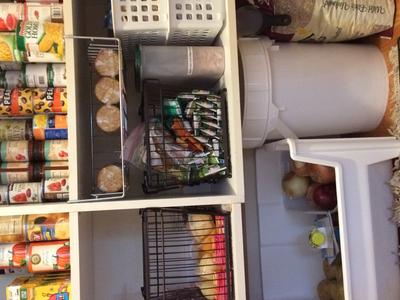 Rated

5

out of

5
 by
Labramutt
Getting to be an addiction
I have bought the large York baskets in bronze several times, and some of the smaller ones as well. Currently have 7 in my pantry and on my kitchen counter and just ordered 5 more. They can be used on the floor (the bottom is elevated enough for air circulation) or on shelves or counters, and I love the look. The fold-down handles allow you to stack other units--the same kind, the smaller basket as in the photo, or many other brands as well. A bit pricey, but great design and worth displaying. Wish there were a store in Reno! Looking forward to Sacramento opening.
January 23, 2016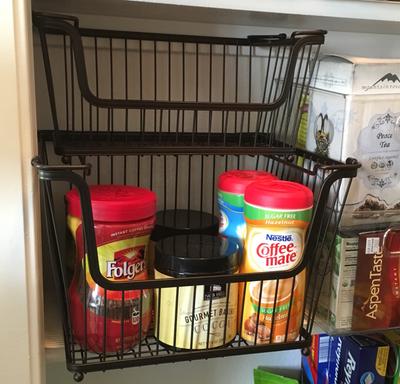 Rated

5

out of

5
 by
Trentsgal
Love these!
I'm super happy with my recent purchase! The design on these is great :) And they're just as durable as I hoped they would be. Would purchase again!
January 14, 2016
Rated

4

out of

5
 by
sulema
good purchase
Very well made, sturdy and handy,pleasing to the eye.
March 24, 2015
Rated

5

out of

5
 by
Mamagator
Great find
These baskets are perfect for my potatoes and onions. They fit perfectly under my Elfa pantry shelves and are designed to allow air flow on all sides. They are exactly what I needed.
July 9, 2014
Rated

5

out of

5
 by
minion2014
AWESOME
I bought the bronze color so we could organize our fruits on our kitchen counter, total space saver! I even bought the 2 smaller ones to organize our loafs of bread, and other dry ingredients. No more tomatoes/onions laying around everywhere.
April 10, 2014
Rated

5

out of

5
 by
DJenniferC
Excellent
Excellent and a good price compared to other stores online
April 8, 2014
Rated

5

out of

5
 by
Rice
Great!
These are great baskets for the pantry. I use it to store potatoes on my pantry floor and stack one of the smaller baskets. Its a great storage unit and I feel like you can get more out of the space!
March 12, 2014
Rated

5

out of

5
 by
PinkaliciousMOM
Useful and Nice looking
I purchased these baskets to store root vegetables on the pantry floor. Keeps them neat and organized.
March 4, 2014
Rated

5

out of

5
 by
SueLynn
Awesome Baskets
These baskets are perfect for potato's and onions. They are beautiful and very classy looking. They stack and that is a great space saver.
February 28, 2014
Rated

5

out of

5
 by
Dollhouselady
Kitchen open stack basket-best purchase!!!
I purchased 2 of these for my kitchen pantry and I just love them! I keep all my baking products in these baskets so when I'm ready to bake I just take out my basket and I have everything I need. I highly recommend them and I love the handles so you can just grab them and go!
February 23, 2014
Rated

5

out of

5
 by
fxmomma
York large open stackable basket
Love these for onions and potatoes. They sit high enough off the floor of the pantry that air can circulate.
January 28, 2014
Rated

5

out of

5
 by
Windybaker
Love them!
This is a great item for organizing. I needed something for my pantry and they work great. Very classy looking!
November 25, 2013
Rated

5

out of

5
 by
gmallen
Love the Bronze
I got the bronze one and it is beautiful. They stack well and are veyr study.
November 4, 2013
Rated

5

out of

5
 by
Mayonaze
Well worth the money
I bought these in bronze (10-15) to organize my pantry and also bought the smaller stackable ones to match. I have received so many compliments on these baskets and the look of my pantry! Makes it very easy to find things now, baskets have a very strong, sturdy feel. A little pricey, but well worth the money.
September 11, 2013
Rated

5

out of

5
 by
tvangrinsven
Large York Open Stack Basket
Exactly what I was looking for! The size is perfect for my kitchen project. Three bins being built into a pull out for potatoes, squash, onions and such.
May 3, 2013
Rated

5

out of

5
 by
Verified Reviewer
Love these!
Extremely well constructed and smart design for pantry organization. Love the open reach-in ability and the ability to stack. They are expensive, but you get what you pay for. No plastic here!
April 26, 2013
Rated

5

out of

5
 by
rjehkids
Perfect!
These baskets are great for storing onions and potatoes in my pantry. They stack perfectly with great ventilation. They are sturdy too.
April 26, 2013
Rated

5

out of

5
 by
chefschramm
Great Stacks
I love the size and stacking ability of these baskets. I use them for produce and they work perfect. They allow the air to circulate around the fruits and veggies keeping them fresher longer. These baskets could be used for numerous items.
April 15, 2013
Rated

5

out of

5
 by
BakingMema
Love these
I bought these in 2 sizes. This size is perfect for my baking supplies, chocolate chips, peanut butter chips etc. Sits easily on a shelf and easy to see what I have and easy access too.. Also stackabe so if you have room you can double them. I live in a small ski resort town so have to stock up.
April 9, 2013
Rated

4

out of

5
 by
Jonesie
Holds what I need
Not too big, not too small. Using it to hold hand towels in my commercial kitchen and it does the job perfectly.
April 9, 2013
Rated

5

out of

5
 by
AZsunny
great for produce
I bought this basket with the idea of using it for my potatoes in my pantry. It is just the right size, and allows for air circulation around and underneath it while it sits in my pantry. I liked it so much I bought a larger version of this for my onions and garlic to sit in it as well. It's a cute basket and doesn't look "cheap" like some of the other choices I saw.
March 19, 2013
Rated

5

out of

5
 by
CuttingChaos
Great looking baskets
These baskets really complete the look I was going for in my new pantry. Although I don't need them to stack I really am happy with them. Pricey but long lasting and durable.
March 18, 2013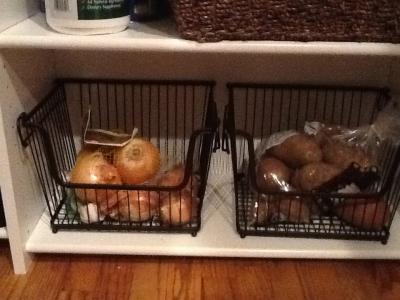 Rated

5

out of

5
 by
SunnyInCo
Form and Function
This looks great in our kitchen, stacked two on the counter under the cabinet. We put onions and sour apples in the lower basket and sweet apples and avocados in the upper one. Easy to see what we have, and quick to grab. We go through too much produce and have outgrown the bowls we used to use.
March 18, 2013