Rated

5

out of

5
 by
Makhoy
bamboo turntable
Turntable is a GREAT idea to keep spices organized in your corner cabinet (I like mine better than the extendable tiered spice organizer). Doesn't hold as many spices, but you also don't knock the front 2 row spices off every time you try to get one from the 3rd row of the tiers! Well made, too.
January 2, 2017
Rated

5

out of

5
 by
Freckles1
Wish I would have thought of this sooner!
The double bamboo turntable works great for storing my vitamins & medication. For convenience and safety precautions I'm using it on a higher shelf (eye level) of my bathroom cabinet.The taller bottles are on top and the rest of the supplements store easily on the bottom of the turntable. It looks great and now very easy to view and access. I wish I would have thought of this sooner!
August 1, 2015
Rated

5

out of

5
 by
chris66
Round and round
I just got a place with a big island between the kitchen and dining room, this is great for shared items like salt, pepper and honey
December 23, 2014
Rated

4

out of

5
 by
bluedragon
Very Nice
I had a larger double lazy susan that was white plastic. While it was nice to have the extra space, it did not have the look I wanted, which was the bamboo. I finally sorted through my spices and tossed duplicates so I purchased this item. I really like the look of it on my counter. If it was a bit bigger I'd give it 5 stars but I still feel it was an upgrade from what I had
June 1, 2014
Rated

2

out of

5
 by
HCL10
warped and crooked
I bought this in store because I couldn't find the one I actually wanted at the time. I put it together and no matter what I did, every time I tapped one peg in (with the Elfa rubber hammer no less) another peg shook loose. Then I noticed that it wasn't just that the pegs don't fit in properly, it's that the actually circles are warped and not flat. It's also not particularly sturdy, I didn't feel that I could fill it up with heavy items, and when spinning it is wobbly like items will fall right off. Even the display version in the store looked like this, so it's not just me. Today I took it out to try again and got so frustrated I took it apart. Turns out the pegs are all slightly different lengths!!! I'm returning it. It gets 2 stars because the bamboo looks pretty, but it's not worth it.
April 27, 2014
Rated

5

out of

5
 by
Creek79
Love it!
I bought this for my bathroom to keep everything off my counters. It's perfect for holding larger bottles on top like hairspray and facial lotions on the bottom. My husband and I keep all our daily stuff in one place.
April 24, 2014
Rated

4

out of

5
 by
SunnyD
I like it
This is a good product. The only reason I am giving it 4 stars is because I think it is a little flimsy. The three thin bamboo dowel rods do not fit snugly into the two main pieces. I am using it for OTC meds and vitamins and it is working ok. I just have to handle it carefully.
April 6, 2014
Rated

4

out of

5
 by
SPA1
Good organizing tool
I love this product. It assembles easily and looks good. I currently have two and am looking at other ways to use it creatively in the kitchen.
March 18, 2014
Rated

3

out of

5
 by
nancysgonegreen
double bamboo turntable
1 worked beautifully, looks good and is super. The other did not turn properly and is being returned. If you get one that works you will love it.
March 11, 2014
Rated

1

out of

5
 by
BRTC
Horrible design
This product is so bad...the sticks don't fit in the holes, its so uneven, I am bringing it back!!!!
December 30, 2013
Rated

1

out of

5
 by
framergal
not worth it
It looks good, but if the bamboo sticks don't fit in right it collapses over and over again.
October 26, 2013
Rated

4

out of

5
 by
Kayo
Makes odd cabinets work
Our new home's kitchen had some odd cabinets that were high, deep and thin. I wanted to store spices there but could not see or reach them. At the Container Store, I bought several different brands and styles of turntables, returned the ones that didn't fit as well, and bought more that did work well. Now everyone compliments me on these cabinets and I am able to find and reach what I need.
March 18, 2013
Rated

3

out of

5
 by
BeachAndie
Nice looking
I was hoping for more stability; the side are held up without any screws, so you just force the little stick in. Movement in not as good as on some of the plastic ones, but it looks good. An ultimately that is what counts if you have to look at it.
February 28, 2013
Rated

4

out of

5
 by
Mandi1979
Exactly what I needed.
I was a little trepiditious buying this because the model in the store was not level - noticebly lopsided in fact. However, I decided to try it because it was exactly what I needed for my corner cabinet. I'm glad I did. It was not at all lopsided (I think whoever put together the store model simply didn't press down hard enough on all three dowel rods). The only complaint I have is that it tends to catch if I spin it to far in one direction.
February 11, 2013
Rated

4

out of

5
 by
Suziq270
Great for price
Nice quality, wood is nice, need some muscle to get the pegs in, but after that it works wonderfully. Turns easily also. Holds more than I thought it wood.
November 4, 2012
Rated

5

out of

5
 by
BestMomEvah
Bamboo Turntablesâ¿¿Love the Spin, Love the Look!
The Bamboo Turntables transformed our medicine cabinet in our kitchen! The entire family can easily find Band-Aids, Ibuprofen, Cold Medicines, Allergy Medicines, etc., with a gentle spin! The Bamboo wood is a terrific look for the cabinets as wellâ¿¿a double win!
September 17, 2012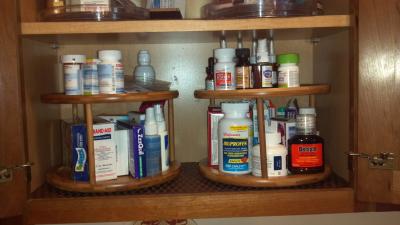 Rated

5

out of

5
 by
Mugsy
Freed up space on my kitchen counter!
This cleared up so much space on my kitchen counter! I have shallots, garlic, ginger, etc. stored in a bowl on the top level, and vitamins and supplements on the bottom level. It's so easy to spin around and find what you need quickly. It's the perfect size (not too big) and very attractive.
April 27, 2012
Rated

4

out of

5
 by
DarciD
Good for the price
I bought this turntable on sale instead of a higher priced turntable. It doesn't turn as easily as I would like. Not totally smooth. But it saves space on my counter and was inexpensive. The bamboo looks nice.
April 25, 2012
Rated

5

out of

5
 by
spicemaven
I Love it!
Great for organizing creams and perfumes on my dresser! I love the smooth bamboo finish! A cherry wood finish might be nice...:-) (hint...hint...)
April 18, 2012
Rated

5

out of

5
 by
Verified Reviewer
Simple solution for a cabinet overstock
My kitchen cabinets were in desperate need of space and I was in desperate need of easily finding my spices while cooking. This is a perfect solution for both problems. I have had mine for two years now and it is in perfect working condition.
March 19, 2012
Rated

4

out of

5
 by
Jersey0307
Easy and Durable
Quick and easy to put together and fits nicely in my narrow cabinets. Wish I could put a 3rd tier on but its ok. Also the bottom shelf doesn't allow for spice shakers of taller sizes to be put in there as easily, but you certainly can get them in.
March 10, 2012
Rated

5

out of

5
 by
pleasedcustomer
Great Product!
This product is wonderful. It is made well and completes it's purpose. It helped me organize my spices and things in my cabinet above the stove where I had little storage space.
January 9, 2012
Rated

5

out of

5
 by
debbylyn
love this for all my vitamins and meds! fits nicely in the cabinet next to the pulldown spice rack
March 11, 2011
Rated

5

out of

5
 by
Puff
Good product
I use it for the corner of my dining table. It really helps clearing up the table. Salt and pepper, pencil holder, napkin, toothpicks... they are there for easy access! love it!
October 22, 2010
Rated

5

out of

5
 by
Lelah
Glad I purchased this!
I purchased this Bamboo turntable to house my spices and it's wonderful. It's sturdy and attractive and they all fit except for one bottle that was a little oversize. I'm very happy with this purchase and would highly recommend this product!
August 27, 2010
Rated

5

out of

5
 by
Tuckerswife
bamboo lazy susan
I use this for my medications and vitamins. I keep it right on my dining table for easy access. It's perfect for my use. It's sturdy and turns very easily. I love it Careful though, It's not real big. I'd say good for spices and small items, not great for canned goods.
August 11, 2010
Rated

5

out of

5
 by
missellie
Just what I needed
After looking at several stores in Chattanooga, TN, I was unable to find a turntable for my spices that did not come with the spices. So, I decided to check the internet and found your bamboo turntable. It fits exactly in the corner of my counter tops, and is a nice addition. I wish there werre a Container Store here.
August 1, 2010
Rated

5

out of

5
 by
Hanta716
This works great for organizing all of my spices and maximizes vertical space which is important for me. No more climbing on the counter to go through looking for what I need...
May 17, 2010
Rated

4

out of

5
 by
wonderwoman
Spice Rack
I use this as a spice rack in the cabinet over the stove. Makes life much easier as I can just spin it around rather than taking everything out to find what I need.
May 4, 2010
Rated

4

out of

5
 by
Annielou
Good purchase
Nice and sturdy. Turns smoothly and easily. It holds a lot of spices.
April 15, 2010