Rated

5

out of

5
 by
ProudPreemieParent
Closet clutter = no more!
I was shopping for the Like It bricks boxes, but stumbled upon these instead. I bought 4 of them. One of these holds 6 Bath and Body Works soaps snugly so they will not fall off my shelf anymore. I have this bin, a second for my hubby's hygiene items, one for OTC medicine, and a final one for prescription medicines. Labeled them all so it is a must have for your shelf!
January 8, 2017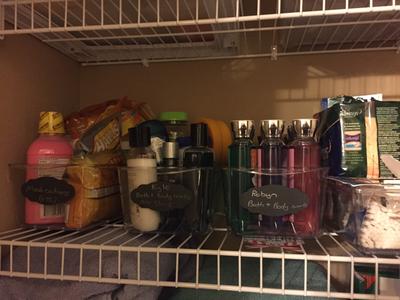 Rated

5

out of

5
 by
neatenup
great storage bin
I like these linus bins because they have a little lip that you can grasp. Good size for the bathroom and I use two to stow my rollers, brush, comb and facial wipes! Easy to see what is inside from all angles and easy to clean as well.
August 6, 2016
Rated

5

out of

5
 by
zanb
Organizes a lot of items
The Linus bins fit in 2 deep drawers in a bath vanity. It will help keep things contained and not scattered in multiple places. I bought a variety of Linus products to organize drawers, medicine cabinet and under vanity cabinets. They are study and good quality and should last a long time. One other thing the product stickers on the Linus organizers come off easily and cleanly with no sticky residue.
July 1, 2014
Rated

5

out of

5
 by
RachelG
Perfect for Drawer Storage
i purchased this to keep one of my bathroom drawers organized and love it! Rather than having a bunch of products thrown in a drawer, they're neatly positioned.
March 16, 2014
Rated

5

out of

5
 by
Wallecat
Linus Handled Bin
I bought a number of these to organize the medicines and vitamins that I keep in my kitchen cabinets. They are the perfect size to place side by side and the handle makes them easy to take down. The height is just right for items that are a little taller and they don't fall out when the containers are moved around. I will probably purchase more of these as the need arises.
October 12, 2013
Rated

5

out of

5
 by
wspi
very handy
These bins are perfect for kitchen cabinets. They help organize everything on the top shelves so small items don't get lost in the back. Bought two, will buy more!
April 2, 2013
Rated

5

out of

5
 by
UALynn
Love the Linus Handled Bins!
I use these bins for everything. I've been using some for several years and they still look like new. Sturdy and functional. I just keep buying more.
March 18, 2013
Rated

5

out of

5
 by
Rosiedog
Great storage container
I have limited cabinet space. I was looking for containers to at least give me some semblance of space to spare. I found these at my favorite store, and along with other types of container store containers, have reorganized my kitchen cabinets. Now I know what I have and where to find it. My only problem? I have more closets and no more containers! Next time, I'll get more than I think I need! I wish the nearest store was a bit closer than 50 miles away! I'd probably live there!
March 7, 2013
Rated

5

out of

5
 by
Cintia
Great bin
I purchased these bins to organize nuts and dried fruits in my kitchen cabinets and they work great. I can see how they would be great for bathroom organization as well.
February 20, 2013
Rated

5

out of

5
 by
DianaC
Great product
I bought 2 of these bins to organize items in my bathroom drawers. They are sturdy, don't chip, and feel good to the touch -- they are not flimsy. I love them. I later returned to purchase 4 more because I liked them so much. One bin I use for makeup, one has ponytail holders, one my nail polish and so on. They are great!
August 24, 2012
Rated

5

out of

5
 by
ClassicMom
Many uses - easy to see contents
I bought two of these bins for the exact purpose that is shown. They fit multiple bottles of nail polish and you can see what is inside. Easy to grab from a shelf with the handle.
July 6, 2012
Rated

5

out of

5
 by
DarbyZ
Perfect size for deep drawers
I bought 3 of these for a relatively large drawer in my bathroom. They fit perfectly and are the right size for all of my mani/pedi supplies. Strong, durable plastic - I plan on purchasing more for other drawers in my house.
May 7, 2012
Rated

5

out of

5
 by
hun21
Great product.fits in a small space,keeps things in line and visual,organized,clean,.
March 25, 2012
Rated

5

out of

5
 by
Texasflwr
Other uses
I bought several of these for the kitchen. They work great for organizing packaged mixes, gravy, taco packets, etc.
March 2, 2012
Rated

5

out of

5
 by
Tinabobina99
Totally Useful
Love the size of these, especially since they're deep enough to actually hold things up. I'm using them in the kitchen for sauce mixes and in the bathroom for holding first aid, body care, etc. Big enough to hold a lot but small enough to fit nearly anywhere.
August 27, 2011
Rated

4

out of

5
 by
mlbeal0
Great quality
These bins are very well made and completely transparent, making it easy to see what is stored in them.
December 6, 2010