Rated

5

out of

5
 by
Happy2day
Linusâ¿¢ Divided Cabinet Organizer
Great product. I purchased 2 of them and I am pleased with them. This product is sturdy and I love the clear container so I can easily see what is inside. I use one for jello and pudding boxes and the other for assorted teas. My pantry looks great with the divided cabinet organizer!
July 7, 2014
Rated

5

out of

5
 by
operation1
Really useful in pantry
I bought this item for my pantry. It works well for the loose packs of salad dressing mixes. soup mixes, etc. makes it easier to find the product you are going to get from pantry
May 9, 2014
Rated

5

out of

5
 by
Sammie214
At Last! I can see what I have!!!
I just moved from a small house to a larger one and didn't realize how many baking products I actually have - I love to bake and have been collecting supplies and ingredients without good organization due to lack of space. Now that I have a large pantry I found these hard plastic organizers at the Container Store and absolutely love them - All of my extracts are together - my food colorings aren't leaking anymore because they are organized and upright and it looks like Sprinkle City - what a collection I have! I also love the softer large plastic boxes - so many cupcake liners but all together at last! I will no longer be over buying supplies now that I can see exactly what I have in stock.
April 28, 2014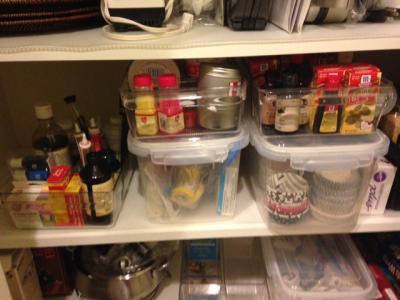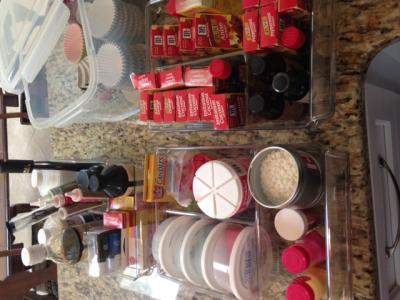 Rated

5

out of

5
 by
momof2xy
Perfect for Countertops too!
These organizers look nice enough to have out on the counter... not just tucked away in a cabinet or pantry. I love keeping my coffee add-ins organized and at-the-ready for company. Everyone can help themselves and I don't have to pull everything out when I need it. I also have an organizer on on my bathroom counter. It's nice to keep everything corralled... makes it much easier when I'm cleaning!
April 26, 2014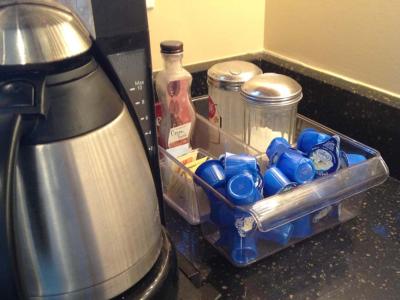 Rated

5

out of

5
 by
poppinz
love the clean, clear look of these bins
I have big deep shelves in my kitchen. Being a neat freak I am always on the look out for anything to aid me in my quest for organizing everything. These bins offer that.
May 4, 2013
Rated

5

out of

5
 by
MImom5
Great pantry organizing tool!
I purchased several of these in all available sizes to organize lunch items in my pantry and off my counters. They work great and fit everything from oatmeal packets to granola bars to extra fast food condiment packets. I lined them up across the width of each pantry shelf--I can fit 3 plus the smaller one for tea bags-- and put taller items in the back. Now everything is neat and visible. Love it!!! With 5 kids making lunches every day, I need all the help I can get staying organized. Highly recommend. Please open a store in Michigan.
April 7, 2013
Rated

5

out of

5
 by
DaphneMom
Wonderful cabinet organizer
This is the most wonderful cabinet organizer especially for those little loose items like flavorings bottles, tea bags, ingredient packets. I love mine and this little organizer is easy to lift out of the cabinet and look for that item you need and quickly return it to its neat place.
April 6, 2013
Rated

5

out of

5
 by
Twinsplus2
So many uses!
I used this to organize my over the counter medicines and samples. In the front, all of my little bottles, such as eye drops, that used to fall under bigger bottles. In the larger compartments, larger bottle such as vitamins and pain relievers. And in the other the smaller, thin boxes of allergy meds. The handle makes it easy to grab off the high shelf and I can see everything at one glance. Love this.
March 22, 2013
Rated

5

out of

5
 by
Th17
Great for book storage
I use these in my classroom to store small readers. Easy to grab and great for keeping small books organized.
February 22, 2013
Rated

5

out of

5
 by
AnneR
Need More!!!
This item is wonderful for organizing packets of hot cocoa mix, tea bags, microwave popcorn, etc. Bought two of them for my pantry and will be ordering more of them PLUS I also intend to use at least one for extra space in my refrigerator. Wonderful product, wish I had known about it sooner!
March 19, 2012
Rated

5

out of

5
 by
eepick
Absolutely love this product!
I put all of my gravy mixes, spice packets, and drink mixes in this container. It's all very easy to see and access and make my pantry look so much more organized!
November 6, 2011
Rated

5

out of

5
 by
JeninOhio
Perfect for Office Cabinets!
Bought a couple of these just to try them out... A couple was all I needed to get a problem supply cabinet at the office transformed into an organized functioning supply cabinet instead of a space where you had to dig everything out to find the supply you needed. And I know that those in my office who are vertically challenged (which seems to be everyone but me) really appreciate the handles on the front of the containers. Highly recommend this product.
February 22, 2011
Rated

5

out of

5
 by
Navymom131
Packet Holder
I use these to hold Kool Aid packets, the drink mixes you put into water, and also for pins, sequins, and other crafting materials. They fix into drawers of all sizes. I love mine.
May 8, 2010