Rated

5

out of

5
 by
ABBoston
So useful
I live in a studio where space is scarce. Where to easily store the various boxes of wrap(tin, plastic, etc) was always a challenge. The wrap organizer makes the wrap easily accessible without a lot of the previous rummaging.
March 25, 2016
Rated

4

out of

5
 by
Princess78
Keeps Everything Tidy And Accessible
Before I had this I had all of my wraps and boxes of bags stacked on top of each other. When I would take one thing out everything would fall. This keeps everything in its own spot. It makes life a little easier. I was also able to put sandwich and snack bags on it.
January 16, 2016
Rated

4

out of

5
 by
CutieCupcake33
Saves Space
I was surprised at how much smaller this organizer is in person. It really is meant for the narrower boxes of kitchen wrap, but I wanted to use it for plastic lunch bags and garbage bags. Those boxes are slightly wider, however they do fit if I put them on the top rack of the organizer. This little organizer really is a space saver. It can now hide under my kitchen sink--the only other place the kitchen wrap worked was in my kitchen drawer, taking up precious space! This has definitely eased my mind, and in the future I just might buy smaller boxes for plastic bags so they fit better, but it still works fine for now!
January 2, 2016
Rated

4

out of

5
 by
tidytink
keeps those boxes under control
I finally have those boxes in 1 place on the shelf not sliding all over
March 28, 2015
Rated

5

out of

5
 by
nancykey114
Amazing
Great way to clear out that wasted space in the cabinet. I have so much to store, so little room. This was a great answer. I'm about to order a second one. Thanks!
January 31, 2015
Rated

5

out of

5
 by
Reviewraven
Nice!
I was very skeptical about this, but this does the job, easy to use. The middle parts could have more space, but if you're using it the way the picture shows, it really does help!
December 26, 2014
Rated

5

out of

5
 by
Wetumpkalady
Great item
Love this item. great for storage of the different wraps. Now they don't fall all over the place.
December 6, 2014
Rated

5

out of

5
 by
radiovan
Works Great - Stopped Avalanche of Wrap Boxes
Every time I opened the cabinet to get some plastic wrap or foil some of the boxes would slide out on the floor. When I saw this organizer I knew it would solve the problem. In the process of reorganizing our most used wraps I found multiple boxes of plastic sandwich bags I didn't know we had. This works best for the foot-long boxes of foil, wax paper and plastic wrap. We stacked 3 of the short boxes of sandwich bags next to this organizer.
August 27, 2014
Rated

3

out of

5
 by
Mamagator
Not quite what I expected.
I was hoping for an organizer that would hold up to nine rolls of wraps. This product would if everything was the size of a small roll of aluminum foil. However it will not hold the larger size boxes of plastic wrap or sandwich bags. It is the first thing I have been disappointed in from The Container Store. If you only use small rolls it would work.
July 29, 2014
Rated

1

out of

5
 by
copilot25
Would not purchase again
This product is not as sturdy as pictured. The cardboard divided box that I was using works better than this product.
July 19, 2014
Rated

4

out of

5
 by
MadgeM
Fills a need
This product is helpful in organizing the piles of wrap boxes we all seem to have in the pantry, but it doesn't have a lot of flexibility as to sizes of boxes, and could be more size options. It only holds 6 boxes if they are the smallest size roll or if there is a lot of space above the unit. The shelves don't go all the way across, so boxes can tilt down into the lower compartment. I would have liked an option that was a bit wider, and with only one shelf above the base, to contain four boxes of larger size rolls.
May 31, 2014
Rated

4

out of

5
 by
amywynn
Good Product
This shelf does exactly what it says it will do. Good product.
May 4, 2014
Rated

5

out of

5
 by
Hannah10
fantastic!
This product was extremely helpful in organizing my foil, plastic wrap, and wax paper. It saves space in the pantry and makes it easier to find what I need without knocking everything else over.
April 27, 2014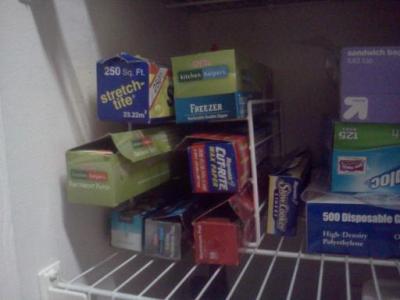 Rated

5

out of

5
 by
melialaba
Excellent solution for pantry chaos
This item makes your pantry look awesome. It keeps all your kitchen wraps organized, and looking neat.
April 21, 2014
Rated

5

out of

5
 by
AnneN
Nothing like it!
I purchased 2 and that was plenty to organize all the wraps and plastic bags. I placed them on the bottom shelf of my pantry which works out perfect.
February 22, 2014
Rated

5

out of

5
 by
cactusflower1
Perfect
I wanted something to keep my foil wraps and freezer papers from ending up all over the shelf. This works great for us since we dont have an actual pantry. We are using a large shelf that has too much room for our items. This keeps the boxes neat and in the same spot.
February 4, 2014
Rated

5

out of

5
 by
Tea845
Simple solution!
This organizer was extremely helpful! I bought two, and they fit side by side. I had been looking for a solution to store all my foils , wraps and boxes of bags under the sink for a long time. It all fit so neatly! I will definitely look to The Container Store for future projects!
February 3, 2014
Rated

4

out of

5
 by
Kandee
my organizer
Well my husband was very surprised when he went into the cabinet, at least nothing was falling over!
February 1, 2014
Rated

5

out of

5
 by
Taichi12
Excellent
This is a terrific organizer. Everything is visible and easily accessible. 2 are enough for me, but if I needed more I would definitely purchase again.
January 18, 2014
Rated

3

out of

5
 by
AnnieE
Fine if it is your only option
If you have to store your kitchen wraps this way then this is definitely better than a haphazard vertical stack. But that said, I found it clumsy and inconvenient - they don't fit perfectly, so it's difficult to insert or remove one box without knocking down another. Maybe it would be better if the different levels were more like shelves? It really seems like laying wraps out in one layer is the best, but unfortunately we're not all blessed with drawers. In that case I think I'd even prefer a couple magazine organizers, either laid on their sides on a shelf (if the organizers are sturdy you could then place different items on top of them), or drilled onto the inside of a cabinet.
January 13, 2014
Rated

5

out of

5
 by
ellamont
Great Organizer
Love it! This organizer is free-standing...so much better than the ones that attach to the wall. Just right for all my boxes.
December 31, 2013
Rated

4

out of

5
 by
Curlytop
Why did I wait so long?
Keeps all of my wraps in one place. I have needed this for a long time!
April 15, 2013
Rated

3

out of

5
 by
KiArrow
Good Product For The Money
It's cheap, and space saving. However the sections are small and its hard to fit everything desired. Overall a good product, would recommend.
February 18, 2013
Rated

5

out of

5
 by
Corndog
Great for keeping boxes from falling off my lazy Susan.
February 18, 2013
Rated

3

out of

5
 by
AKL353
Not impressed
Is it a bad product? No. However, it didn't prove to be super useful for me. The boxes easily fall out of the sides of the product since they're open. For me, this doesn't hold 3 products tall; if you have all standard-sized rolls of stuff it will work, but will not if you have Ziplock bags or some other slightly bigger boxes; it's juuust too short to accomodate 3 regular boxes in my opinion since they fall all over t he place. It would be much more helpful if each product had its own nook instead of being stacked.
December 10, 2012
Rated

2

out of

5
 by
Ssgt
Came damaged
One rack came in bend, could not seperate it from the other way it was stacked together. Racks are too small, Really not worth it. Cost almost the same as it cost to sent back. I guess the cost is on me.
October 6, 2012
Rated

2

out of

5
 by
DMarie
Too Small for Real Life
This item starts with a great idea, but was not worth even the very reasonable price to me. Almost none of our products fit into it.
July 8, 2012
Rated

5

out of

5
 by
MLML
space saving
The purpose of this unit is space saving and it truly provides this. By using it, I have freed up one drawers valuable space in the kitchen.
May 31, 2012
Rated

5

out of

5
 by
pkvale
Better than expected!
I'm surprised at how well this product works... I wasn't expecting much but it's turned out to be really helpful!
May 6, 2012
Rated

5

out of

5
 by
Snowbird
I have so many different kitchen wraps, they were taking over my cupboards. I read the reviews and followed the suggestion of one to buy more than just one organizer. I did and am so glad I did. Thanks for that suggestion because one would not have taken care of all the different ones. Altho, I did find my large box of freezer paper was too large to fit into it.
May 5, 2012