Rated

5

out of

5
 by
Dedra379
Organizing our new home
We recently moved into our new home and the pantry was a mess. Everything was just piled up! We never what all was in there. A friend recommended The Container Store. We now have a perfectly organized pantry!!! Thank you Container store!!!
January 10, 2016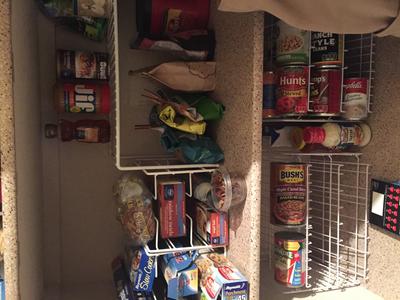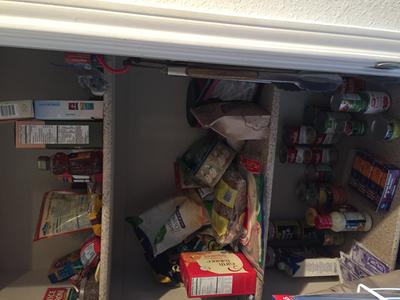 Rated

1

out of

5
 by
MidwestNani
Not my favorite
This rack is a great idea, but doesn't work well for me. I tried putting can veggies and can soups in the rack, didn't hold very many for the space. I felt I could get more cans in my pantry just stacking on the shelves. Also, couldn't figure out how the gravity feed worked. Quality of rack was good, but just not for me.
February 16, 2016
Rated

1

out of

5
 by
Ronnie2448
Do not buy!
Bought this item, horrible! So flimsy and not made well at all. With the two rows for cans and it can only hold three in each row, its easier to stack them up.
February 3, 2016
Rated

3

out of

5
 by
Princess78
Serves its purpose
This is a little flimsy, but if you don't want your cans piled and stacked on each other than this is a good item. It has to be put together right in order to work correctly. I think it could be made better though. I really didn't like the dividers that just rest on the bars. There is no way to secure them down.
January 16, 2016
Rated

1

out of

5
 by
Kellicav
Flimsy and Cheaply Made
This was very rickety and tricky to assemble as it was leaning and crooked once put together. The dividers that go from front to back on each row did not fit securely and slid around, serving no purpose. I put this together, set a couple cans on it, and then immediately packed it back into the box. This will be returned tomorrow.
September 26, 2015
Rated

5

out of

5
 by
MDRMT
Gravity still works!
I was able to use these to clean up my pantry, organize it to rotate my cans by expiration date and make the whole thing look neater and more organized. My husband even likes them. Thanks!
April 1, 2015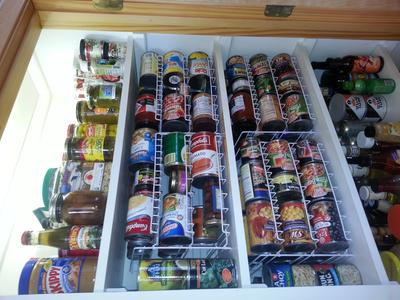 Rated

1

out of

5
 by
S911
Very poor quality!
I liked this rack at first, it definitely saved space. But the first time I took cans out to use, the whole thing tipped over! Looking for something better now!
March 31, 2015
Rated

4

out of

5
 by
nancykey114
Can rack is a great concept
I would definitely have enjoyed the rack being larger and sturdier, but it really cut back on the amount of space required for that many cans. Thanks, Nancy
January 27, 2015
Rated

1

out of

5
 by
org2015
very flimsy and doesn't seem to assemble
the picture is the best part. I was unable to even set it up. Everything is flimsy and doesn't seem to fit together atall. Returning
January 10, 2015
Rated

1

out of

5
 by
mpolsen943
Poor Quality.
I agree with the other reviews - its not sturdy and difficult for average cans to fit. I purchased one elsewhere years ago and thought this one would be the same. I was disappointed when it wasn't as well made.
November 30, 2014
Rated

1

out of

5
 by
scottamus
don't waste your money
i read the other reviews but took a chance and ordered it. that was a mistake! save yourself the effort. it is too flimsy to hold cans.
November 22, 2014
Rated

1

out of

5
 by
SJ06
Did not fit together correctly. Could find something better at another store.
November 22, 2014
Rated

3

out of

5
 by
bjp7565
Disappointed
I will use the ones I ordered, but they are difficult to assemble and unless they are full of cans, they keep coming unassembled.
October 28, 2014
Rated

3

out of

5
 by
Rockin
Okay, but not perfect
I found the instructions difficult and the extra parts do not really fit. Not enough space between shelves to allow for an easy feed.
July 26, 2014
Rated

3

out of

5
 by
BusyMomNY
Ok Product
Great idea but wish that all three levels were able to hold three standard cans across. Could also be a little higher to allow for easier access. Otherwise it functions well.
July 6, 2014
Rated

1

out of

5
 by
Bubbliezz
Only the concept is good
Yes I read the reviews and yes I bought it anyway. Its a good concept with a poor design. Flimsy and difficult to restock not to mention SMALL. It only holds condensed soup cans and small (I mean SMALL) cans. You can't properly add new cans to the back to ensure use of the oldest first. Then again...I think 3 cans deep was the most I could do anywhere on it. Redesign it for our typical cans (soup veggies fruit and tuna) by making it a little taller and wider and gve it some stability and I might try it again.
June 29, 2014
Rated

5

out of

5
 by
love2cook
Haven't set this up and used it but sure it's going to solve my can storage problems
May 28, 2014
Rated

5

out of

5
 by
Cmiles
Great!
I love this! I can actually see what I have in my pantry! And I don't have to shuffle things around to do it either.
May 12, 2014
Rated

4

out of

5
 by
Haley123
Good Purchase
Quite useful for its purpose. When I first put it together I was concerned it was to flimsy but once there are cans in it it becomes quite sturdy. Is rather tall so I put it on the bottom shelf of my pantry. I plan to purchase another. Holds a variety of can sizes from little mushroom cans to big soup cans. I gave it a 4 as I wish it came in a larger (wider) size.
April 9, 2014
Rated

1

out of

5
 by
KBare
Lousy Quality, Returned.
Possibly my first major disappointment from The Container Store. This can rack is so loosely "assembled," it's almost impossible to keep it together when you're using it. All the pieces sort of lay in place. If you bump a shelf or a divider, it falls off. As it happens, I only bump the shelves or dividers when I'm putting in or taking out cans. If you don't touch it or use it, I'm sure it's quite acceptable. It would be great for holding the four-year-old cans of yams I bought on sale after Thanksgiving and will never, ever eat. Good for archival storage of canned goods only.
March 29, 2014
Rated

1

out of

5
 by
pavoglers
Poor Design
Don't bother. Assembly instructions were awful, very flimsy, dividers don't work. Once assembled realized it was too high to fit on any shelf in my pantry. Wouldn't hold any fat cans and for the space it took up (if it fit) I would get less than half of the storage I do without it. It's being returned
March 29, 2014
Rated

5

out of

5
 by
Mfdny
Can Rack
Love this rack for the way it helps organize my pantry! And, it holds a lot of cans. I only wish there was a bit more height adjustment between the rows. Otherwise, it's a great product!
March 24, 2014
Rated

3

out of

5
 by
RadarLove
I wish this was just a little bit wider.
This would be better if it fit three 15 oz cans across, but it doesn't. It does not dramatically reduce the space required to store canned goods, but it you tend to have several cans of the same product, this makes it easier to get exactly what you need & to see what you're running low on.
March 11, 2014
Rated

3

out of

5
 by
elohp
Okay, but not great
I bought this after having seen some reviews that raved about it. We just re-did our kitchen and I'm trying to figure out best use of our pantry - which is very deep. We buy a lot of cans of beans and tomatoes, so thought this would be useful. It would've been better if it held three 14.5-15 oz cans across. Instead it holds two and then space for something small (tomato paste or sauce, or tuna). Plus, it isn't very high between shelves, making the bottom shelves a tight fit. Also, big 28 oz cans don't really work - can only hold two in a row. So - okay, but would've been great if it was a bit bigger.
March 8, 2014
Rated

3

out of

5
 by
Marcellam
Good organizational item
Barring the terrible instructions and the flimsy dividers, it's a good item to organize canned goods. Would be nice if it were slightly wider so you could divide more equally and not have wasted space
February 27, 2014
Rated

5

out of

5
 by
Alee
Great space saver
Love the ability to see what can's are in the pantry. Also great how they roll forward & how many cans it can hold.
February 16, 2014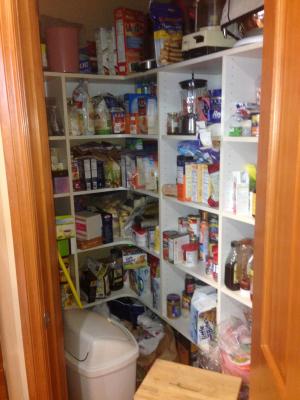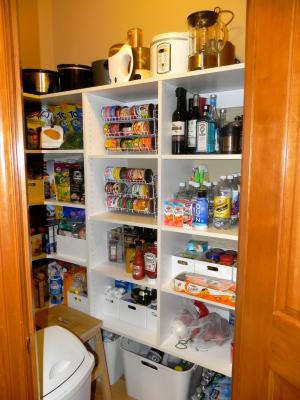 Rated

5

out of

5
 by
Hags82
Where have you been all my life?!
I absolutely love the Gravity-Feed can rack! We used to have an entire shelf with just cans spread out across it. Not anymore! There are all in one small section now. I highly recommend this!
February 13, 2014

Rated

1

out of

5
 by
TXNINCA
Cheap, horrible, frustrating
Worst thing I have bought in a long time. Rickety and cheap. The design is set up so that you have to bump up the upper shelves to get the cans from the lower shelves. Not that easy when there are a bunch of heavy cans on the top shelf. I threw it away after three days. Don't waste your money.
January 14, 2014
Rated

2

out of

5
 by
Gina45
Poor design
I thought I would get a couple of these so I can rotated my canned goods better. The design is not good. You cannot feed the cans in through the back, so every time you add cans you need to take them all out and feed the newer ones to the back first. When I thought of rotating my canned gods I did not mean me every time by hand. If you are looking to just save space and don't care about rotating your cans, I guess they are okay.
January 7, 2014
Rated

1

out of

5
 by
FreshHome
Waste of money
In the picture this looks really conducive for storing cans. Iin reality the construction of the product is flimsy. It takes up space on your shelf but you can't get the cans out once their inside. You can't get to the back can without removing the first 3. Just keep your cans on your shelf in a somewhat organized, stacked manner and that's it. Don't be silly and waste money on this product.
December 27, 2013