Overview
Product Information
Whip up some order in your kitchen or pantry with Cabinet-Sized Elfa Mesh Drawers. At only 17-1/4" deep, they fit most spaces. This solution features two X-Narrow, one Narrow and one Medium Drawer Unit - all joined together. Melamine tops on each unit provide a place to store larger items. The fine weave of the mesh prevents small items from falling through. Elfa is an entirely customizable system - if this isn't exactly the solution you're looking for, try our Elfa Drawer Planner.

Elfa Drawer Assembly Guide
Epoxy-bonded steel construction
Exceptionally smooth-gliding drawers
Provides excellent visibility and accessibility to the contents
What's Included
2

Elfa X-Narrow Crossbar White Set of 4

(#256006)

1

Elfa Medium Crossbar White Set of 4

(#256008)

4

Elfa 7-Runner Cabinet-Sized Panels White Set of 2

(#257413)

1

Elfa Medium Cabinet-Sized Melamine Top White

(#10027298)

4

Elfa X-Narrow Cabinet-Sized 1-Runner White

(#10044646)

2

Elfa X-Narrow Cabinet-Sized 3-Runner White

(#10044648)

1

Elfa Narrow Cabinet-Sized 2-Runner White

(#10044650)

2

Elfa Medium Cabinet-Sized 1-Runner White

(#10044652)

1

Elfa Medium Cabinet-Sized 3-Runner White

(#10044654)

2

Elfa X-Narrow Cabinet-Sized Melamine Top White

(#10044963)

6

Elfa Drawer Back Stop Pins Galvanized Pkg/10

(#10063870)
1

Elfa Narrow Crossbar White Set of 4

(#256007)

4

Elfa Frame Clips White Pkg/4

(#256190)

1

Elfa Narrow Cabinet-Sized Melamine Top White

(#10027296)

4

Elfa Frame Feet Translucent Set of 4

(#10030416)

2

Elfa X-Narrow Cabinet-Sized 2-Runner White

(#10044647)

2

Elfa Narrow Cabinet-Sized 1-Runner White

(#10044649)

1

Elfa Narrow Cabinet-Sized 3-Runner White

(#10044651)

1

Elfa Medium Cabinet-Sized 2-Runner White

(#10044653)

8

Elfa Mesh Drawer In & Out Stops Translucent Pkg/4

(#10044875)

4

Elfa Drawer Label Holders Translucent Pkg/4

(#10052497)
Dimensions
52" x 17-1/4" x 29-5/8" h
Assembly/Installation
Community Q&A
Expandability.
Can I add on to this system? Can I add another set to the back to make it twice as wide?
Yes, our elfa drawer units are modular, so you can connect additional units to them.
Date published: 2017-03-14
Is this sturdy enough to have a kitchen aid mixer on top?
Yes, the Cabinet-Sized elfa Mesh Pantry Drawers can hold a Kitchen Aid mixer when properly assembled.
Date published: 2018-05-26
Weight?
How much weight can you put in one stack of drawers (like the wider stack that's 2nd from the left)? And how much weight can this entire unit take?
The capacity of each of our Elfa Mesh Drawers should not exceed 10 to 12 pounds of static, evenly distributed weight regardless of the drawer's size. Elfa Drawer Frames each have a weight capacity of 99 pounds each.
Date published: 2018-12-29
Do the drawers pull all the way out
I would like to make a baking drawer that would be pulled out and taken into the kitchen while using the items in it.
Yes, the Cabinet-Sized Elfa Mesh Drawers of our Pantry can be completely removed for easy transport to a remote location.
Date published: 2020-02-09
Can this unit be separated from the top down so that it is not 29" high? I need one that is only 23" high. The width is no problem.
No, we do not have a way to make these drawer units shorter. Instead, we'd recommend using our Cabinet-Sized elfa 4-Runner Drawer Frames (which are 17-1/2" high), and you can see some examples below.
Date published: 2016-09-05
Is it all one unit? Can I separate it?
I mean can you buy this one unit and divide it and use in two different closets based on needs
Our Cabinet-Sized elfa Mesh Pantry Drawers are a 4-unit solution that can be divided and used in separate locations.
Date published: 2017-03-14
Platinum
Does this whole set come in platinum?
Resources & Tips
Elfa Resources
---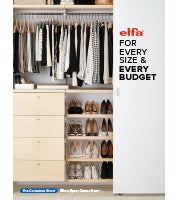 Shop directly from the virtual pages of our current catalogs by clicking on the images.
View catalog online
© 2021 The Container Store. Prices and availability are subject to change from the time and date you print this page 03/03/2021.