Rated

5

out of

5
 by
TNrose
So convenient!
I live in an apartment with a small pantry closet. I love to cook but there's not a lot of room for all my cooking ingredients and staples. This is a miracle! It has helped to clear up so much extra space and keeps things organized.
January 3, 2017
Rated

5

out of

5
 by
Raenay33
Love These Shelves!
We used these shelves in our pantry and love them! They hold so many items and are easy to move around. Plus I like how little space they take up on the wall. My foods are organized and easy to see. I would highly recommend this to anyone who wants to organize their pantry or closet.
January 21, 2017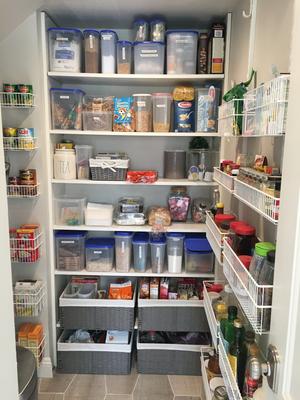 Rated

5

out of

5
 by
Barneyjake
Pantry Door and Wall Racks are Amazing!
We have purchased three for our new pantry. Two over door mounted ones and one wall one. Purchasing the fourth one today since we just finished the pantry. THey hold incredible amounts and give you the visibility and convenient access (particularly if you cook) to see the contents. It is fabulous for spices, soups, vinegars and other heavy liquid items! We had them in our old house and have now had several friends order them. Very well made, very easy to install!
January 8, 2017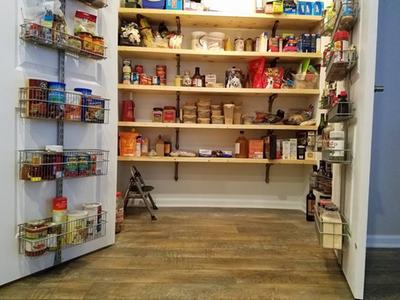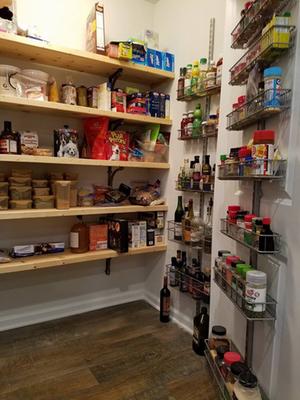 Rated

5

out of

5
 by
lalib
Easy to assemble, impossible to live without
I recently moved to a new place with a severe lack of storage and this over-the-door pantry has been a life saver. A little pricey at first glance (though I got it on sale, which was my impetus) but no complaints on what it offers. It's super easy to put together, no tools necessary, and it's helped me find a home for lots of little items I was despairing over what to do with. It fits a lot based on the baskets that come with it, but luckily there is still room left over to add more baskets, which I'll likely do - this time in mesh.
November 1, 2016
Rated

5

out of

5
 by
Mort
Pantry door platinum shelving
It is beautiful!! We were able to install it ourselves in minutes . The shelving is adjustable so I spaced them according to our needs. A great hint that was given to us was ei. All my spices are to together so if I need multiple spices for cooking/baking I can easily that that unit out and put it back . Easy as 1-2-3. It's attractive looking as well.
October 1, 2016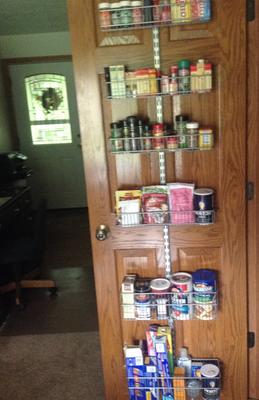 Rated

5

out of

5
 by
Craftypenguinn
Excellent for crafters
I absolutely love this product. It's helped me organize my craft paints and it allows me to take a shelf with me when I'm painting and easily put it back when I'm done. The shelving and hanging mechanism are of excellent quality and materials. The door system is very easy to install. I can't wait to get additional systems for my pantry.
September 21, 2016
Rated

5

out of

5
 by
kdog
Great kitchen addition!
We bought this to better organize our kitchen and it works wonderfully. We keep all our small items or items used most often on the rack, and because the shelves are adjustable we can keep things out of reach of our little one. Definitely planning on purchasing more of these for other rooms.
September 18, 2016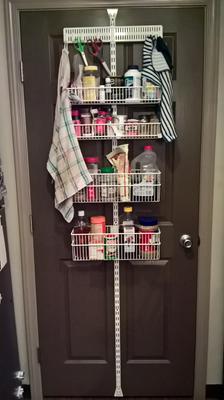 Rated

5

out of

5
 by
Nothandy
Small Space
Got this for the kids' bathroom which is very small. Great For holding all their products without them fighting for space
September 2, 2016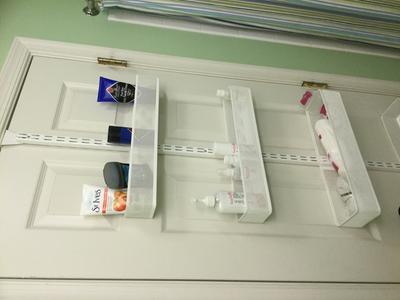 Rated

5

out of

5
 by
Gwanny
Pantry organization
I bought 3 of the short door/wall racks and mounted them on my pantry wall. 2 I used for spices & condiments, etc. We had moved from a home with a wet bar to a home without and needed liquor storage. We used the large baskets next to an Elfa free standing cart in the pantry . The liquor is stored in the baskets and the Elfa cart top is the pouring bar. Works great for us.
May 1, 2016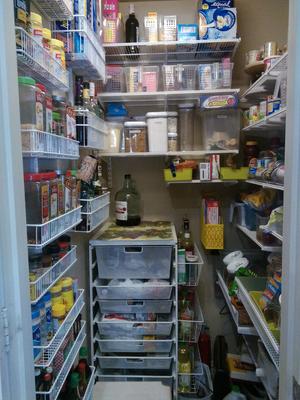 Rated

4

out of

5
 by
Andypink87
Small pantries
This is a easy way to add more organization space to a small pantrie especially if you live in a apartment and you can't drill in to the wallstore to hang shelves. I also like how the baskets can be adjusted to the way you need them.
March 18, 2016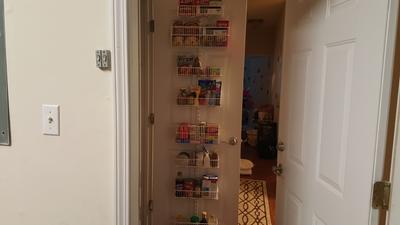 Rated

5

out of

5
 by
Bre77
So far so good...
I like this organizer. I bought it for my pantry. I had to exchange the baskets for the smaller size though. They were just a little too wide for our small door. The smaller size is perfect and I love the space its freed up in the panty. I wish I would have purchased sooner. Easy to set up too.
February 15, 2016
Rated

5

out of

5
 by
PJJones
Love This Product
Saw this in a showroom but waited to buy it online. It arrived quickly but was unsure how it should be installed. Looking it over it was clear that no tools other than the Allen wrench (provided). This took about five minutes to install. No holes in the door. Awesome technology. The baskets attach easily and are very sturdy. This is a high quality product that provides flexibility and improves our storage capability.
February 9, 2016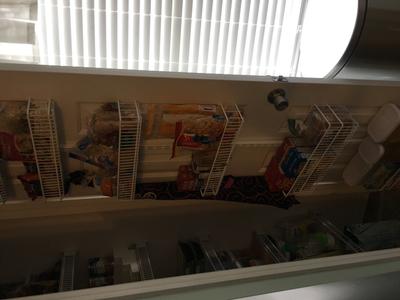 Rated

5

out of

5
 by
deeduffer
high quality--makes organization easier
I was very pleased with the quality of the product. Very sturdy racks with very usable size differentiation.
February 5, 2016
Rated

5

out of

5
 by
Schnellman
LOVE IT!
Arrived on time. Packaged to protect product but not difficult to open and no excess packaging material. No drilling, no holes in the doors. Had it installed in less than 10 minutes. Created more storage. Worth every dime. I am ordering two more. Showed my neighbor and she is ordering one. Greatest product ever!
June 11, 2015
Rated

5

out of

5
 by
shopper78
LOVE!! So easy!!
I bought the pantry solution. It's been one of my most surprsing purchases :) It was so easy to put up! It has cleared some cupboard space so it's not so crowded. And now I can easy see what I have on hand instead of reaching through the mess or forgetting I even have a certain item. Definitely worth it!
April 17, 2015
Rated

5

out of

5
 by
NewYawker
Great System!
I'd had my eye on this for months and finally bit the bullet last week. Now that I have it and it's installed, I honestly don't know why I hesitated. It's great! It has totally freed up space on the bottom of my linen pantry and has made looking for and using all my cleaning products so much easier. Really, if you are considering purchasing this, do it!
April 1, 2015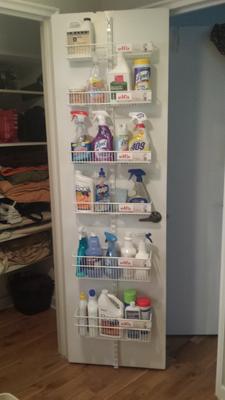 Rated

5

out of

5
 by
Hammbone
Excellent Space-Saver
Unfortunately, I have a kitchen with a tiny pantry. I have struggled for years and stored pantry items all over the house because they would not fit in the kitchen, where they are used. This door & wall rack actually freed up two shelves so that I may now store garbage bags, paper towels, oils and vinegars, small packets, etc. It was easy to install (hollow door mount) and so nice that I could customize the baskets for the sizes that I needed. Thank you for such a wonderful solution to my problem. I am just mad that I didn't do this years ago!
March 24, 2015