Elfa Platinum Cabinet-Sized Mesh Pantry Storage
Overview
Product Information
Need more storage in the pantry, but space is at a premium? Let our exclusive Cabinet-Sized Elfa Mesh Pantry make the most of your limited kitchen storage area. Only available at The Container Store, this solution includes one 3-Runner Mesh Drawer, three 2-Runner Mesh Drawers and one 1-Runner Mesh Drawer so you can store everything from bulk food items to seasoning packets. The fine weave of the mesh prevents small items from falling through. It also includes Back Stop Pins, Drawer In & Out Stops and a Driftwood Melamine Top. Elfa is an entirely customizable system - if this isn't exactly the solution you're looking for, try our Elfa Drawer Planner.

Elfa Drawer Assembly Guide
Exceptionally durable epoxy-bonded steel construction
Mesh provides visibility of the contents while preventing small items from falling through
Double-stick adhesive (included) insures the top will stay securely on top of the frame
What's Included
1

Elfa Narrow Crossbar Platinum Set of 4

(#255007)

3

Elfa Mesh Drawer In & Out Stops Translucent Pkg/4

(#10044875)

2

Elfa Drawer Back Stop Pins Galvanized Pkg/10

(#10063870)

3

Elfa Narrow Cabinet-Sized 2-Runner Platinum

(#10066123)

1

Elfa 10-Runner Cabinet-Sized Panels Platinum Set of 2

(#10066146)
1

Elfa Frame Feet Translucent Set of 4

(#10030416)

2

Elfa Drawer Label Holders Translucent Pkg/4

(#10052497)

1

Elfa Narrow Cabinet-Sized 1-Runner Platinum

(#10066122)

1

Elfa Narrow Cabinet-Sized 3-Runner Platinum

(#10066126)

1

Elfa Narrow Cabinet-Sized Melamine Top Driftwood

(#10066148)
Dimensions
14" x 17-1/4" x 41-5/8" h
Assembly/Installation
Community Q&A
Does this come with wheels to attach to the bottom? Thank you!
No, casters are sold separately.
Date published: 2020-07-16
Drawers
I am planning to install this inside my airstream wardrobe. I need to know the dimensions of the drawers. I want to make sure they will pull out. The opening is 12inches.
This product is 14" wide x 17-1/4" deep x 41-5/8" h. It will not fit in a 12" space.
Date published: 2020-07-24
Is it possible to attach this to another set of drawers that have already been assembled?
I bought the 41 inch Elfa drawers for my closet a few months ago. I heard that you can stack the drawer sets on top of each other, so I figured that I could buy a second set later on and build it higher. After assembling it, I'm not sure if that will still be possible because it seems as though it will be hard to take apart. I was wondering if anyone knows if that could be done. Thanks for your help!
Yes, you can stack like-sizes of elfa drawer frames. For assistance on removing the cross bars and stacking them, please feel free to give us a call at 1-800-733-3532 and we'll be happy to assist you.
Date published: 2019-11-25
What are the weight limits of the mesh drawers for the pantry shelf unit?
We would be storing my husband's lunch foods. Would soda cans or water bottles be too heavy for the bottom drawers?
The capacity of our Cabinet-Size elfa Mesh Drawers should not exceed 10 to 15 pounds of static, evenly distributed weight each.
Date published: 2019-11-25
The dimension listed is 14" x 17-1/4" x 41-5/8" h. Is 14" width or depth?
TCS measurements can be confusing when not specified.
Our dimensions are listed by width X depth X height. The Platinum Cabinet-Sized elfa Mesh Pantry Storage is 14" wide x 17-1/4" deep x 41-5/8" high.
Date published: 2020-02-24
What is the width of the individual drawers?
Resources & Tips
Elfa Resources
---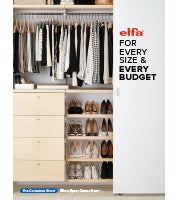 Shop directly from the virtual pages of our current catalogs by clicking on the images.
View catalog online
© 2021 The Container Store. Prices and availability are subject to change from the time and date you print this page 03/08/2021.