Rated

5

out of

5
 by
CCliveat7
Get creative!
One of the best things about this store is that items from different depts can be used in different areas of the house. I used this kitchen section divider to organize my clutches! Super cute!
January 8, 2017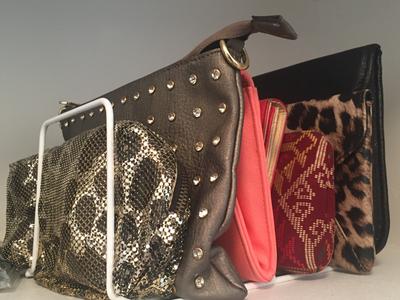 Rated

5

out of

5
 by
ddgbvd
Puzzle Wall Hanger-reinvented product
I went to the container store looking for something to hold my grandson's wooden puzzles. I didn't have room for a table puzzle box so with my imagination and the help of the associate of the Champion Forest store in Houston, Tx., we solved the problem. This is very inexpensive and great for new moms on a budget. I spent 4.99 and a couple of dollars for some molly bolts. I leveled the large 4 -Sort Dividers to make shelves. The shelves are great and hold the weight of the wooden puzzles. The great thing is that you can add another as the puzzle collection grows.
April 19, 2014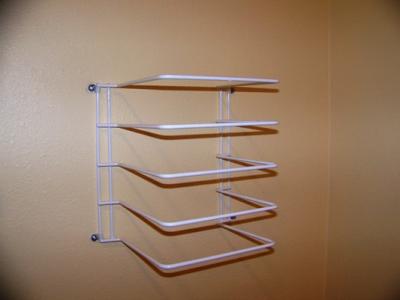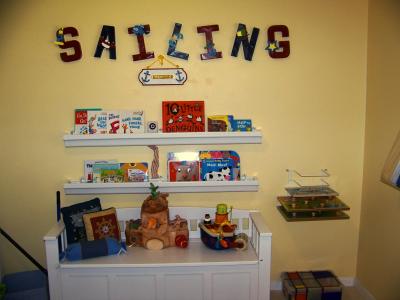 Rated

5

out of

5
 by
sms1021
These really are the best!
These are just what I was looking for to organize my "junk pile" of a cabinet. Very sturdy to hold the heaviest cookware. I started with one and I now have 4 of them: one for muffin-type pans and cookie sheets, one for stovetop cooking pans and lids, one for all types of cake/pie pans, and one for my glass Pyrex cooking dishes and lids. I used the non-slip rubber weave stuff you can buy at any store to keep the racks from sliding around. FYI: The openings on these are large enough for standard cake pans (mine fits in nested with its lid) and standard Pyrex glass baking dishes (just, but they fit). I couldn't fit my mini loaf pan in, but mine is a bit larger than the average ones I've seen. No matter because I just left a space between two of the racks to slide it in.
December 19, 2013
Rated

5

out of

5
 by
reesibits
Great to separate lids, trays, cutting boards
purchased qty 4 of the sort dividers and used to separate lids, trays, and cutting boards. I was concerned it would tip over but they stay in place and it isn't necessary to screw them down.
July 22, 2013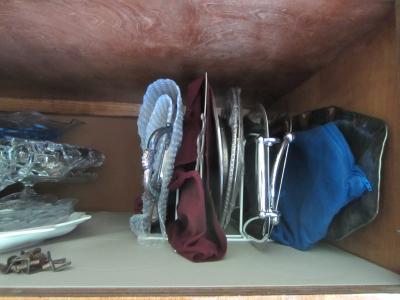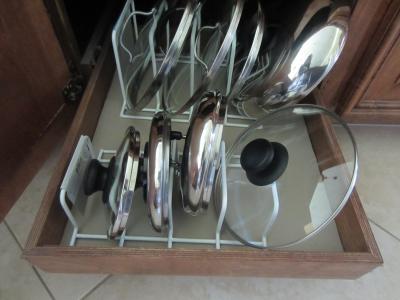 Rated

5

out of

5
 by
Uugoddess
Thank goodness
I just Renovated my kitchen and realized after the wholeness thing was done I forgot to put that narrow cupboards are in for my cutting boards and grates
January 11, 2017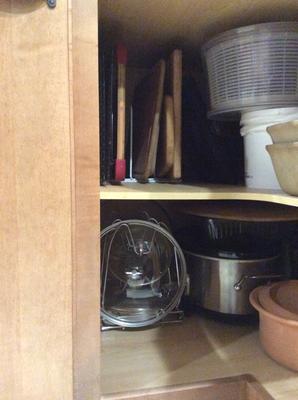 Rated

5

out of

5
 by
Rorie17
Easy solution.
I was so excited to try these. I purchased them for my cupboard where I store baking sheets, muffin tins, etc. They arrived quickly and I immediately cleaned out the cupboard in order to reorganize with these dividers. Unfortunately, I did not measure the height of my baking sheets and they are too tall to store on their sides in between my shelving, and I'm not able to use the dividers as I had originally hoped. This was my mistake. Because they were a good price, I will probably keep them and find another use for them in another location.
September 27, 2016
Rated

5

out of

5
 by
RandiLP27
DEFINITELY recommend!
They are WONDERFUL! I purchased two medium dividers. Totally worth it! Great quality, saves so much space
April 26, 2016
Rated

5

out of

5
 by
Xabena3
Convenient and sturdy
I like it's very simple and sturdy. I would recommend it.
April 14, 2016
Rated

5

out of

5
 by
Jmb260
Great purchase
I thought this rack would help me with grabbing a plate if it were vertical instead of horizontal. I've had a number of surgeries & was having problems getting the top plate down from the second shelf. It works great for my dinner plates. I can put 2 square deep plates in each slot. it's now easy for me to reach each plate. I plan to purchase the next smaller size for my smaller bread & butter/dessert plates.
February 12, 2016
Rated

5

out of

5
 by
arji
Awesome! Don't Know Why I Waited So Long
Purchased the 4 sort dividers for my cake pans, cookie sheets, pizza pans, muffin tins, cooling racks. Work great. No more stacking, no more falling over, no more mess.
January 16, 2016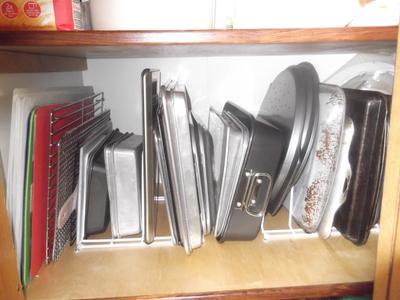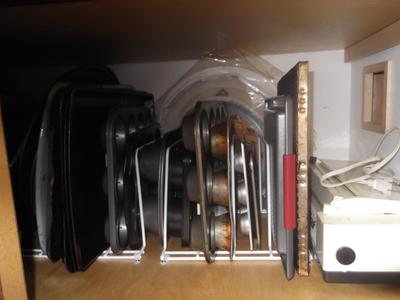 Rated

5

out of

5
 by
AnnabelleL
Perfect for all my baking pans!
I got the large divider for all my baking pans and sheets, pizza stone, and cutting boards. The width is a perfect fit for my cabinet and now I can grab a pan without everything else falling over!
September 12, 2015
Rated

5

out of

5
 by
swayers
No more digging through the stack
Makes things so much easier to use and remove/return to the pantry.
June 14, 2015
Rated

5

out of

5
 by
FanInIndy
Great for organizing!
I bought 2 large dividers and will buy more. I'm using one to store shopping bags and gift bags. I'm using the second one to store portfolios/tote bags for several organizations I belong to. They're just perfect for both!
February 4, 2015
Rated

5

out of

5
 by
crista526
Simple & easy
Simple, easy and a quick fix to baking pans in a cabinet. Takes up less space to store them up front. Installed for a client and she loves it.
July 31, 2014
Rated

5

out of

5
 by
randomID
Great Option for Serving Pieces
Economical solution for storing serving pieces, cutting boards and cheese boards on their edges. We have struggled over the years with storage of all of the above items - always stacked on top of each other. This was always a hassle when you needed the large tray at the bottom of the stack. Turning the items on their side and using the wire dividers works to improve access to all of our items.
July 22, 2014
Rated

5

out of

5
 by
JYam
I purchased both the L and M dividers to organize my lower cabinets. I was able to organize all of my glass bake wear, cookie sheets, cutting boards and a few other odds and ends. No more struggling to get what I need! Love them!
May 2, 2014
Rated

5

out of

5
 by
CherylR
Substance
I have been looking for dividers with substance for use other than the kitchen. They are being used for inventory in the stock room! I needed something that could endure the abuse of constant use. These dividers are strong and sturdy and work beautifully!
April 12, 2014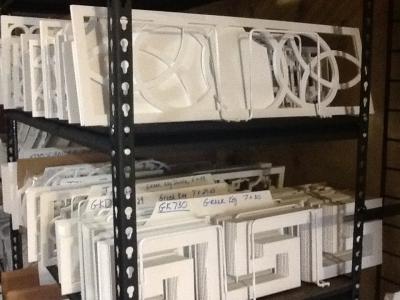 Rated

5

out of

5
 by
TiggerToo
Kitchen lifesaver
The best $5 I've ever spent. Got three for my kitchen. One for my lower cabinet to hold baking pans/cookie sheets that I use often. The other two for a high cabinet over my microwave to hold less frequently used items like muffin tins, serving platters, cake pans. Such a simple but awesome product!
April 8, 2014
Rated

4

out of

5
 by
IAMORGANIZIN
Good product BUT be careful....
I use the small sort divider in my cabinet to separate my plates. You have to be REALLY careful how you load this up and distribute weight evenly on both sides or it will just full over under the weight of the leaning plates. Probably better for lighter weight items like pans and lids than for dinnerware:(
March 31, 2014
Rated

5

out of

5
 by
pavoglers
Love it!
I bought this to use on the top shelf in my pantry. The pantry has wire shelves, so I used a zip tie to lock this in place and it works great! I keep large serving trays and items I don't use often. It's just what I wanted.
March 29, 2014
Rated

5

out of

5
 by
Jan5cats
Simply organizer for difficult to store items
Amazing how the simplest piece will make such a difference in your cabinets. This piece saved me room and frustration.
March 28, 2014
Rated

5

out of

5
 by
Delilahbean
Perfect for the space above the fridge
I bought this to hold and organize pans in the awkward cabinet about the fridge. It fits perfectly. It is no longer wasted space.
March 26, 2014
Rated

5

out of

5
 by
NotSoOrganized2
Best Divider for Baking Pans
If you have multiple baking pans, sheets, or varieties of pot lids, this simple divider is so useful. Highly recommend this, wherever you store your pans.
March 23, 2014
Rated

5

out of

5
 by
ClassyCassie
Nice but got the chromeones instead
These are great for organization, but I went ahead and got the chrome ones even though they cost 4 X's as much. They look so much nicer than the plastic and worth the money. Either way both work well!! I have built in organizers for most things , but used these for all my extra platters and specialty plates. Now I can see what I have for each holiday,season and event..
February 20, 2014
Rated

5

out of

5
 by
ScrappingLV
Perfect for Scrapbookers!!
I use these mainly for storing my 12x12 scrapbook paper packs on my shelf. It can hold a minimum of 16 packs up to 25 packs easily. They are very strong & don't bend! The best part is the paper stands up straight due to the height of the bars, so no more bent paper for scrapping! I personally own 6 of these and need 2 more.... :-)
January 31, 2014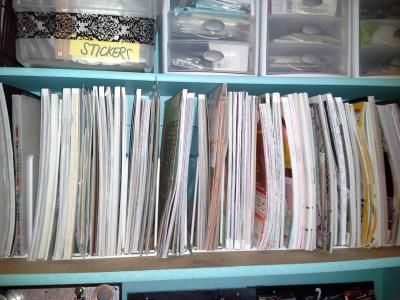 Rated

5

out of

5
 by
SeriousOrchid
Great space saver!
I purchased this to organize my rolls of gift wrap and it is perfect. Each section holds between 3 and 4 rolls of wrapping paper stacked neatly and fits perfectly on my self. A super affordable choice and I have 16 rolls neatly put away.
December 22, 2013
Rated

5

out of

5
 by
jokrgirl
I LOVE these
After reading some of the other reviews, I thought I would give these a shot. I LOVE them. I bought two. They work well under the sink. I have a large garbage disposal unit on one side and pipes on the other, but the racks still fit and I got all of my sheet pans, cake pans, pizza pans, a large cutting board and a pizza stone into the racks. This was a great buy. I am really happy with them. No more taking out a stack of stuff just to get to the bottom baking sheet.
November 23, 2013
Rated

5

out of

5
 by
itsonlypaint
What a deal!
Super price for a product that makes working in the kitchen so much easier. It's strong, and the cookie sheets, trays, and cutting boards I store in it weight it down plenty; there's no wobbling or shaking when I pull out an item or put one away. Love it!
July 14, 2013
Rated

5

out of

5
 by
KatieDR
Great for holding Binders
Bought this to hold binders in our office. Holds 1 1/2" binders no problem. Great way to stand them up. Price was perfect.
July 8, 2013
Rated

4

out of

5
 by
JShops
Inexpensive space saver
I used the medium for my baking dishes and the large for my pans. There may be nicer, more expensive options that slide out, but these work well in my kitchen and saved both money and space.
April 28, 2013