Rated

5

out of

5
 by
FredR
Terrific Organizer
Our kitchen drawers are fairly narrow. This adjustable unit works perfectly. It is well engineered and the material is attractive and flexible. Terrific find.
February 1, 2015
Rated

5

out of

5
 by
DMLFB
Exactly What I Wanted!
Fit my drawer perfectly, all my new silverware fits well and doesn't slide all over - spoons and forks stack neatly. I was fussy in what I wanted, and I found it!
December 15, 2014
Rated

5

out of

5
 by
KaraE
Exactly was I was looking for
I am getting ready to move into my first apartment and needed something to not just organize my silverware, but keep them in place and perfectly stacked (I am a little OCD). It worked exactly as it was advertised and I am very pleased with it!
April 27, 2014
Rated

5

out of

5
 by
CStokes
FANTASTIC item!
I held onto and used a very old utensil tray. I AM THRILLED with this new tray. Not only does it hold more than my old tray, it organizes the utensils so efficiently. The utensils stay stacked very neatly. The space above is roomy for long and wide utensils. Can't say enough good things about this tray. HIGHLY recommend!
January 30, 2017
Rated

5

out of

5
 by
01MHB
Worth It
This was another product that I purchased from the Container Store that I am truly pleased with owning. It was worth the purchase.
January 15, 2017
Rated

5

out of

5
 by
Pupuoga
Amazing Drawer Organizer!
I give only pros for this organizer, I found it very handy and comfortable. And no fights with my hubby anymore about where to put sharp knifes and do not get cut! haha, my whole family really love it!
January 12, 2017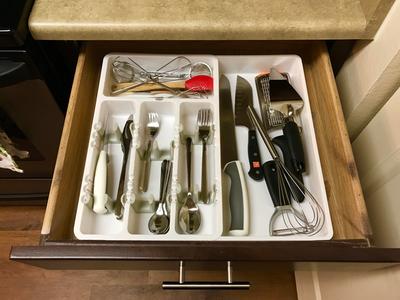 Rated

5

out of

5
 by
freelander
perfect!
I bought this to fit in my new RV drawer. It is adjustable and keeps the silverware from jumping around as I travel. Perfect!
April 25, 2014
Rated

5

out of

5
 by
Tinkdoll
I love this product! It keeps my sliver ware neat and easy to get to. No more forks getting stuck together.
April 4, 2014
Rated

5

out of

5
 by
Anudav
Best kitchen organizer ever
Love the expandable feature, will buy another for my other kitchen.
April 3, 2014
Rated

5

out of

5
 by
Yostang
Excellent!
This drawer organizer is perfect. It has grips on the bottom which keep it from sliding in my drawer. The drawer is bigger than the organizer so the grips are great. I have room for all my silverware as well as bulkier items.
April 2, 2014
Rated

5

out of

5
 by
Ka3131
Great Purchase!
I have a really small drawer that I wanted to put silverware in but I may have a larger drawer in the future so this expandable drawer organizer is perfect! Super easy to use and fits great!
March 26, 2014
Rated

5

out of

5
 by
CINN6
ABSOLUTELY FABULOUS
I first saw this at my sister-in-law's house and I thought it was the best thing in the world. I then bought one for myself and I love it. I have now bought one for my daughter and will continue to purchase them for friends and family.......what a great item!!!
December 12, 2013
Rated

5

out of

5
 by
kdbgtn01
love this!
this is fantastic! fits my drawer perfectly when pulled completely out. tons of space for my new 12 setting flatware set including serving pieces....
October 29, 2013
Rated

5

out of

5
 by
framergal
Versatile
Moved from a house with a huge kitchen to an apartment with the narrowest drawers I've ever seen. This utensil holder was such a creative solution for my problem and will adapt to larger drawers when needed.
October 26, 2013
Rated

4

out of

5
 by
prettysmartchic
Exactly as expected - Good Grips quality product
This product is exactly as expected. It's a great quality and I prefer the compact organization and the way you can perfectly line up your silverware. That is EVERYTHING to me. I would have loved less "edge" so it wouldn't be such a tight squeeze in my 9" cabinet drawers, but that's really the cabinet manufacturer's short sighting, not GG.
October 23, 2013
Rated

5

out of

5
 by
Allice98
Very accommodating
Love how adjustable this is. So flexible for our silverware and it's like having a custom piece. Great price for something so customizable. Love that it is easy to clean. i love to look of other materials but this will be easy with the upkeep.
October 21, 2013
Rated

5

out of

5
 by
Kitsune
Great Silverware Organizer
Fit right in my drawer and holds all my silverware. Nice high walls, so I don't have to worry about the silverware jumping slots. You will have to adjust the W-shaped holders to find the best fit for your silverware. Solid build, doesn't feel cheap.
March 18, 2013
Rated

4

out of

5
 by
proforg
versatile
love how this just slides out to fit my drawer. i move a lot so I know this will fit whatever drawer i end up with. i also love the neatness of the little "holders" that allow stacking the utensils without having a messy pile. they adjust for the particular items or you can take them out altogether. i was a bit surprised the plastic for the holders seemed a bit cheap for what i thought the Good Grips brand would be, but i think they will be fine since they won't be moved a lot. the rest of organizer is good quality so i am happy with it.
April 30, 2012
Rated

5

out of

5
 by
lizzie
Finally found what fits!
I've been searching for a good cutlery drawer that would work in a kitchen limited in good drawer space. This was the answer! FIts perfectly in the drawer - allows good organization of cutlery and kitchen "accesories".
April 28, 2012
Rated

5

out of

5
 by
hbodesign
So versatile
I love this organizer! I have been able to use it in three different homes, in three different sized drawers -- so I didn't have to go out and purchase all new stuff each time. The expanding parts tuck away super neatly when they're not needed and don't take up ANY extra space. My favorite part about this is the no slip grip, because in a drawer that isn't the exact size of the organizer, it doesn't slide around. Love it.
March 19, 2012
Rated

3

out of

5
 by
Riba
Surprised it's good grips
Plastic is light fragile. I bought 3 online and was disappointed by the material
February 7, 2012
Rated

5

out of

5
 by
nynyny
Great drawer organizer
Just moved into a place with smaller drawers and this fits perfectly and holds all of our silverware - great design!
January 25, 2012