Rated

5

out of

5
 by
starrywisher
Cool knife block holder!
My daughters gave me this for Christmas, and I love it! Knives are right there, handy, and neat. I just bought this one for my sister, who envied mine. You'll be glad you did.
April 25, 2016
Rated

4

out of

5
 by
MissJessie
Works very well.
I purchased this knife block after moving in to a new apartment with some counter space! It does just what it should. Stores all my knives, only the longest have a bit of blade still exposed. I haven't had it long enough (just a month or two) to be able to comment on the recommended dishwasher cleaning of the black flexible insert. All in all, though, I'm very, very pleased with the purchase. No problems to report.
March 26, 2015
Rated

5

out of

5
 by
BordelonsInLove
The perfect fit
This knife block works with all knives up to 10 inches. We use it for our expensive knives and they never shift.
March 16, 2015
Rated

5

out of

5
 by
AllYall
If you are serious about your knives
Some of us do not have an actual set of knives. We have collected the ones we love over the years and want to take really good care of them. Putting them in a drawer can be inconvenient and dangerous. This knife block suits all my storage needs without being unsightly on the counter top. Being able to put a knife of almost any size in almost any spot is genius! I am very glad we bought it, the price is reasonable and it was worth the wait (they were back ordered and it took almost a month to receive it).
March 6, 2015
Rated

5

out of

5
 by
Jeannie49
Love it!
Holds all my knives, so easy, and washable! After seeing how great it was I bought one for my friend. Can't wait to give it to her.
December 22, 2014
Rated

5

out of

5
 by
KayAusTx
LOVE LOVE LOVE THIS KNIFE STORAGE!!!
This is the best knife storage block especially with my collection of knives from different brands. I can store any number of knives and a variety of sizes with this unique slot-free design! And all my knives look organized!
November 29, 2014
Rated

2

out of

5
 by
lwilk
Great idea but...
Truly is a great idea. However, the box says "for any knife" not the case as serrated knives bend the plastic rods to a point where it's hard to get any knives in it. Kaboosh website says to cut the bent rods. Maybe it should instruct not to use serrated knives in it period. If you don't put serrated knives in it, you'll love it.
May 28, 2014
Rated

4

out of

5
 by
Chase5
Great Product
I bought this for my travel trailer. It. Works great for the misc knives and scissors I may have out. With limited space this is a great way to keep the things I need close at hand.
April 30, 2014
Rated

5

out of

5
 by
milchef
knife organiser
I needed a block that will fit all my knives. Great!
April 15, 2014
Rated

5

out of

5
 by
MartiMeyer
What a terrific idea!
I bought this because I have so many individual knifes that won't fit a standard knife block. It worked great and now my knives are visible and not stuck in a drawer. I love it. The container store always has the greatest stuff.
April 11, 2014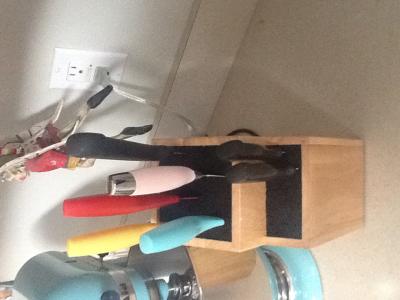 Rated

4

out of

5
 by
Franni
Good purchase
I like the idea of not having to fit the knives in holes. This makes it easier to just wash your knives and slide them right in. I was a little confused upon removing the Styrofoam.There was Styrofoam fitted in the bottom, when I removed it it looked like a hole there instead of it being finished with a piece of wood or something. I didn't know if I should remove it or not. Since you couldn't see it, I left it there. Still, for the price, I don't think I should have to wonder.
February 7, 2014
Rated

4

out of

5
 by
Hotsoups
Love this!
Best way to store my odd shaped knives. They never fit In regular holders. Holds more knives too. Looks good on the counter. Would definitely recommend this one.
January 22, 2014
Rated

3

out of

5
 by
Ingagood
A bit unsteady
The first time I took a knife out, the block started to fall forward. Having kids around and two cats, I felt it was a safety hazard and returned it. I love the concept of it and the look but feel it needs a bit of a redesign.
August 17, 2013
Rated

5

out of

5
 by
judiwriter
Finally!
I love to cook, and over the years I have splurged on several handmade specialty knives for my kitchen. Storing them has always been a problem because their shapes and/or sizes haven't worked in traditional slotted knife blocks. This wonderful knife block has saved both my investment and my sanity.
April 27, 2013
Rated

5

out of

5
 by
Cathyzoe
genius
This is a great way to store all knives. No slots so it takes any size and looks tidy. I am thrilled
April 25, 2013
Rated

3

out of

5
 by
dbak94
Flexible knife block
This knife block is a good solution for storing a random collection of kitchen knives assembled over the years. I also use it to keep my sharpening steel and kitchen scissors. So far it seems to be working well enough though it can get a little over-crowded. Also, I'm not sure how well it would store longer knives. My longest kitchen knife is an 8" chef's knife and that is about as long a knife as I would want to store in this block.
March 26, 2013
Rated

5

out of

5
 by
MarinerMom
A Better Block!
This is the most useful knife block I have ever used. There are no slots in the wood, just fibers that conform to the size of the knives you use. You can put them in any direction you need and they stay in place. You don't want to overload it but you will be able to store more knives than a wooden block will hold. It is really cool!!
March 18, 2013
Rated

5

out of

5
 by
FurnishinginChicago
Just Want I Needed!!!
This product does exactly what it's advertised to do! I love it! I had acquired a motley collection of various sized knives from a number of sources over time, each of which is specialized and I use them regularly...but didn't want them taking up valuable drawer space when we moved from a big suburban house into a MUCH smaller urban apartment. They all fit beautifully (even the foot-long, round-ended meat slicer AND the large meat cleaver!) in the Kapoosh and sit handily on my prep island where I can get to them in a jiffy when I need them.
March 8, 2013
Rated

4

out of

5
 by
Melonhead
Good for odd-sized knives
I bought this block because I had some knives that did not fit a standard knife block. It is a great concept, where you can arrange knives how you want, and you can actually clean this kind of block. However, be careful not to overload it. If you do you can damage the little plastic tines.
February 23, 2013
Rated

4

out of

5
 by
BabyPunkin
Great Purchase
I really love this product. I recently got a knife set for my birthday but had no where to store them, this was a great fit. It has two different slots for different size knives and you can arrange them in any order. Easy cleaning and storage. The only thing is that sometimes it separates oddly and the knives will store a little crooked but that's just my OCD kicking in! Love it.
July 26, 2012
Rated

5

out of

5
 by
Cind
Amazing!!!
i was looking for a knife block to fit my mix of knifes for about 4 years now. this block was the answer to what i was looking for. it fits my knife in the order i want to put them in!!!
March 20, 2012
Rated

5

out of

5
 by
Bruxcie
Love it
Not all you favorite knives come in a set, but all your favorite knives will fit.
March 11, 2012
Rated

5

out of

5
 by
craelisch2002
wish I thought of this
Innovative knife block that protects edges of knives. Very handy. Easy to keep clean.
October 14, 2011
Rated

5

out of

5
 by
salex
Better than a normal knife block
First, it affords pretty much any knife, not just the ones compatible with the slots from a normal knife block. Second, unlike with a normal knife block, one can easily clean the "interior" of this one: one can take out the block of plastic rods and wash it.
September 9, 2011