Rated

5

out of

5
 by
Fossil02
Great purchase
We are using this for our kids - so they can pour out their own milk, the gallon jugs are not as easy for a 3 year old. This makes it easy for them to grab some cereal and/or a glass of milk - so we can get an extra 15 min in the morning....
February 18, 2014
Rated

5

out of

5
 by
Kayo
Just what I was looking for
We buy grape juice in big plastic jugs that are inappropriate to be on our Friday night Sabbath dinner table. My husband also was finding the jugs too difficult to maneuver. I wanted something that would look nice, not be heavy, and not be breakable. I looked in many of the nicer houseware and kitcehnware stores but found nothing. Never expected to find just what I wanted at the Container Store! It works great and looks great at our Sabbath table. . Even my husband likes using it.
March 18, 2013
Rated

5

out of

5
 by
RDW10
Juice Jugs
I recently bought a this plastic juice jug strictly for tea use. It has a wonder snap shut spout that revents spills and the tea doesn't ever leave stains, no matter how long the liquid stays in the jug. I just love it! Great product Container Store People!!
March 19, 2012
Rated

2

out of

5
 by
pandahugs
Great design. Poor quality.
I'm giving this a second chance because my husband really likes it, but he also thinks our first jug lasted longer than it did. I checked my receipt and the first one lasted a mere 7 months. We only put water in it and always hand washed with warm water. The neck developed several cracks. I'll add another review if the second one lasts longer. It pours well, fits nicely in our hand, and looks good on the table.
December 17, 2016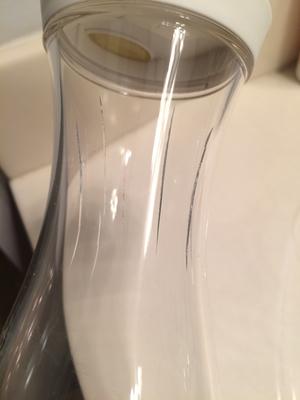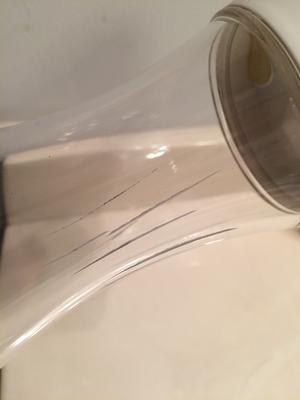 Rated

5

out of

5
 by
Charmstarr
Fresh idea for fresh breath!
This juice jug is a great solution for displaying and containing mouthwash! When shopping at The Container Store I always like to think outside the container. Check office supples for organizing your kitchen and vice versa.
October 1, 2016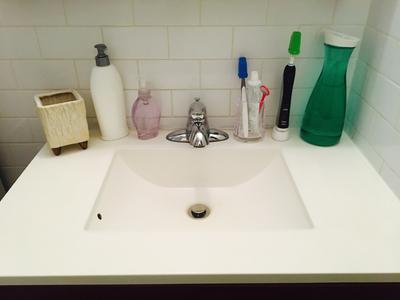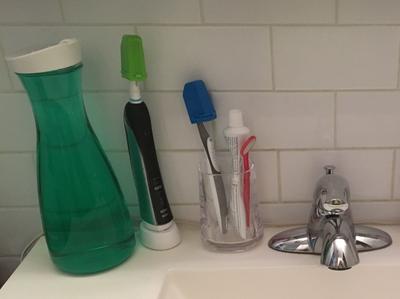 Rated

5

out of

5
 by
HeyEY
Excellent Purchase
Bought two of the 56 oz. jugs for a bridal shower. Only had to refill one jug once. Everyone agreed that it was easier to serve beverages from as opposed to using a punch bowl or a beverage dispenser. Would definitely recommend.
May 22, 2014
Rated

3

out of

5
 by
selkie305
Good for water, not necessarily for juice
I just got two of the 36-ounce size to decant grape juice into, as it is getting difficult for my husband to handle the half-gallon containers it comes in. They are very lightweight and easy to handle as far as picking them up. But I think there's a flaw in the design of the spout. It's a little too far from the edge of the lid, so when pouring it tends to splash a little. And a little of the liquid does stay on the top of the lid, so it makes a sticky mess and you have to keep mopping it off if you use it as a juice decanter. I got them to use with juice, but they're probably more suitable for water as it would not matter as much if it drips a little. They are very elegant looking, though. I will continue to use them with water, but I'm looking for something else to use with juice.
May 20, 2014
Rated

5

out of

5
 by
emmy83
Absolutely Perfect
I bought these for a bridal shower brunch...they were perfect! Easy to pour, and held so much that I only refilled once for my own sanity. Love them. They were a terrific purchase and I will continue to use them at home!
March 24, 2014
Rated

5

out of

5
 by
Judiththecripple
Super Selection!
I got this to use as a bedside water carafe while I recuperated from surgery...Could not have made a better choice. It's light weight, it doesn't spill until it's wide open/ready to pour, it keeps the cat hair out, and it's useful through the day so there aren't so many trips to the refrigerator. This would be a great choice for anyone in a guest room, sickroom, workspace, etc.
January 14, 2014
Rated

5

out of

5
 by
Krado
I found this product very usefull for everyday and for any occasion.
April 29, 2013
Rated

5

out of

5
 by
melanya2001
BEST Purchase Ever
I love that it's is PBA free. It's sturdy and washes easily in the dishwasher. It didn't melt or lose it's shape from the high heat in the dishwasher like other plastic containers do. Also i like the curved neck which is easy to grasp for all persons even those with arthirits. I have 4 of these jugs.
March 22, 2013
Rated

3

out of

5
 by
Sam3623
Good
The larger one is difficult to fit in the door area of our fridge. We have a large French door style fridge. And we stopped using it because the top would cause a splatter of juice hen poured that drove my husband nuts. I rather enjoyed having the nice container, but it bothered him.
March 18, 2013
Rated

5

out of

5
 by
aepstei
Love these juice containers!
My kids love to pour their own juice and these containers are easy enough for little hands to hold without worrying about spills, especially the smaller one. Thanks for helping them feel "big"!
March 18, 2013
Rated

5

out of

5
 by
laurav1215
Functional and fabulous!
LOVE these carafes! Fabulous for the half opened bottle of juice or lemonade. Plus, they are great to serve juice in at parties (did someone say mimosa bar?!)
March 18, 2013
Rated

5

out of

5
 by
RaiDai
I will be ordering more !!!!
I bought 4 thinking I would use them for 2 different juices, milk, and water. But now I'm cringing because they save so much space, so I want all my liquids to be stored in them. I will definitely be ordering 2-3 in the near future.
July 3, 2012
Rated

5

out of

5
 by
undy
fabulous pitcher for every home
this is a fabulous pitcher. portable and keeps the drink fresh. no spill and lite weight.
April 30, 2012
Rated

5

out of

5
 by
Nazareth
Perfect for arthritic hands!
Love the size and early grasp as my arthritis progresses
April 28, 2012
Rated

5

out of

5
 by
Ammo
cant wait to drink juice!
awesome container very cute and i just love it...looks amazing on the kitchen table when serving breakfast very elegant
March 8, 2012
Rated

4

out of

5
 by
Niftygirl
Great
Great for goldfish....when I use it for juice the hole is not big enough and when you shut it juice flys you have to wipe it off first...so I started using it for the kids snacks.
February 15, 2012
Rated

5

out of

5
 by
anney
perfect for bath beads
Thanks to another reviewer I bought these to put my bath beads and salts in. The seal is tight and the shape of the bottle has a nice sculptural look to it. Much better looking in the bathroom than a labeled package!
January 21, 2012
Rated

5

out of

5
 by
Renovator
Not just for juice!
Sexy shape, I'm using it on the counter for Cascade dishwasher detergent. Going back to get another for bath salts.
August 15, 2011
Rated

5

out of

5
 by
Roadrunner
Love it!
Nice attractive design and easy to handle. Looks great when serving to guests!
February 14, 2011
Rated

2

out of

5
 by
neetfreek
Not my favorite Container Store purchase
I'm a little disappointed in these. They are just a little too tall for my fridge door (large size). They don't pour smoothly - the beverage kind of glugs out and splashes if you pour just a little to quickly. The size is also kind of annoying. It's fine for concentrated juice, but if you use them to prepare a powdered sugar free drink they fall 8 oz short. I'll keep them ... but I think they could be designed better. I'd make them shorter and squatter with a better spout.
January 29, 2011
Rated

4

out of

5
 by
MelD
Very convenient, attractive, spill proof
These are great little juice jugs for whatever you can think of. I like the little pop top spout so far, seems well made and seals well. I have only had for a few weeks but seem to be very useful and well made. Great gifts, filled with fresh squeezed juice!
December 27, 2010
Rated

5

out of

5
 by
pattysdaughter
great product!
I will be buying another one of these! Easy for big kids to handle.
November 14, 2010
Rated

5

out of

5
 by
LilShopper22
Looks great
I adore these jugs I am getting more. I love having my filtered water nice and chilled and no plastic taste. Excellent product. Saves space in your fridge
October 28, 2010
Rated

5

out of

5
 by
Bubbles
Juice Jugs
I filled my refrigerator with these. They are full of orange juice, skim milk, 2% milk (had to put a garage sale dot on one of them to differentiate), water with lemon slices in it and whatever you want. I prefer the large size jug. They look great inside and outside the frig.
May 18, 2010
Rated

5

out of

5
 by
SavvyShopper
Great for refrigerator
The large jug is great. It takes up little space in the refrigerator and looks good on the dinner table.
May 17, 2010
Rated

5

out of

5
 by
FinallyOrganized
Going back to get two more. Not glass so you don't have to worry about breaking but look great.
May 7, 2010
Rated

5

out of

5
 by
jen44498
Perfect for storing juice
I loved this jug. It is lightweight and it holds the whole 64 oz juice container I buy from the store. When I get home I just pour the Orange juice from the store container to my container, which also cuts back on germs in my fridge(think of all the people that touched your juice container before it made it into your cart!)The only downside is when you pour out the juice, a little bit of the juice stays on the top lip of the bottle and you have to wipe it off. Minor inconvience, still worth having!
March 29, 2010