Rated

5

out of

5
 by
deisy
so nice!!
I was concerned this product would not fit my cabinet, but it was so easy to install and the wine glasses fit just perfect. the oak style fits my bamboo cutlery tray style just nicely.
January 16, 2017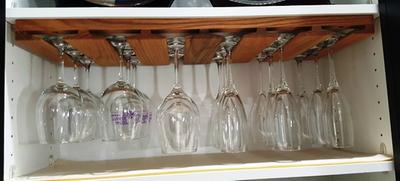 Rated

3

out of

5
 by
Boxxkar
Excellent Quality...BUT
Very well made and reasonably priced for the quality of the product. BUT...be sure you understand that it will not accommodate a 3 1/2 inch base (foot). Many of the better glasses (e.g. Riedel) have a 3 1/2 inch base. I never considered this to be an issue, until after I installed it and attempted to put my first glass in the rack. Therefore, the product was unusable to me.
May 1, 2016
Rated

4

out of

5
 by
Tonyla
Love it
Matched and fit with my cabinet perfectly. Shipping was quick and was installed in minutes.
January 8, 2016
Rated

5

out of

5
 by
sbshopper
beautiful and functional
This was the first thing I hung when I moved into my new place and everyone comments on how beautiful it is. I have a shortage of cabinet space so I appreciated how useful this is. Super easy to install, unobtrusive design, color matches my cabinets. Great item!
March 16, 2015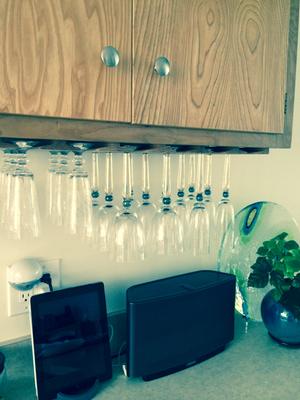 Rated

5

out of

5
 by
Azn8ve
great for style
we looked at making them or having them custom made and then we found these. amen. Just what we were looking for at a great price. Thank you
January 14, 2015
Rated

3

out of

5
 by
mustshop
Quality Control Slip
I had looked at this product in the store. I ended up ordering it on-line because I don't live near a store. When it arrived it was crooked, what a disappointment. Luckily I traveled to a store and was able to return it for a straight one. The product is great, but I do wish they'd pay attention to quality control and not even ship a product that wasn't perfect. I ended up with a great product but at an extra expense to me.
November 10, 2014
Rated

4

out of

5
 by
EmilyD2
Pretty Good -- but 2 minor flaws
The screws were a bit too long for my standard cabinet shelf and there were two areas on the facing with ~1/4" wood "splinters" sticking out (ouch)! After selecting 4 shorter screws & some minor sanding, it was ready to rock. Sturdy construction and does a fine job holding my glass & crystal stemware. Non-invasive & clean lines. Maybe I'm being too critical, but isn't that why we leave reviews? Not to complain, but rather inform.
August 1, 2014
Rated

5

out of

5
 by
Whoops001
Too Pretty to Hide in Cabinet
This stemware rack is exactly as described. I needed to shorten it by a few inches to fit in my kitchen cabinet, and a simple saw cut did the trick. I will order another rack when I get my kitchen more organized.
July 22, 2014
Rated

5

out of

5
 by
ErieQueen
Great Boat Addition
I've been looking for a stemware rack for our boat for years. Boat catalog racks are way over priced. This rack holds twice as many stemmed glasses, fits beautifully and the stain matches our wood well. The screws were actually not long enough and I did have to use longer screws. I found small black cords to use on both open sides to prevent my stemmed glasses from falling out while we are underway. The phone assistant was very helpful and kind as I tried to decide on a shipping method to get the rack to my boat. I will definitely use the Container Store Online again.
July 13, 2014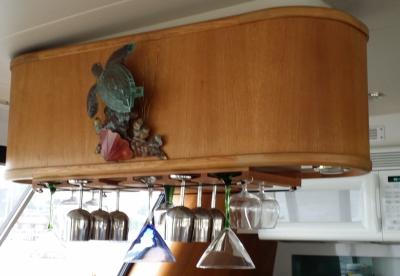 Rated

5

out of

5
 by
Holister
Perfect!
This is the best wine glass rack out there. I highly recommend this item to all my friends and family. Fit perfectly and I am very happy with the quality and design.
April 25, 2014
Rated

5

out of

5
 by
Natty16
Great Storage Solution
I have now purchased two of these--one for my bar and one for the kitchen. It works really well, especially if you back one side of it to the wall (so you don't have to worry about the glasses falling off the back). I love it because it offers a practical storage solution for stemware, which used to be a huge space hog in both of these areas. And what's better is that the glasses are stored upside down so no dust will get in them, and they are not as likely to get broken as in a cabinet. The oak is a nice touch because it seems less likely to chip a glass, which I think I would do with a metal one. The only thing better would be if it came in some other stains--maybe a darker wood stain or even white for some spaces.
February 18, 2014
Rated

4

out of

5
 by
BrickBrown
Just one more thing...
Great addition to the kitchen! Matched the cabinets and was easy to install. Just one thing - the screws the store provides are too long and will pop through the bottom of the cabinets if installed all the way.
October 30, 2013
Rated

5

out of

5
 by
Jamilee
Great Purchase! GREAT PRICE!
I looked for under cabinet stemware racks for our new bar, for a LONG time. The rack from the container store was perfect. I actually ordered 2. I was able to lightly sand and stain the racks to match my darker wood cabinets. You can't tell that they weren't "CUSTOM" made with my new custom made cabinets. Very good quality for a great price!~ Sure glad I found these.
April 29, 2013
Rated

5

out of

5
 by
Never2old2liveright
Exactly what I needed!!
This rack was exactly what I needed to fill the space under a soffit in my kitchen. We removed a cabinet years ago to open up the space between 2 rooms, and up until now... It never looked right. This rack fills the void perfectly and now I don't have to go downstairs when I need a wine glass:)
April 17, 2013
Rated

5

out of

5
 by
BigPete
I'm ecstatic!
A quality product that is easy to install and beautiful to look at! After searching many stores and dissatisfied with other ideas (mostly metal racks that will chip or scratch fine glassware), I found this product that matches the oak trim of my kitchen.
March 12, 2013
Rated

4

out of

5
 by
NATUREGIRL
Love it
I can finally get those glasses off the top of the bar - and keep them clean! WOuld have rated it higher, but installation upside down was a bit tricky...
February 20, 2013
Rated

4

out of

5
 by
espo80
Nice Rack
Great rack,but was disapointed that the hardware to install was not included.Have to go buy wood screws!! They offered to send some from Dallas Texas, but need to install for weekend.
January 3, 2013
Rated

4

out of

5
 by
FundraiserBeth
Great!
Easy to install, nice looking, goes well with my kitchen.
June 18, 2012
Rated

5

out of

5
 by
JasonWeAre
Great piece
Very easy to install, really sturdy and well-made. Really very happy with this purchase.
April 30, 2012
Rated

5

out of

5
 by
mrsgigi
perfect addition
I needed another stemware rack for my my newest hobby. I started collecting wine glasses from the wineries that I have visited. It matches my existing rack almost perfect...I know as my collection grows, I be purchasing others
April 27, 2012
Rated

5

out of

5
 by
USA4
Instant Bar
Great product! If you are at a loss for space, this item allows you the comfort of a wine bar in your existing bookshelf. My dining area is extremely small, so I converted a bookshelf/room divider into a wine bar as well. The rack installed beautifully and now displays my glassware.
March 17, 2012
Rated

5

out of

5
 by
Payton
Beautiful
This product is beautifully made. I'm using it at the bottom of a custome made cabinet because the cabinet maker couldn't make it as well.
March 13, 2012
Rated

5

out of

5
 by
KimberAWB
Perfect
Being a big wino, my husband and I wanted to be able to display our wine glasses with our wine. These were perfect for under out cabinets. They closely matched the color of our cabinets and was well hiddened enough to not look cheap. Thought this was a great buy.
February 26, 2012
Rated

4

out of

5
 by
buckeyeangler
nice wine glass rack
Overall I am very happy with the oak wine glass rack. It is well constructed, just the right size, and color. It installed easily beneath my cabinet and although the screws could have had a nicer finish, they were the proper length to fit into my cabinet and securely fasten the rack. A few minor concerns include a few roughly finished edges and the distance between the slots are just a bit tight for the glasses I am using. Definitely would recommend!
November 24, 2011
Rated

5

out of

5
 by
bagellove
Great space saver!
I used to live in a small studio in Manhattan Beach, CA where space was an issue. My mom bought me a couple of these racks and it was amazing how much cabinet space opened up by using them... I just bought a house in Boulder Creek and while there is plenty of cabinet space, I loved the look and convenience of having wine glasses handy so just bought two more!
February 16, 2011
Rated

5

out of

5
 by
nappingcat
GREAT Oak Undercabinet Stemware Rack
I purchased 2 of these to fit in a tight space over my sink in the kitchen of our small condo. I would have loved it if it came in other colors, but truthfully, for the price and the perfect size, I'm VERY happy with them and can change the color if it ever becomes a big issue for me. Although we haven't installed them yet because we need to remodel the space they will go in I am anticipating buying 2 more, if I can get a deep enough cabinet to support the weight of 4 racks filled with glassware! I'm excited because they are well made, will help me control my small space, will look great and be easily accessible. They appear to be easy to install with pre-drilled holes, etc.came with the installation hardware, and they have a smooth surface, no splinters, or rough wood. What more could I ask for? Just 2 more!
August 27, 2010