Rated

5

out of

5
 by
hulabe
InterMetro Folding Chef's Cart
This cart created much needed extra prep and storage space in our studio apartment. My partner and I love to cook, but we were running out of counter and cabinet space in our galley kitchen for all of our cookware. We love that the cart has wheels, so it's easy to move in and out of the kitchen. And when not in use, it makes everyday items more accessible and creates a nice way to display of some of our favorite pieces.
January 8, 2017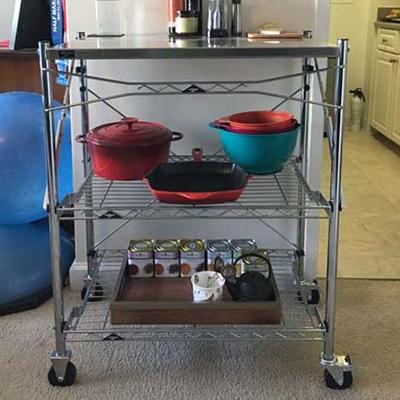 Rated

5

out of

5
 by
Jenndiaz
Two thumbs up
Great product, spacious and versatile! A must have!
June 18, 2015
Rated

5

out of

5
 by
RubyRoo
Best Purchase Ever
I saw this cart when I was in Arizona. I liked it so much that I took a picture of it so that when I returned to Michigan I could order it and have it shipped to my home. I ordered the cart and within five to ten days my cart arrived. Can I say that this is the best addition to my kitchen. I have very limited counter space and this helps me out when I am baking and cooking. I absolutely love LOVE this cart. I hope to purchase a second one for my daughters house because it is a wonder addition to any kitchen. In fact within a two week period I spent over 300.00 in The Container Store products and have been showing all my friends my new stuff on Facebook. Everybody loves my chefs cart.
March 4, 2014
Rated

4

out of

5
 by
Nashvegas
Accurate dimensions are not listed in the Specs
First, I will say that I am very satisfied with the quality of this chef's cart. The only issue I experienced is that the Product Specifications do not accurately reflect the cart width measurements. The shelves (work space) are 27" wide, but the actual cart itself is 29.50" wide because the poles extend out past the shelves on both sides. This might be valuable information for people like us who need to fit the cart in a tight space!
December 2, 2013
Rated

5

out of

5
 by
frank55
excellent purchase
I brought for a replacement for a microwave table. And it is very stable and strong.
October 29, 2013
Rated

3

out of

5
 by
PastryChef
Folding Cart Review
Have had it for a month; assembled easily but one set of wheels don't swivel so it is limited in terms of moving around easily. It was purchased for us to use on deliveries and while the fact that it folds is helpful in making it fit on a truck, it's not as helpful as we were hoping it would be. I'm glad I bought it on sale and with a promotional discount, otherwise I would have been very disappointed having paid full price for it!
September 21, 2013
Rated

5

out of

5
 by
GAATTYMOM
If all four wheels swiveled it would be a dream
Great cart, but I am missing an end cap to one of the legs. Also, only two wheels swivel, which makes it very inconvenient to maneuver. It was very easy to put together. Only two wrenches needed. I will be watching for a folding cart that has all four wheels that swivel. When folded the cart is very thin, about 4 inches thick, and is about 5 feet tall.
August 19, 2013
Rated

5

out of

5
 by
Fiaccone
Great cart
Lightweight, easy to store or transport. I use for product demos, so it is great that I can easily roll it, fold it, load it in my car.
April 13, 2013
Rated

4

out of

5
 by
iDrew
Great design
Great design! Fold away easily. Easy to wheel around when serving food.
May 3, 2012
Rated

4

out of

5
 by
beachlover
happy at last
I have a somewhat small city apartment house kitchen. Although I have enough space to move around in it, I do not have enough counter space. For five years I was looking for a pantry cart ,and I thought of buying a wood on until I saw this one in a catalog. Everything is off my counter and now I have a coffee station plus more room on the counter. the only gripe is that It took my handy man about 45 minuter to put together. They did not provide a key to lock the in place the shelves. Still I m happy at last
December 15, 2011
Rated

5

out of

5
 by
GirleyFriday
Fabulous Purchase
This cart met all of my expectations. I love the stainless look. It works well with my kitchen decor. It is study, functional and just the right height. I use it as a serving cart, a work space, an extra counter space when I need it for appliances (e.g., stand mixer, countertop convection oven, rotisserie), and a space for cooling pies (The bottom two shelves are perfect for that.). The beauty is that it can be set up anywhere. I love it. The best part is that then you're finish, you just fold it up and put it away. It has a small foot print and can be stored in a pantry, closet, under a sofa, in the garage, or any narrow space. It's one of the best purchases that I've made this year.
December 13, 2011
Rated

5

out of

5
 by
Simonesa
Metro folding cart
This cart fills my needs exactly. I am using it in my kitchen to hold supplies. It is easy to roll in and out. Plus it is another flat surface when we are entertaining. It is sturdy and well made. I like how it will fold flat if I ever need to stow it away.
October 16, 2011
Rated

4

out of

5
 by
Happyshopper07081
Description needs more information
I have a small kitchen and this cart will come in handy at holliday time. It will give me extra storage and work space. Unfortunately, the description did not indicate how tall it would be when it is folded. I guess I was somewhat shocked at the height. Also, it was not so easy to assemble. However, it is narrow and I am able to store it in the back of a closet.
October 9, 2011
Rated

5

out of

5
 by
Kay12
great purchase
love how easy it is to setup and fold when not in use. It rolls very easily and was very useful at my recent outdoor get together with family and friends, used it as a server.
September 6, 2011