Rated

5

out of

5
 by
AJM88
Great fit on narrow shelf
Fits perfectly on the 7 1/2" shelf in my laundry. Nice and deep for storage!
December 11, 2016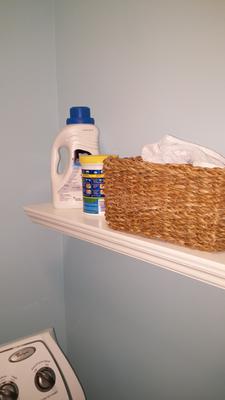 Rated

5

out of

5
 by
MandaH
Great little baskets
I ordered three of these for a coat rack shelf. They are well made and high quality. I needed a really large basket or two or three smaller ones and these were perfect. I like the way they look and the size is great.
December 10, 2016
Rated

5

out of

5
 by
shelleyanne
Perfect size. Sides not rigid
I needed bins in the exact dimensions of the medium baskets. They fit perfectly under a crafting armoir that holds all of my supplies...just needed a little more space. The only thing to be aware of is that the sides of the baskets aren't as rigid as I expected. When I pull the handle to slide the basket out, it flexes open a bit. Since I don't pull the baskets out that often, this is not a problem for me. If I pulled the baskets out regularly, I wonder if they would lose the I shape over time. Maybe that is the nature of this material.
September 18, 2016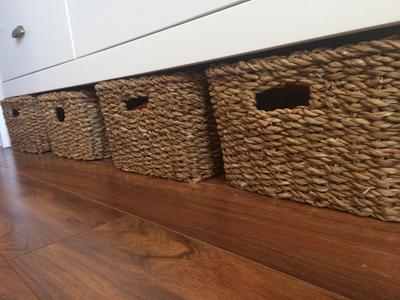 Rated

5

out of

5
 by
sdb15
Nice, sturdy basket
I was planning on giving this basket to someone else, but in a random turn of events I ended up keeping it. It's not the fanciest thing in the world, but it looks nice, it's sturdy, I don't expect the handles to break anytime soon, and it has cleared up a lot of space on my desk.
March 18, 2016
Rated

5

out of

5
 by
Derfla
Beautiful Basket
I have been looking for a basket that would not only fit in my espresso colored bookshelf but would also give it a elegant look. This basket did the trick. I purchased 2 of them and have received many compliments as well as inquiries on where they were purchased.
March 17, 2016
Rated

5

out of

5
 by
aquiltingbrat
Great basket for holding quilting patterens
I brought this to hold my quilting patterens and it does. I needed something small enough to hold them up right so that I'm able to look at them standind up instead of laying down.
July 3, 2014
Rated

5

out of

5
 by
CouldBeMoreOrganized
Solid purchase
I purchased these bins in two different sizes so I could organize a long shelf in my closet. I use them to store toiletries. They are sturdy with a bit of give. I'm very satisfied with my purchase.
April 27, 2014
Rated

5

out of

5
 by
DeniseJ
Perfect for Coffee
I use this for my 2 lb. bag of organic coffee beans, and 2 lb. bag of organic sugar in the cabinet about the coffee pot. The basket is strong and sturdy and keeps the bags neatly displayed. It has an organic look that goes well with the other container on the shelf a clear box holding several boxes of organic coffee filters.
March 30, 2014
Rated

3

out of

5
 by
AONeal
Flimsier than it looks
It turned out OK for the few small items I'm using to store in it but was is a bit flimsy.
March 25, 2014
Rated

5

out of

5
 by
mostlyorganizedmama
perfect fit
I have a shelf in my kitchen cabinet that I just threw stuff on & I went to The Container Store in search of something to make it more organized. I purchased this, along with a smaller/narrower version, and they fit perfectly on the shelf. Now I can just slide them out to put things in & take things out. So far it's held up, but I've only had it a few weeks. Time will tell if it lasts long-term.
March 20, 2014
Rated

5

out of

5
 by
khawkins
Perfect Size
I use this basket to hold all my lotions & perfumes in my bathroom. It is the perfect size for them!
March 18, 2014
Rated

5

out of

5
 by
Nacha
Fits my needs perfectly
I had problems with items falling to the back of my "tower" cabinet in my office and this is where I keep my snacks and quick lunch items. Finally, I decided to get better organized! The basket with the cut-away holds my tuna packets, peanut butter, rice cakes, and fruit cups. The one without the cut-away holds my small (real) plates and bowl. Now, when I have to grab something at my desk, I can simply pull out the basket instead of hunting around my tower's deep and dark interior.
November 12, 2013
Rated

5

out of

5
 by
happyhappyveryhappy
Exactly what i wanted!
I wanted something to keep my papers and folders and files in, in my home office. I didn't want a large, office-looking file cabinet and these are perfect for storage -- minimalist, attractive, simple and inexpensive!
November 10, 2013
Rated

5

out of

5
 by
SylvieGirl
Nice way to hold my vitamins
My husband and I have a variety of vitamin bottles we need to access every day, so I keep them in this bin on the kitchen counter. The front cut-out makes it easy to see what's what, but at the same time they're contained and mostly hidden. I also love the natural look and feel.
November 8, 2013
Rated

5

out of

5
 by
smtplucky13
Great baskets!
I used these in my closet makeover - they are great for storing clothes/accessories/anything in a way that adds character to organization
October 23, 2013
Rated

5

out of

5
 by
iLoveOrganization
love them!
I am on a mission to clean up my pantry and these baskets are a perfect size for me. I have single serve chip bags in one basket, large bags in another. I have a basket for potatoes and one for all those snacks that come in bags. These baskets make my pantry look amazing! I also bought some of the POP canisters to help with the organizing. I love it all. I unfortunately could not afford to buy all that I need so this is a work in progress but my pantry is looking much more organized and I can now see what is in my pantry!
September 20, 2013
Rated

5

out of

5
 by
Cyline
Looks nice for bathroom
I bought 6 for my bathrooms. They make my bathrooms look more organized.
July 31, 2013
Rated

5

out of

5
 by
Pumpkin195
Casual and pretty
These straw baskets are beautifully made. Just enough "roughness" to look casual, but squared off and evenly sized with minimal untucked fibers so they look really nice. I bought these to use in 5 cubbies I had made under my kitchen countertops to keep mail, takeout menus, sticky pads, scotch tape, etc., that I always seem to need to grab in the kitchen.
June 13, 2013
Rated

3

out of

5
 by
shopper78
Nice basket; smaller then expected
A nice basket, but even with my measurements, seemed smaller than I expected. Makes the top of my cabinets look nice though, and they did ultimately add some more storage space. Also wish they were just a little firmer.
April 30, 2013
Rated

4

out of

5
 by
calico27
Perfect
I got the small square one and it fits so perfectly well on the shelf in my bathroom. Perfect for storing stuff and goes well with my bathroom decor.
March 23, 2013
Rated

5

out of

5
 by
Perryjm
great baskets
I bought the square, rectangle and open front baskets. I store can goods, pastas and ziploc bags in mine. They have made everything super to find and my cabinets look so organized!
March 18, 2013
Rated

2

out of

5
 by
bergmm
even after measuring, seems tiny-doesn't hold much
I had a specific opening between a bookcase and a wall that was 6 inches wide. My children tend to stick books and magazines there, so I wanted to put a basket there to hold them more attractively. This basket does fit in the space. I measured and thought I knew how it was going to look... but it looks super tiny. I would have sent it back, but didn't want to pay for shipping. I would suggest cutting a piece of paper with the lxwxh dimensions so you aren't surprised. I think the height (looks super short) surprised me most.
February 23, 2013
Rated

5

out of

5
 by
ebr7
Exactly what I needed
Great for keeping snacks, nuts and sweets all together. Bought two of the open ones and one square one. Save a ton of space. Would definitely recommend!
February 19, 2013
Rated

5

out of

5
 by
fritzi
Best Bins
My son complained about the small stuff I kept in a corner of my kitchen. So he bought me a sieving piece to help keep it organized. Of course the stuff was still messy since it was loose on a shelf. Solution was these great bins in a natural fiber that will look good in any kitchen.
February 17, 2013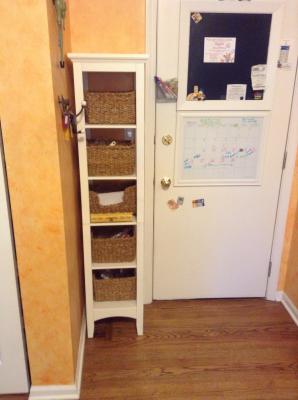 Rated

4

out of

5
 by
81lot05
Good baskets
Bought two different sizes of baskets and they are working out very well.
January 26, 2013