Rated

5

out of

5
 by
LeoGirl0728
You NEED this. Just get it.
I wait to write reviews until a few months have passed. Almost a year later, I have to tell you this is one of my favorite kitchen gizmos. And family members all want one. Enough said. Get it. I only wish I would have come up with this first. ;-)
December 20, 2016
Rated

5

out of

5
 by
XDeonyX
Love it!
I'm using it for the same purpose as the picture would suggest. I have a new coffee maker that was loaded from the top, but was so high I couldn't manage it from under the cabinets. I was concerned it may not be wide enough from looking at the picture, but it's ~8 3/4" width seems like it was made for my Hamilton Beach Brew Station (a very large brewer). Perfect for my needs at a good price.
January 24, 2015
Rated

5

out of

5
 by
DeeH
Just What I Was Hoping For
Perfect for my Keurig Coffemaker. It fits perfectly. I ordered one for my food processer, too, and ditto . . . the same satisfaction. These are so nice. Before I had to leave the Keurig out 12" from the wall so that it would clear the top of my cabinet. I'm a senior citizen and not able to lift as easily as when I was younger. I'm so happy! Thanks for the great product.
June 19, 2014
Rated

5

out of

5
 by
Cute1
fantastic product
The handy caddy is a fantastic product. I have a keurig K55 and it fits perfect. It gives me so much more counter space. I highly recommend it. I love it.
January 8, 2017
Rated

5

out of

5
 by
Acoudre
Does the job well.
Simplifies adding water to the coffee maker...a one handed operation now. Bought another for our second home.
December 7, 2016
Rated

5

out of

5
 by
KateW
Loved first 1 so I bought 2 more
I bought one to try. The way it was displayed in the store, I wasn't convinced it would be sturdy enough but I could always return it. The weight of the appliance transforms the tray into a stable unit. Plus the depth of a kitchen counter allows it to roll out completely; in the store the shelf wasn't deep enough and it would roll over the edge when extended making it seem unstable. I tried it on our regular coffee maker and found that it needs to be placed 1 inch forward from the back splash in order to be able to open the top all the way to pour in water. I moved it to my espresso machine and it's perfect. I moved it to my 2 quart ice cream maker (that gets more use than either coffee machine) and it's perfect. Thus the need to purchase 2 more.
November 21, 2016
Rated

5

out of

5
 by
FloLary
Fantastic
I told my husband I wanted something to sit the coffee pot on so I didn't have to pull it out because it didn't want to slide. A few days later I ran across your company and saw this tray at such great price, I thought I'll try it if it doesn't work that's ok. I ordered two one for coffee pot and one for air fryer and I love it so much that I ordered two for my daughter.
July 28, 2016
Rated

5

out of

5
 by
JMJ8
Handy Gadget
These sliding trays are great for moving small appliances out from under cabinets and into usable countertop area. This is my third one. Now using them for two coffee makers and a toaster.
April 4, 2016
Rated

5

out of

5
 by
Samster
My Handy Caddy
The Handy Caddy Sliding Tray works great. The best inexpensive item I've ever owned!
March 9, 2016
Rated

5

out of

5
 by
pami
love it
works great just what I want. purchased one for me and one for my mom .we both love it
February 8, 2016
Rated

5

out of

5
 by
Lflyddon
Very convenient and a space saver
This is the second time I have purchased this item. The old one still worked, but it got water stained from a leaking coffee pot, and old looking, so I replaced it. It is really convenient to be able to get my Keurig out of the way on my counter, and still be able to easily pull it out when I want to make coffee.
February 5, 2016
Rated

4

out of

5
 by
SherylA
A Good Buy
I love my sliding tray for my coffee maker. It saves wear and tear on my cabinet. I also bought one for my mother. She likes it too!
December 20, 2015
Rated

5

out of

5
 by
mosaic1
LOVE LOVE LOVE
Exactly as advertised. I put one under my coffee maker and under my indoor grill to keep the heat and steam away from my expensive cabinetry. I also have one under my heavy Kitchen Aid mixer. Now it just slides out with one finger!
November 16, 2015
Rated

5

out of

5
 by
specialkreed
My New Favorite "Helper"
This sliding tray is Awesome! No more lifting & lugging out my KitchenAid stand mixer every time I want to whip something up or "scootching" my Keurig coffee maker forward so I'm not laying across the counter for a cup of coffee! I was so impressed with this gadget that I bought a few more for my Mom & daughter. I love it when I find cheap & useful in the same item!
October 2, 2015
Rated

5

out of

5
 by
Terri2310
Handy Caddy
This caddy is just what I've been looking for. Put my Keurig Coffee Pot on it. Keurig requires to open from top so this makes it so handy.... Slide it out make coffee and when done push it back under cabinet. Wonderful idea!!!
August 19, 2015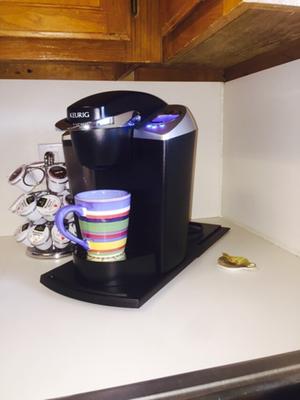 Rated

5

out of

5
 by
Michelle23
Useful!
We love the brilliance of this product, makes it so much easier to move out pot in and out on the counter!
May 25, 2015
Rated

5

out of

5
 by
TonyL
Easy pull coffee maker from under cabinet
The Handy Caddy is perfect to pull your coffee maker from under the cabinet without any lifting of the coffee maker. I pull out the coffee maker, using the Handy Caddy, prepare everything needed for the coffee maker to make a pot of coffee, flip the switch to start the brewing process and push back the coffee maker back under the cabinet giving me more room that is needed on my counter top. I dont keep my toaster or any other small appliances on the counter, but I'm sure this would be great for a toaster, blender, or any other small appliance kept on the counter and under your cabinet.
May 14, 2014
Rated

5

out of

5
 by
cookie255
Easy to use
Out of the packaging and onto the counter under the coffee maker. Works so well that we ordered 2 more!
April 28, 2014
Rated

5

out of

5
 by
JulieMom
Works like a Dream
This tray glides along smoothly. It is trim, takes up minimal extra counter space, and works as promised. We are so pleased with this purchase. We had bought a different sliding tray at a "bed and bath" box store that cost three times the price and did not work well at all. My only wish is that they would make one that is big enough for a four slice toaster!
April 21, 2014
Rated

5

out of

5
 by
Godoesgood
Slid into my heart
This little sliding caddy slid into my heart, making room on my counter, and looking ultra hip. On top of that - the cost was cheap...but the quality is GREAT! I am SOOO pleased with the decision to invest. <3
April 3, 2014
Rated

5

out of

5
 by
rockymtnbelle
A Must for Every Kitchen!
Heard about this from a coworker, who has one for her Keurig and bought another for the Keurig we just got for our office. When I bought myself a Keurig, I knew I had to have one, too. Even though my kitchen is not exactly small, I love that I can slide the machine in and out from under the cabinets and keep my countertop clear for food prep. Even though our Keurigs are the ones with the 72-oz tanks, they still slide easily and without slipping. Just love this product!
March 31, 2014
Rated

5

out of

5
 by
Soraya
A Simple Solution
For the price you cannot find a better solution for the problem of moving awkward appliances. The assembly is minimal; the shelf is lightweight and easy to clean.
March 31, 2014
Rated

4

out of

5
 by
borntoshop247
Handy Caddy Sliding Tray - Best Product Ever!
This product is a lifesaver. I have no counter space and this just provided me with a way to get access to the coffee maker without having to move it all of the time. It's so handy ans I'm thinking about getting another one for my toaster. I would recommend this product to a friend.
March 27, 2014
Rated

5

out of

5
 by
coffeechris
Great Little Product
I had been looking for one of these because I knew that they existed somewhere and low and behold while I was in The Container Store picking up another item, there it was! This product is simple, but does exactly what you need it to. If you have lower counters and want to be able to easily access your coffee maker this is a great product. Very simple, but infinitely valuable and at just $4.99 worth every penny.
March 8, 2014
Rated

5

out of

5
 by
mceik
Very Handy!
Very simple and such a great find! Wish I had this sooner.
February 23, 2014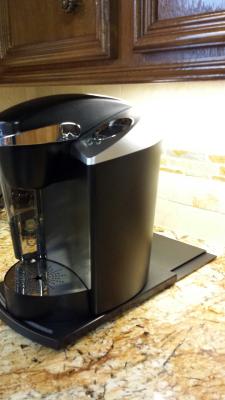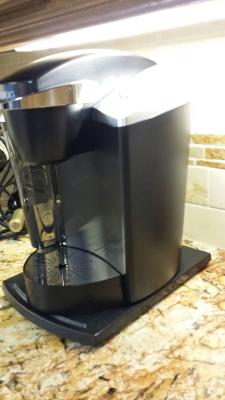 Rated

4

out of

5
 by
Desert68
Sliding Tray
This tray works great, have it under my coffee pot. My kitchen is tiny and it's a real help to slide the pot out from under the cabinet to lift the lid, rather than lifting the pot.
December 9, 2013
Rated

5

out of

5
 by
TKRN
So Simple
Simple product that made a world of difference. Going to buy another for my blender.
November 20, 2013
Rated

5

out of

5
 by
Babbles2
Great idea!
Such a simple concept, but what a great idea! Just a small thing that makes setting up the coffeepot a little easier. The whole coffeemaker sits on it, ( you can barely see it) and slides out from the back of the counter, making it super easy to fill the water, and add the basket of grinds. I absolutely love it!
October 28, 2013
Rated

5

out of

5
 by
YawningDog
Useful
Works just as described, very handy, useful, and unobtrusive.
May 6, 2013
Rated

5

out of

5
 by
denthomp
I love this!
Finally I can use my heavy duty stand mixer without throwing my back out pulling it out from under the counter! I bought two of these -- one for our coffee maker and one for the mixer. Both make life a bit easier.
April 27, 2013