Rated

5

out of

5
 by
RobinMKD
Great glass food storage containers
I'm trying to get my refrigerator organized for the new year so I bought several sizes of these containers to hold meat, veggies and fruit. They stack nicely in the fridge and since they are clear glass, it's easy to open the fridge door and see what food is stored where quickly. The containers are also great for reheating food in the microwave and super easy to clean both the container and the lids. I'll be buying more of these for sure.
January 8, 2017
Rated

5

out of

5
 by
Bunica
Love the different sizes of this set and how they easily stack for storage. Really like the way the lids work.
June 8, 2015
Rated

5

out of

5
 by
Bunica
I bought these initially for a gift but also bought myself a set. Totally impressed with the way the lid works and also like the thickness of the container.
June 8, 2015
Rated

5

out of

5
 by
jlthill
Best sealing containers!
These containers are awesome! They seal the very best out of any kitchen aid containers. I can put guacamole in one container and it wont turn brown for days!! That is saying a lot because avocados turn brown very quickly even in my other storage containers, but not the TrueSeal! Highly recommend and will be buying more next time I am in the store! :)
March 28, 2015
Rated

5

out of

5
 by
FoxyWhite
Bake, Take & Shake! Making lunch just got easier.
Love that I can bake my chicken right in this dish, add the lid and it's ready to go! With the spill proof-seal, my lunch can shimmy & shake all the way to work without a drop leaking out. I can then microwave it in the lunch room without worrying about plastic chemicals seeping into my food. Easy to clean too!
March 23, 2015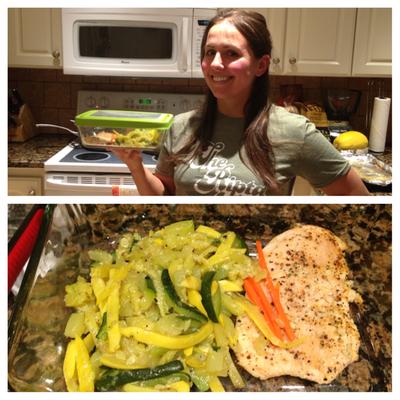 Rated

4

out of

5
 by
SLiz
Perfect size for storage
I bought one of these to keep herb "ice cubes" in my freezer so that I can melt them during winter and use fresh herbs from my garden. The container holds a good amount (although I probably should have gotten the larger size - that was my fault) and it has withstood being in the freezer for an extended period of time.
April 25, 2014
Rated

5

out of

5
 by
amh8
great seal on this dish
Samller sized dish with a great seal. Perfect for freezing leftovers or making a smaller dish
April 22, 2014
Rated

5

out of

5
 by
organizemuch
huge step up
I previously owned the older version of these containers with the stiff navy top and they all dried out and cracked. This new bright colored, felxible and solid suction top is a huge step up. I'm super happy with them.
April 18, 2014
Rated

5

out of

5
 by
KristiP
Love these!
I'm a personal chef, and I use these dishes for all my my clients. They go from freezer to fridge to microwave to oven. They're very durable. The lids are great - they withstand many dishwasher cycles, and don't leak easily.
March 27, 2014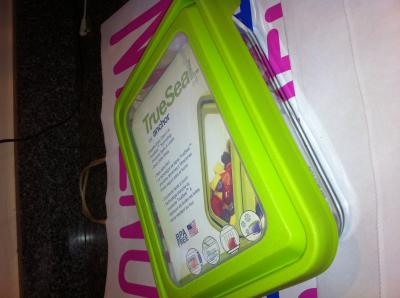 Rated

5

out of

5
 by
Bubbly
good feeing
I bought the 8oz for a little convenient stash container, and its a jewel. Nice and air tight and you can store safely. I use mine for herbs and it keeps them fresh.
March 22, 2014
Rated

5

out of

5
 by
newenglander
Excellent
These have been great, I was looking for a sturdy glass container with a lid that doesn't leak and these have surpassed expectation.
March 15, 2014
Rated

5

out of

5
 by
organizingintx
Got rid of plastic
I recently got rid all of my plastic containers and went all glass. So glad that I discovered the Glass TrueSeal Food Storage containers. They are my favorite!
April 27, 2013
Rated

5

out of

5
 by
67GTOenvy
Great for freezing meals
These are perfect for pre-prepped meals to freeze, they stack nicely and they are the perfect size for our family.
April 17, 2013
Rated

5

out of

5
 by
Kittylady2
Glass True Seal Rectangle food Storage
The lids seal well and are easy to get on and off. The view panel on the lid is easy to see through. The containers don't stack well enough to be sure they won't slip when jostled.
April 8, 2013
Rated

5

out of

5
 by
idontwantanickname
Love It
I love these glass food containers. We are getting rid of plastic storage to make ourselfs more healthy. I love that he lids keep things fresh and do not stain. Great for leftovers and work great in the microwave.
March 18, 2013
Rated

5

out of

5
 by
Albert
Best Purchase
Love the product, super easy to close and it really does not leak, I bought because sometimes I take soup to work. The other day I placed it in my bag going to work and left it next to my kindle and to my suprise when I got to work it was dry, no leakage. Thank You for making such a great Product!!!
March 2, 2013
Rated

5

out of

5
 by
abla
Great Glass Container - Best Lid Ever
When you get down to it, most of the glass portions of storage containers are the same - it's the lids that make a difference. These lids are easy to get on, stay on even if you drop the container, yet are still easy to remove. Fantastic.
January 27, 2013
Rated

5

out of

5
 by
mountainmamma
love it!
very happy with this product. we're finding plenty of uses for it
November 6, 2012