Rated

5

out of

5
 by
Javagirl
Saved my coffee!
This container saved my coffee beans. I bought a fairly large quantity of roasted coffee beans, unaware of the reduced quality in coffee from grinding roasted beans exposed to light and air. The Airscape container forces out air and blocks light, saving the quality of my morning coffee!
January 20, 2017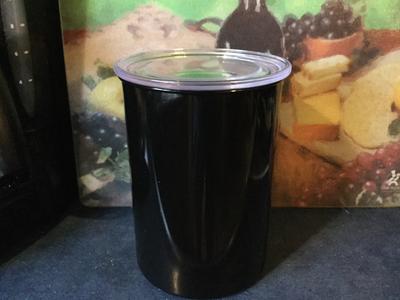 Rated

5

out of

5
 by
Sparkymegatto
Great Product
Keeps freshly ground coffee smelling and tasting like freshly ground coffee
December 20, 2015
Rated

5

out of

5
 by
CoffeeBob
Great Canisters
I bought the small canister for storing ground coffee. Smart design and does the job for a fair price. Anyway, I won't grind more than three days worth of beans and the container keeps all light away with the metal base and opaque inner lid. I like it so much I purchased a second one for a different type of bean, and one large canister to store whole bean coffee. Works for me! Sure you could go crazy and purchase a vacuum type canister but that will set you back 50 bucks or more.
October 31, 2015
Rated

3

out of

5
 by
Editaur
Doesn't hold much
I bought this to hold coffee beans, which I buy a pound at a time. I read reviews here and elsewhere that said the 64 oz size would hold a full pound of beans, but it doesn't come close. I guess having two lids cuts down on the capacity. Also, it's too easy to put the inner lid in cock-eyed, which kind of defeats the purpose of the seal. I'm using this canister for pet food now so I can't really comment on how fresh it keeps things. The cat seems happy.
February 18, 2015
Rated

5

out of

5
 by
Tedd
Excellent for coffee
I've used this container for over a year to store coffee. It works great.
January 12, 2015
Rated

5

out of

5
 by
Kroo
Fresh Coffee
For coffee lovers this product is a must. This canister keeps out all the evils of your beans, air and light!!
April 11, 2014
Rated

5

out of

5
 by
OregonCurt
A NW Coffee Snob's Delight!
We love our coffee, but hate when it's gets stale. After trying several other "keep it fresh" containers, we've settled on this one. It is super easy to use and really does a great job of keeping our coffee's original flavor. I've now purchased two of these. Great easy to use product!
April 8, 2014
Rated

4

out of

5
 by
dlello2
Product Looks Great, Functions Well!
I'm very happy with this product. It's got a great sleek appearance, fitting for any kitchen. It does a fairly good job of keeping food fresh as well. I have been using the two I purchased to keep coffee and grains fresh. I can really tell the difference in the flavor of my coffee--especially when freshly roasted beans go right into the container! The only improvement I can imagine would be to have some sort of vacuum pump to remove all air.
March 28, 2014
Rated

4

out of

5
 by
OnTheRidge
Fresh coffee beans at room temperature
We formerly stored unground coffee beans in the freezer, but didn't like grinding them in the burr grinder while still frozen. This product solved the dilemma. The beans stay fresh and ready for grinding. We now have two small containers for coffee beans, since the smaller container won't hold 1 pound of coffee.
March 27, 2014
Rated

4

out of

5
 by
Emy1
Freshest coffee
My husband and I agree that are coffee tastes better now that we're using this canister to squish out the air and keep out the light.
February 23, 2014
Rated

5

out of

5
 by
StoringSolutions
Best for storing coffee!
I thought this would work well, but I'm pleasantly surprised it work well above my expectations! It keeps coffee as fresh as the day I brought it home 2 weeks later! The only thing I wish is that there was a smaller tea tin size. I really wish the canister came in a 16 oz size.
February 16, 2014
Rated

4

out of

5
 by
Gram53
Wonderful
I really like the canisters but I wish there was a larger one.
December 22, 2013
Rated

5

out of

5
 by
Rita71
Classy airtight container for storing coffee
I did a lot of researching online before I bought this product. I like this product because it is reasonably priced, looks nice and keeps the air out. Many of the other products I looked at had a valve that kept the air out, but the valve also needed to be replaced from time to time. With this product, you push the lid down into the container until it reaches the product inside. Thus, the air is kept out of the container. I bought 4 of them and may buy more in the future.
December 20, 2013
Rated

5

out of

5
 by
Desert68
Love this!
Love this canister so much I just bought the larger one!
December 9, 2013
Rated

5

out of

5
 by
sail2sunset
Superb canister
This canister delivers airless like no other. Come try my coffee! It's the freshest ever. Every time I open it up, the aroma of fresh coffee comes again to my senses. I love it.
August 8, 2013
Rated

5

out of

5
 by
bjeans
Better for pets
Since air and light are the enemies of food, we switched to this container for cat and dog kibble (rather than constantly opening/closing 5 different bags for various animals). Our one finicky cat is eating more of the healthier grain-free kibble (though she eats lots of wet food too) since switching from a glass container to this one. (As to brown sugar hardening that one reviewer mentioned, even the barest bit of air will harden it, so it's best stored in a plastic bag with all air removed and put in a dark place.)
June 17, 2013
Rated

1

out of

5
 by
Loleka
Didn"t do what it claims
I bought the 64oz. Stainless Steel Airscape Canister hoping that it would keep my brown sugar soft and ready to used whenever I needed it, but to my dismay, the brown sugar still hardened. Not a fan of this canister for brown sugar!!
April 13, 2013
Rated

5

out of

5
 by
Love2OrganizeinMD
Best Tea Tin!
I am an avid tea drinker. I stocked up on loose tea when it was on sale and have used these tins to store the tea in. They are great! You can hear and feel the vacuum seal. Tea stays fresh!!
April 8, 2013
Rated

5

out of

5
 by
vmcleod
Excellent product
the Airscape is a great container and lives up the hype. The double lid with one-way valves works great, keeping air out and products fresher longer. The stainless steel is attractive and will last a lifetime. I plan on purchasing more of these.
April 3, 2013
Rated

5

out of

5
 by
DesignerBee
Fabulous product
Definitely the best coffee grounds saver I've used. It never lets air in. And bonus, it's attractive! Not an ugly plastic container on my desk! Best out there.
March 18, 2013
Rated

5

out of

5
 by
Belladonna
The perfect design!
I have purchased many stainless steel canisters but this one is by far THE BEST! I love to bake and keep brown sugar in one of them. Each time I open it, the sugar is fresh and remains soft (very important). I will only buy AIRSCAPE from now on. I am hoping they will introduce larger sizes to their product line.
February 24, 2013
Rated

5

out of

5
 by
Polly47
Excellent product
This was a great purchase! It is very important to grind my coffee beans just before brewing. I have tried many other cannisters. The dual system works great and the canister is airtight. My beans remained fresh for a very long time.
March 13, 2012
Rated

5

out of

5
 by
Darl
Best container for your coffee
I love it! I heard about this product from a friend and I am so pleased with the containers. I purchased 2 one for regular and one for decaf. I know that it is sealed when I can hear the air coming out as I press down on the cover. The coffee stays as fresh as the day I bought it. It was definitely worth the investment!
March 12, 2012