Rated

3

out of

5
 by
Robinsky
Drink Powders
I bought two of the Slide and Pours for my Crystal Light drink powders - a big one and a small one (for work). They aren't really made for that so I have to keep the one at work in a plastic bag. The one at home is stable on a shelf so it is fine. I would not suggest putting any powders or spices in them.
March 14, 2016
Rated

5

out of

5
 by
Disneyfanatic
Great!
I was looking for something to replace the ugly salt box in my pantry. I needed something that looked nice and I could pour from. This little dispenser works great. It not only looks nice, it is clear so I know what it is at a glance (labeled also) and I can slide it open to pour. I will be going back to get more to replace those ugly spice containers too. With the products you can't seem to find anywhere else but the container store my pantry is organized and pretty.
May 10, 2014
Rated

5

out of

5
 by
Lovebeingorganized55
Love These!
Purchased these for work in the 16 oz. size to use as sugar & Splenda dispensers. They're fantastic! The clear top slides easily & they have a nice, clean look on the coffee room counter. We tried the other, old-fashioned diner-style sugar dispensers with the small hole at the top, which constantly clogged. I searched everywhere on the internet & in stores for a better solution & found these at The Container Store on a recent trip to Chicago. One of the best purchases I've ever made!
April 22, 2014
Rated

5

out of

5
 by
Grannmarie
Love these dispensers!
These dispensers are the perfect way to store spices and make them look neat. They come in three handy sizes and have a top that can either be taken off to scoop contents out with a spoon or they have a slide on top that makes it easy to pour or shake spices into your recipe. The clear sides makes for easy identification of the contents. I love how nicely they fit in my spice cabinet. Check out my picture!
April 2, 2014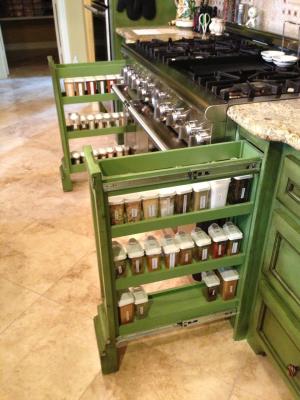 Rated

5

out of

5
 by
Organizing2371
Love these!
I bought 3 of these, and brought them hone.....I live them. Heading back to the store today to get a bunch more.
March 29, 2014
Rated

5

out of

5
 by
Kbum
great fit
The design of this product is great in every way. Slim, airtight and keeps contents visible. I live in a humid climate and use it for spices, although it could be used in most any room in your home.
February 19, 2014
Rated

1

out of

5
 by
momdetrois
Hard to pour
I bought these containers to store cereal in. They slide open easily; my 3 year old can do it without any problems. The only issue is, nothing comes out! My son was trying to pour himself some cereal and was shaking the container upside down. One would assume that would have created a huge mess, but in reality, nothing came out! Kind of frustrating. Even if you pour at an angle, it is still difficult to get anything to come out. They seem to pour a little bit better if they are less than 1/2 full but then what's the point if you can only fill them 1/2 way? I ended up buying the OXO good grip air tight containers instead and am very happy with these.
February 5, 2014
Rated

4

out of

5
 by
STEVIE1
GREAT ITEM
USE TO STORE CAT TREATS SO THAT DON'T HAVE TO KEEP BAGS AROUND. ALSO MY KIT KAT LOVES THE SOUND OF ME SHAKING IT TO KNOW HE IS GETTING SOMETHING SPECIAL
August 18, 2013
Rated

5

out of

5
 by
Honeybear77
Slide and Pour Dispenser
I cook with a variety of grains. I used my label maker to label the grains. You can quickly see the amount of grains left. Easy to pour the grains into measuring cups. Keeps my grains fresh.
August 1, 2013
Rated

4

out of

5
 by
trancelucent1
Great quality!
These are perfect for pantry items that I purchase at Whole Foods. They were exactly what I was looking for!
May 2, 2013
Rated

5

out of

5
 by
shampton34
These are perfect.
I love these dispensers. They are so functional because I can see what is in it, and I can pour it directly from the canister. I picked up 3 at the store this weekend in St. Louis, and I should have gotten 3 more. The switch to open the dispensers are easy to open, but don't open by accident. My husband looked in the cabinet and said, where'd we get these? :) The price was reasonable as well. Ordering more online.
April 28, 2013
Rated

5

out of

5
 by
soccernut5
Handy Container
I have the 8oz Slide & Pour Dispenser and I love it. It is so easy to fill, dispense and clean. Super durable.
April 27, 2013
Rated

1

out of

5
 by
pickle2
Not as good as I thought
Bought the 8oz container as sugar keeper in office.....sugar is "sprinkling" out from where the top & bottom "seal" together....
February 6, 2013
Rated

3

out of

5
 by
ShannonCbus
Great idea.....but
They are not airtight and I stored rice, beans and spices in them. Now I am throwing away everything. There are little brown bugs everywhere. I have never had this problem in my life. From now on Click Clack products only...they were my first love I was just was drawn in by the pour spout!
September 13, 2012
Rated

5

out of

5
 by
barrms04
Great product
I needed something to put formula in for my grandson. Every other container didn't work because I always spilled the formula all over. This really works good and I haven't spilled and since I bought the container.
April 16, 2012
Rated

5

out of

5
 by
containerstoreluver
great product
easy to hold while pouring and easy to refill i have 2 and very happy with it
March 19, 2012
Rated

5

out of

5
 by
Pegpy
Love these containers
I use these for sugar and rice, brown and white. There are easy to identify what is in them and they pour out easily of the container. I had to get all three sizes and they are not expensive.
March 19, 2012
Rated

5

out of

5
 by
MuffinTopMommy
Great Dispenser!
This dispenser is great for small food like rice or quinoa. Just tape the cooking instructions to the outside, or print a label with the instructions, and you're set! Simple, one handed pouring helps to streamline cooking.
March 4, 2012
Rated

5

out of

5
 by
mywizofoz
slide and pour
Not only is the price right, but the size is perfect for storage. Compact and sleek and holds alot more than you think.
February 17, 2012
Rated

5

out of

5
 by
Fastfingers
Suits our needs
I was looking for replacement containers for our nut collection. Needed ones with a wider base and just as easy to pour. We got the 16 and 25 oz sizes and I am thinking of ordering more.
May 18, 2011
Rated

5

out of

5
 by
Renovator
Perfect Solution
I buy dishwasher soap in a huge box that is a little hard to lift. This is perfect to fill and keep on the counter. Fits the hand perfectly and have had no trouble with the slide mechanism. Only have to lift the big box once a month to fill instead of daily. Love it. Think I'll get another for bath salts!
August 24, 2010
Rated

4

out of

5
 by
AmazinglySpectacular
It works but be careful with the lid
I bought this to contain a flour like supplement that I take. It was cumbersome to put it in a regular container and spoon it out as it is very fine and would sometimes get on my clothes. If I poured it from a regular container, I was sure to make a mess because I would inadvertently pour too much and waste it. This container is great. The angled top is perfect for controlling the amount and you can manipulate the opening to limit the amount poured even further. My only concern is that the lid itself doesn't always seem 100% secure. I noticed that at times the lid is slightly raised and I think I could potentially lose the lid while pouring because its not secure. Having said that, I'd buy another one. Just be careful when pouring to make sure you don't have an accident with it.
May 17, 2010
Rated

4

out of

5
 by
MrBill
These are pretty neat containers. We have a couple of the largest containers for rice. They are an OK size and the pouring feature is great. I wish they came in larger sizes.
March 19, 2010
Rated

4

out of

5
 by
Jennifer
These are really neat and I love the sliding feature. I wish that the Container store pictured every size that they carry. I selected one of the middle sizes and when it arrived it was pretty small, other than that I love it.
February 7, 2010