Rated

5

out of

5
 by
Uugoddess
Thank goodness!
I really needed a solution for my dry goods. My new kitchen was not designed with eating whole food in mind...
January 11, 2017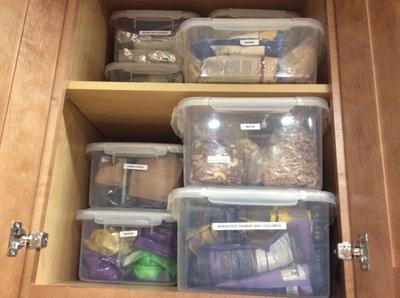 Rated

5

out of

5
 by
LadyJay114
Fits 5lb Bags of Flour!!!!!
I buy King Arthur Flour and I had trouble finding a storage container that fits the entire bag. Most were just too small, or too pricey (I'm looking at you, Oxo). While in the store, I found the Smart Locks bulk storage containers and I have finally found what I need!! Its big enough, roomy enough and I love it! And I saved a couple of bucks by buying one bulk storage container instead of 2-3 individual containers.
October 21, 2016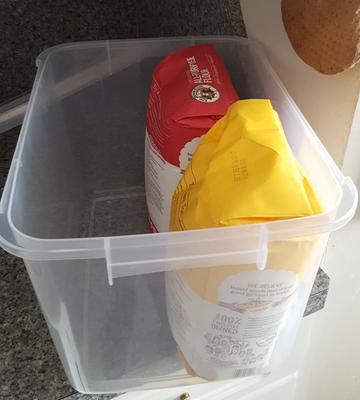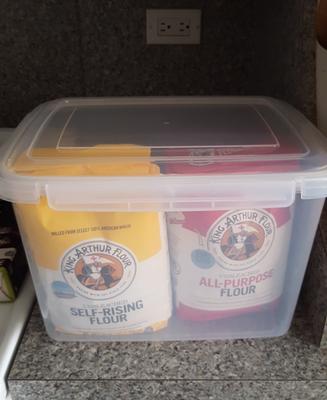 Rated

5

out of

5
 by
pinkpink114
16.91 qt
I purchased this to store cat food. The 16.91 quart holds a 15 lbs bag of small kibble cat food perfectly. Lid is secure and keeps the cat food fresh.
February 28, 2016
Rated

5

out of

5
 by
MareKubie
Smart Locks Keeper
I bought the 10.57 qt size and it is perfect! I got it to store cat food. It fits the entire bag of cat food, the cats can't get into it, food stays fresh, it is a great size for the cabinet I keep it in and it doesn't tip! I have been looking for the right size and good quality container and I finally got it!
January 9, 2016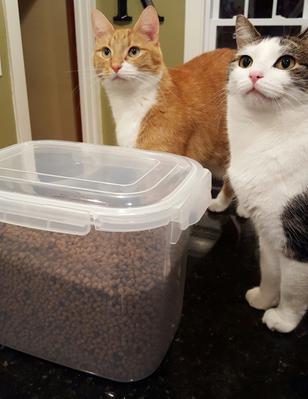 Rated

5

out of

5
 by
Sandy1234
Best Storage for Rice and Flour
I buy 20 lb bags of rice, basmati rice and wheat flour. These boxes are perfect for storage and look neat in my pantry.
January 4, 2016
Rated

5

out of

5
 by
Montanagrandma
Perfect storage
I have been looking for storage for 25 pounds of flour and sugar. These don't hold 25 pounds but they are perfect. They seal and stack perfect. Just what I was looking for at a reasonable price. Delivery was great also as we live in a rural area. I would order again from The Container Store.
November 9, 2015
Rated

4

out of

5
 by
LeLe44
Perfect Fit
Needed a way to store rice that would keep it dry in a small pantry. This fits most of a 25lb bag with room for my measuring cup. It fits nicely on the floor in the pantry and doesn't take as much room as the bag did that kept falling over. Great job.
December 18, 2014
Rated

3

out of

5
 by
melonkali
It's volume is the best part about it
I purchased this container to hold 10lbs. of wheat flour since I buy and use a lot of it. This is the only container I could find that could hold that much. I would have preferred the length and height to have been reversed since it takes up too large a footprint in my pantry, somewhat defeating the purpose of it's storage convenience. I'm also not fond of the lid since it has to come off completely in order to get to the flour inside; it's a large lid and a little cumbersome when separated. However, it really does hold 10lbs. of flour securely, if not conveniently.
May 26, 2014
Rated

5

out of

5
 by
PizzaMaker
Good Size for Bulk Flour Storage
We bought two of these as one was not large enough for 25 lbs of special-ordered Italian pizza dough flour. They are sturdy and look nice on the shelf -- have a rubber gasket to ensure a good seal and the see-through nature keeps us informed of when to order more flour. They look great on the pantry shelf. Also, the care put into packing and shipping by The Container Store is excellent; we also purchased glass containers and all arrived safe and sound in recyclable packaging. Very pleased with our purchases.
May 17, 2014
Rated

4

out of

5
 by
DobeKit
Totally adequate
I've found this container totally adequate for my needs. The only thing I don't like about is that at times I think it's unlocked when in fact it is locked.
April 21, 2014
Rated

5

out of

5
 by
coblinda
works perfectly, fits well into cabinets
Easy to open/close, keeps foods airtight and fresh.
April 6, 2014
Rated

5

out of

5
 by
pigpig
just what I needed
yay! I was looking for a well-sealed container of a specific size to hold a bulk of dog treats (I have experienced bugs getting into sealed boxes of them, so keeping them in the original box is not happening anymore). This is just the size I needed to fit almost an entire huge box of large milkbones. It seals tight and fits in the space where I want to keep it. The only improvement for my purposes would be to have the lid on a hinge with one latch or have another opening in the lid that would allow me to only open one latch to get the thing open. As it is now, I have to unlatch 2 or 3 of the latches to get inside. Not a big deal though.
March 18, 2014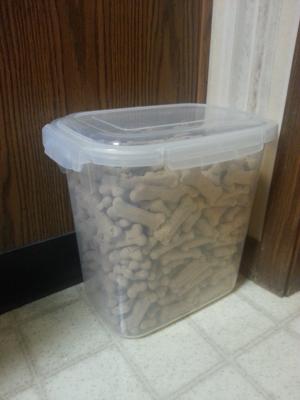 Rated

4

out of

5
 by
mnpetnurse
Space saver with tight lids
I bought these to organize a linen closet - first aid, sunscreen, medications, pet products - all that misc stuff that ends up everywhere. The shape is great, no space is wasted because they fit side-to-side and they stack decently! For this purpose, the weight of the plastic works well. Might be a little light for really heavy food storage. I only wish there were more sizes to choose from!
March 10, 2014
Rated

5

out of

5
 by
originaljess
Perfect Solution
These were great to store all my "bulk goods" to keep them dry and airtight. I just need to order more of them...great solution, and they look great too.
March 7, 2014
Rated

5

out of

5
 by
bumblebeefl
Cat Food
This container is perfect size for storing cat food.
March 6, 2014
Rated

5

out of

5
 by
Honeybear77
Excellent Seal
Completely sealed. Great for storing grains and flour.
February 25, 2014
Rated

1

out of

5
 by
SylviaP
Good Containers Very Bad lids
I just bought four of the larger containers for food storage. The size is good, but I cannot fasten the lids. They are too tight. My husband can barely close the side snaps. I want the old style. They worked great. The new style lids don't work for me, and they are going back to the store! Style 10030362 was good. Style 10058867 is bad. Don't buy it!
February 25, 2014
Rated

4

out of

5
 by
sewnsew
Plastic is a bit lightweight
One of the two containers arrived cracked. I would like them better is the plastic was more durable. The sizes are useful and the lids are easy to open and close. They will be fine for storing things that are not used very often.
January 14, 2014
Rated

5

out of

5
 by
toocrazy4d
Great for Holiday Baking!!!
I finally found containers that hold all the sugar and flour needed for my holiday baking!!!
December 29, 2013
Rated

5

out of

5
 by
jazzelise
Medium size kitchen Food Storang Containers
You can lock these containers when. you close the lid. I buy in bulk and these are great for storing my dog bones, bag fertilizer and lots of other items. The price is great so you can get several of them for your cat or dog food and many other uses Children's gloves, or lots of sporty thing you need to keep dry.
December 20, 2013
Rated

1

out of

5
 by
FabCrab
HATE the new lid clamps
I needed a larger box for my orchid potting mix and thought a Keep Box would be the ideal solution. The new lid style is TERRIBLE! The new clamps look incredibly flimsy and are tough to close. Clamps on the short sides of the lid actually cover the box handle, and if you grab the clamp instead of the lid, the clamp pops open. The clamps on the long side of the lid flare out slightly, which means wasted space when the containers are sitting next to each other on the shelf. I loved the old lids and have been using those Keep Boxes for years. Container Store, why ruin something that was perfect? Please bring back the old lid style!
October 27, 2013
Rated

5

out of

5
 by
AshBoo
Great dry storage
We use these containers to store bulk food and to organize personal items in our closets. Recently, a broken pipe caused a major leak in our pantry. Everything stored in these containers were perfectly dry & saved! We recommend!!
April 26, 2013
Rated

5

out of

5
 by
JellynTea
Great bargain
I have 2 of these in the 8 ltr size. I use it to store our jasmine and brown rice. It's a great price to hold dry goods in bulk. I can see through it and easliy know when to replenish the rice. Highly recommend with the acyrilic scoops.
April 26, 2013
Rated

1

out of

5
 by
Mama6Duck
Not air tight
When I purchased this storage container I was happy to have found a big storage container for my cooked beans to keep in the fridge. When it arrived I thought it looked way cheap and there was no way this thing can be airtight. So I went and put a little water in it and closed the lid then tipped it over and water was streaming out. I can't use it for what I bought it for so it sits in my cabinets until I find good use for it. Pretty much a waste of money for me...
April 14, 2013
Rated

5

out of

5
 by
Eepie
Great price for this size and quality
I bought two of these for large bags of different types of rice. I was delighted with the price for the size I was getting and was even happier when it arrived. The locking lid keeps the rice fresh, I can see the contents through the clear plastic, and the lid is sufficiently flat for stacking as well as sturdy for holding a heavy box of rice atop one another. I would certainly buy these again.
April 4, 2013
Rated

4

out of

5
 by
MelissaAnn
Best Bulk Kitchen Storage
I bought two of these for bulk storage in my kitchen. I needed something big enough to hold at least a 5 lb. bag of oatmeal and the 11 lt. container is perfect. In fact it holds a full 5 lb. bag and then more than half of another. However, I was not impressed with my product packaging. One of my containers arrived with the bottom broken with no damage to the box it was shipped in. I called The Container Store the same day I received the package and a replacement is already on the way.
March 24, 2013
Rated

5

out of

5
 by
Shanruck
Great Product
I ordered the 8 ltr size which fits perfectly in my kitchen cabinets. I use it to store dry cat food with a scoop. It's very easy to open and snap close - makes feeding time quick and simple.
March 21, 2013
Rated

5

out of

5
 by
Marki
Nice containers!
I bought the 16 liter and 8 liter containers. They are perfect for storing my 20 lb. bag of white basmati rice and 10 lb. bag of brown basmati rice. Easy to snap close and I like that they are clear so you can see when you're getting low without having to open the container.
March 19, 2013
Rated

5

out of

5
 by
DogMomx5
Best Solution Ever!
I feed my dogs dehydrated raw food and live in FL. Had to find a way to keep the food safe from both moisture and bugs. This product holds a 10# bag of food with room for measuring cups. Seal is fabulous. Have recommended this storage product to the dog food manufacturer to recommend to their customers.
March 18, 2013
Rated

4

out of

5
 by
Maezy
LARGE!
I think I ordered the wrong one when I placed my order, as it was much larger than expected. Would take a lot of potato chips to fill it up, which was the purpose for purchase.
March 3, 2013