Rated

5

out of

5
 by
ContainerStoreCrazy
Versatile Zig Zag Pots
I initially bought a light pink and light blue small zig zag pot for Easter candy. When I went back to buy the same colors in the large size, they weren't available so I went with white. I used them with colored tissue paper and plants for the rehearsal dinner decorations for my son's wedding. Now I'm glad I have white because I am dreaming up other uses for all the holidays. White will be very versatile!
April 25, 2014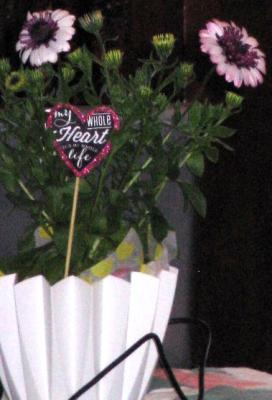 Rated

5

out of

5
 by
Tenmen
Perfect little container
I picked up several of these because the flexibility allows me to water my plants without removing the pot (with the plant and soil) from the container. I can stretch it and pour the water inside, which waters from the bottom beautifully for plants like the African Violet.
February 17, 2014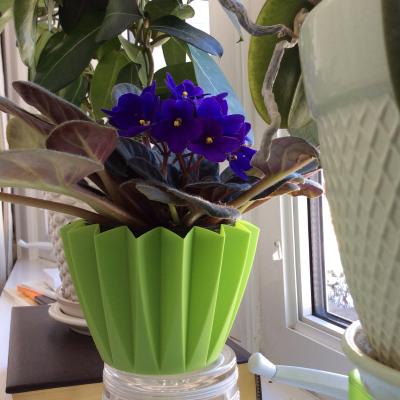 Rated

5

out of

5
 by
Heart2organize
Pop of color
Purchased these to serve candy during recent Super Bowl party! Loved them-perfect pop of color and just the right size. Will be using for future party events.
February 5, 2014
Rated

5

out of

5
 by
LilCupcake
Perfect for my craft
I got these zig zag pots for my daughters first birthday. I use a styro foam ball put a candle stick in the middle and glued curling ribbon and using them as center pieces for her cupcake theme I love them.
October 20, 2013
Rated

5

out of

5
 by
mart04
Baby Shower Centerpieces
Love these Large Zig Zag pots - I used a styrofoam ball and added soft color flowers and a candle in the middle for baby shower centerpieces. Looked like beautiful cupcakes!
May 2, 2013
Rated

5

out of

5
 by
MissyDee
Great for Kids!
I used these containers to hold snacks at my kids' birthday party. Both the children and adults loved them. The bright colors are eye catching and they are resilient enough to be reused. I hand-washed mine because I wasn't sure if they were dishwasher safe or not.
March 18, 2013
Rated

4

out of

5
 by
swanami
Fun
I bought this because it's a fun(ky) way to store all my different colored highlighters and sharpies on my desk at work.
February 17, 2013
Rated

5

out of

5
 by
Arongid
Cute
I order in every color and size they had; they are the perfect size for a center piece in a birthday party. The description says it all!
October 12, 2012
Rated

4

out of

5
 by
BebeD
Wonderful product!
These little pots are perfect as a container for gift giving. I use them at Christmas to put lots of goodies in, then wrap it all up with a pretty ribbon!
September 28, 2012
Rated

5

out of

5
 by
scully
Large Zig Zag Pot
I was so thrilled to find these! I have been looking everywhere for them! I have seen these used as molds for making cement flower pots out of and can't wait to try to make one myself!
August 18, 2012
Rated

5

out of

5
 by
Espinoza82
Makes a great centerpiece
I too purchased these to make a cupcake centerpiece and they were perfect. I wish they made the powder pink color in the large size. They are not hard plastic, more flimsy but I think it's good because it makes it easier to work with. Most of all, I love the price! Will be ordering more in the future. Oh and shipping was quick.
May 22, 2012
Rated

5

out of

5
 by
annmo
Best little party container
I wanted something to place around the living room at the bridal shower I was having for my future daughter-in-law. I wanted pretty colors that reflected those chosen for the wedding. I looked at all the popular party stores, etc. and then I found these! We put a little bit of the zig/zag type filler in the bottoms (green) and then placed individual packets of pastel color Sixlets candies. We stood them up in the center so they looked like blooming flowers! Everyone thought they were the cutest things. I have learned my lesson and will now start at The Container Store :-)
April 27, 2012
Rated

5

out of

5
 by
tzsmom
Versatile product
Got a bunch for cupcake flower centerpieces per the howdoesshe website. I think the person who ordered the pink didn't get the ice pink and received the darker pink. Don't rate a product low because of your own mistake!
July 24, 2011
Rated

5

out of

5
 by
Misi
Bought based on a recommendation ...
I ordered 6 of these to use in centerpieces. Love them.
February 23, 2011
Rated

5

out of

5
 by
Felisha
Great
I really like these pots. They were a little more flexible than i thought and very lightweight,but that didn't matter to me! I will use them as the base to fake cupcake centerpieces then give them away as favors for my daughters 1st birthday(sweet shoppe theme).
February 15, 2011
Rated

3

out of

5
 by
kier
cute catch-alls
these are cute and handy for all sorts of little bits and pieces cluttering the counters
December 31, 2010
Rated

2

out of

5
 by
PinkShoppe
How does she blog recommendation
The how does she blog shows this container in pink so i ordered a bunch when i got them they werent the same pink they were FUSHIA!!
August 11, 2010
Rated

5

out of

5
 by
VintageNIM
Great paper clip holders
I bought several of the large zig zag pots to use @ the office to add color to my desk and to store all the binder clips, paper clips and rubberbands that I need to keep @ hand.....love the bright colors
April 16, 2010