Rated

1

out of

5
 by
Mommygyver
Tops don't fit
We got these to send dip for lunch, just like the description says they are good for. On the first day, one of my kids could not get the lid off because it was too tight. Two others has the top pop off in their lunch bag, making a mess. It's a low price but you get what you pay for. Trying to use them again today wi rubber band securing the tops on.
September 29, 2014
Rated

4

out of

5
 by
Needlenan
Nice for the price
These containers are great for dips (when dieting and eating raw veggies) or condiments like mustard, mayo and ketchup. I debated on getting these or the ones with screw-on-tops. Price was the deciding factor. If I were taking condiments in something other than a lunch bag (for instance a cooler) where things could get shoved around, I would probably go for the screw on tops. But, these will work fine for what I'm using them for. I also do crafts and intend on keeping embellishments in them. They are great because they are deep enough to hold plenty of items and clear, making the "search" process much simpler.
May 1, 2014
Rated

5

out of

5
 by
MelanisS459
Perfect!
I use these when I pack salad for lunch (for the dressing) or for hummus or peanut butter, etc. Perfectly small size and never leaks.
April 20, 2014
Rated

5

out of

5
 by
Dael
Perfect Tiny Containers
I initially bought these containers as a way to transport salad dressing and almond butter for dipping. They were perfect. The seal ensures that nothing spills out and they are small enough to fit in other tupperwares but big enough to fit all the dressing I would need for a single serving. I started using them to hold things like diced scallion/garlic/shallots when I only needed a sprinkle and they even fit half a lime. Saves a ton of space in the fridge. I ended up buying 12 more so that my fiance can organize his supplements into morning meals and night meals for each day of the week.
April 9, 2014
Rated

5

out of

5
 by
Kahnee
Perfect Size
Perfect for individual size portions for traveling.
April 1, 2014
Rated

5

out of

5
 by
Ilaria
Best small containers ever!!!
They seal brilliantly! I have used them for dips and herbs in my kitchen cabinet - they stack one on top of each other and they are very easy to clean. I have also used them for oily condiments and they don't leak at all AMAZING! Best $5 ever!
March 20, 2014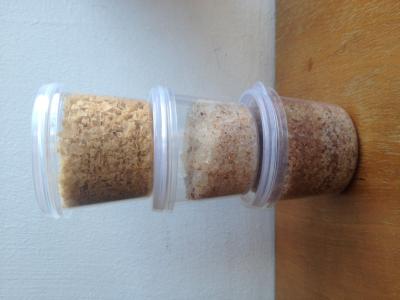 Rated

5

out of

5
 by
MelindaWarren
One of the BEST products EVER!!!
I travel for a living and this product is FABULOUS for carrying salad dressing!! It doesn't leak AND the lid doesn't fit with you when you try to open it on a plane causing the liquid to spill. Wish I had purchased more than just the one set.
March 13, 2014
Rated

5

out of

5
 by
overwhelmedbythemess
perfect for little lunches
I purchased these to use in my daughter's lunches. They are the perfect size for hummus, dips, dressings, etc. Easy to clean, and the lid seals perfectly!
March 6, 2014
Rated

5

out of

5
 by
Abrewer1979
The possibilities are endless!
Perfect for dip,dressing,peanut butter anything! They work perfect or my husband's lunch box to take peanut butter for his celery. I use them for aspirin in my handbag. Great buy, very versatile!
April 23, 2013
Rated

5

out of

5
 by
yorokobu
Great little container
I've been on the lookout for this size container for a while. This is perfect for salad dressing, hummus, shoyu, or even a small serving of nuts in my lunch bag. A terrific find!
March 21, 2013
Rated

5

out of

5
 by
Verified Reviewer
Great Value
One of the best thing about these little guys is that you can totally trust the tight seal. No leaking in my cooler. No worries about an unexpected mess at lunchtime. And with several included in the purchase package, there is always a clean one ready to be packed.
February 26, 2013
Rated

5

out of

5
 by
sportymom64
Great for lunch
I had been looking for a small container for my peanut butter. All the containers I looked at we're all too big. Then I remembered the container store. Wow , exactly what I needed.
February 25, 2013
Rated

5

out of

5
 by
CarolinaMama
Tiny containers...FINALLY!!
These are great tiny containers! Perfect for lunch boxes: salad dressing, hummus, small serving of fruit or whatnot. Also great for those of us with food allergies who need to carry a bit of dairy-free butter or dressing with us here and there. These are wonderful. BPA free, and the lid fits nice and tight.
October 5, 2012
Rated

5

out of

5
 by
Baughface
Tight seal!!
I bought these little guys because I needed something to hold runny dips and dressings. I love my 1c pyrexes, but they were just too big. These guys are around a 1/4c and seal super tight. No leakage. My one small complaint is that if you get some sticky stuff in the lid ridge (like PB) it can be hard to fully get degreased hand washing. I haven't tried a really sticky PB lid in the dishwasher yet, so hopefully it will get the magic done. :) Love these! Definitely recommend them.
August 21, 2012
Rated

5

out of

5
 by
LovesShopping
Excellent Product
I purchased this product a few months ago to store salad dressing for my lunch. I have also used it to store peanut butter and hummus. The product does not leak and it is the perfect size. I have also recommended this product to others and customers while shopping at the Container Store.
August 5, 2012
Rated

5

out of

5
 by
theunknown
So useful!
These perfect size little containers are great for so many things! I can use it to store dressings and chopped eggs for salads, cheese for my pastas, ranch for carrots, peanut butter for my apples, and others. It closes tightly. It is a staple in my lunch bag. Or you can use it to store things besides food; moisturizers for small trips, or spices to put in your spice rack. Endless possibilities.
April 28, 2012
Rated

5

out of

5
 by
Lambert
Super handy!
Our family is trying to save money by taking our lunches and these little containers do the trick! Peanut butter or cream cheese for celery, mayonnaise for sandwiches, dressing for salads and veggies...we've used these containers for just about everything. The lids fit well (which was a big concern with my 10 year old son!) and there have been no leaks.
March 19, 2012
Rated

5

out of

5
 by
chlomo
perfect little tubs
I just love these little tubs, come in so handy for sauces, condiments, nuts etc
March 1, 2012