Rated

5

out of

5
 by
mamaDexter
perfect for organizing
My daughter organized my new pantry with these fabulous canisters - love how easy everything is to find and these are well-made and easy to use! Highly recommend.
June 23, 2016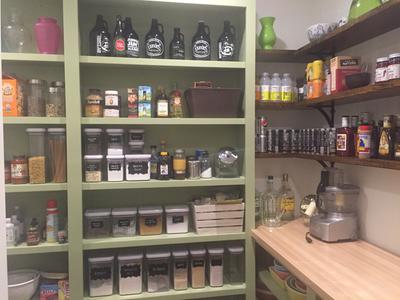 Rated

5

out of

5
 by
Elene
Amazing product
These containers are amazing and do a perfect job of keeping the bugs out. Its very humid here and trying to keep bugs from moving around has been a big challenge. But with these sealed containers it's been doing the job perfectly!
April 25, 2014
Rated

5

out of

5
 by
MsSquirrel
Best canister set ever!
This canister set is perfect for anyone who has problems opening lids. I have arthritis in both of my hands, and these are the greatest! No problems at all getting them open.
October 13, 2013
Rated

5

out of

5
 by
liannetx
Organized Pantry
Started with this set then added more individual pieces until it was the perfect fit for us. The lids seal tightly to keep everything fresh but are still easy to open. The clear containers make it easy to see what I need to add to my grocery list.
January 15, 2017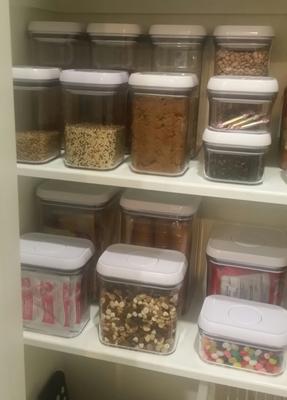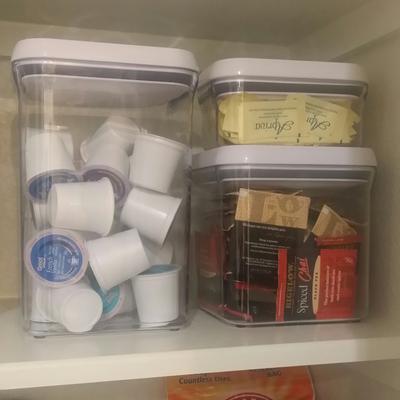 Rated

5

out of

5
 by
Jules12
OXO Good Grips Pop Canisters
I have used these as food storage containers in my pantry for over 20 years. They still look, and work like new. I have never had one to break. They are very durable, easy to open and close and make my pantry look neat.
January 8, 2017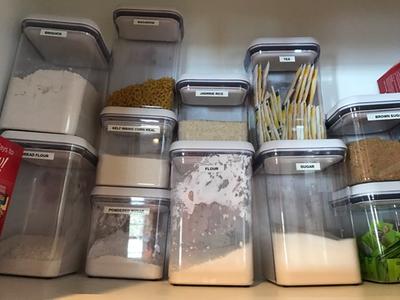 Rated

5

out of

5
 by
TNrose
My favorite containers!
I use these for everything! I store flour, sugar, treats for my son, rice, pasta, etc...in these. I have all different sizes and I use a labeler to keep them labeled and it peels off clean if I store something different in them.
January 3, 2017
Rated

5

out of

5
 by
LisaRod40
My favorite containers.
I love how the containers stack on top of each other and they aren't round. Round containers take up so much space. These are sleek and air tight.
January 2, 2017
Rated

4

out of

5
 by
MegIn
They look great
Only problem I had with these is how much the containers can hold. The small one hardly holds anything because the tops sink into the container and takes up more space to make sure it clicks closed.
December 28, 2016
Rated

5

out of

5
 by
tigger2
Great Product
I have purchased these in the past and like how easy they are to clean. Also, these canisters are air-tight, and are space efficient as advertised.
December 13, 2016
Rated

4

out of

5
 by
ValerieA
Convenient and stackable
I have these containers all over my kitchen and I love them. They're air tight, easy to clean, and stackable. Of all different heights, the containers in this set also have three different "footprints." The large square and the rectangular ones go really well together, but the small square ones don't really fit well with them. I just use them in different cabinets, but I don't know if I'd get another 10-piece set. I think I'll stick with buying these containers 1 at a time, but this set is a great way to get started with this Good Grips containers and get a better sense of your container needs.
December 11, 2016
Rated

5

out of

5
 by
TCSshopper1
Well Crafted
This high-quality product gives you an attractive-looking container that also functions very well. The height of the one we purchased doesn't take up much of a footprint in our cabinet yet it maximizes the height of the area so that we can fit more into the cabinet space than we'd otherwise be able to do. I recommend this container given the quality as well as how polished and modern it looks.
October 23, 2016
Rated

5

out of

5
 by
Emilija
Good Grips Rectangular POP canisters. They Rock!
I bought many of these canisters for storing lentils, nuts, flours and grains. They look so uniformed and beautiful. The rectangular shape containers I like so much better than square shaped ones. They are so much more comfortable to hold. Besides they are very airtight and safe from bugs and moisture. I love these canisters and highly recommend them to others.
October 1, 2016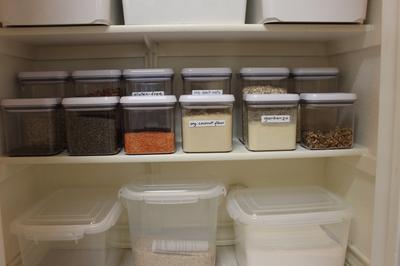 Rated

5

out of

5
 by
missrenee
Quality Storage
Purchased so many of these containers. They are durable, stylish and keep food fresh
September 20, 2016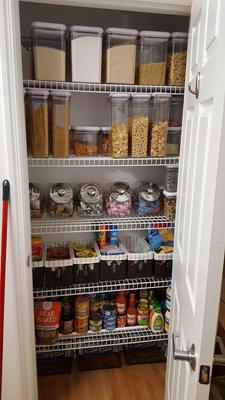 Rated

5

out of

5
 by
NHMama
Best food storage containers
I ordered the set of 10 to organize my kitchen pantry. Pricey but so worth it. Love the button seal tops- I know the food I'm storing won't go stale. Also love that they stack well.
August 27, 2016
Rated

5

out of

5
 by
umihui
good quality
I use it for storing my pet's food, it is easy to clean
March 22, 2016
Rated

5

out of

5
 by
CBB18
Fits 5 lb flour
The 4 quart square pop canister fits a full 5-lb bag of flour perfectly and doesn't take up much space in the pantry. Other reviews I read said you needed the larger size for a 5 lb bag of flour but that is not necessary.
March 20, 2016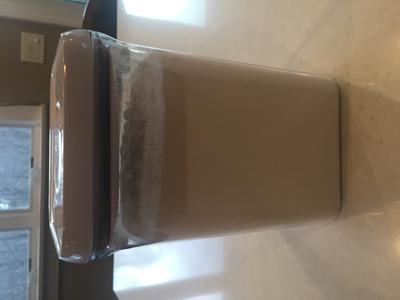 Rated

5

out of

5
 by
snowleopard
Perfect
I bought three of these after my sister-in-law raved about hers. Add my rave. These are solid and great looking. The cover, with its great seal, is a pleasure to work; a distinct satisfaction is both closing and opening with such ease and efficiency. I'll be buying more, absolutely. I also bought the labels - because I'm an organization nut and care for looks as well as function - and love those as well.
March 2, 2016
Rated

5

out of

5
 by
KatieLovesContainers
Great Product
My only problem with this set is that it comes with too many small containers. I would have liked the taller, smaller containers rather then the short ones. The short ones are kinda useless but my kids found stuff to put in them. Dumb stuff but stuff..
January 31, 2016
Rated

5

out of

5
 by
Keasley101
obsessed
My pantry is so organized thanks to these canisters! A little pricey but totally worth it. I am about to buy another 5 piece set. Addicted!
January 16, 2016
Rated

5

out of

5
 by
makingitbetter
Organizing in 2016
Good Grips OXO canisters are "clearly" wonderful for getting things in order and in place for storing, finding and eating. Just open the pantry, locate a food choice, grab it and be good to go for breakfast, lunch and dinner. These plastic canisters come in a variety of sizes and are stackable and secure. Food is stored safely with the pressure silicon seal and the contents are easily attainable with a press of the super large top button. The simple design is neat and efficient. Oh, how delightful to open the pantry and see a nice, clean organized closet!!
January 15, 2016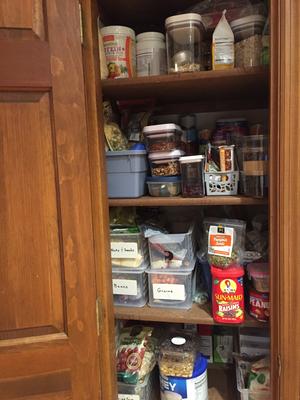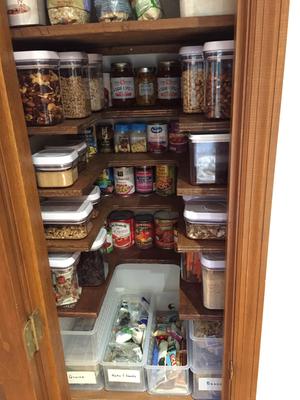 Rated

5

out of

5
 by
Marthur
Excellent storage canisters!
Theses containers are great! I didn't know which to choose because of the container stores endless options but I couldn't be happier. They seal is great for food and keeps everything fresh and the square size fits perfect in the space.
January 6, 2016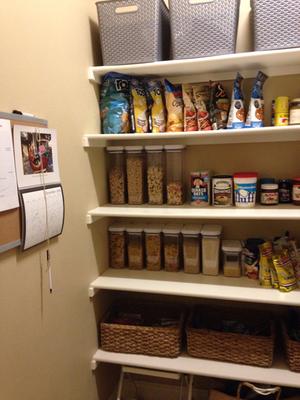 Rated

3

out of

5
 by
Terryfic5
Difficult to grip this "Good Grips"
I love the mechanism for closing this storage box. It is lightweight, and the lid is easy to lift and unseal. Unlike the Good Grips POP Cereal Dispensers, there are no indentations to help you get a good grip on the canister. I've dropped mine twice (one filled with rice; the other with powdered sugar). One opened on contact with the floor. The other one did not.
December 14, 2015
Rated

5

out of

5
 by
Adface
LOVE OXO Canisters!
This product is an excellent way to keep your food organized and especially great for display when you have open shelves to store on! It's colorful and pretty. The canisters are extremely easy to clean and get into. My kids love them and it's easy for them to see what they want to eat and get the food for themselves. It looks clean and organized. I highly recommend this to anyone and everyone! They last forever too! You can't go wrong buying this product!
August 20, 2015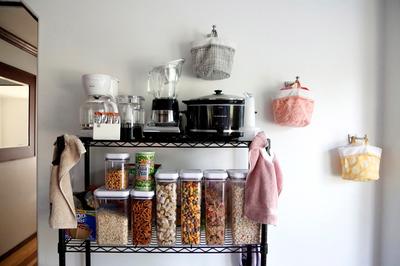 Rated

5

out of

5
 by
kbalun
good grip canisters
I love good grip canisters. They have many sizes to fit anything in your kitchen and keep it fresh. It is easy to open and close. My Kitchen cabinets are now organized and it is easy to see what I am running low on.
July 5, 2015
Rated

5

out of

5
 by
POGPrincess
Great product - would love moe
I actually bought an additional one of these after originally purchasing three. They seal extremely well are easy to clean (make sure you take the top apart for cleaning) and they look nice... Very sturdy and they keep your items fresh. Easy clean too.
April 30, 2015
Rated

5

out of

5
 by
Harding2TCU
Pantry Organization
These products provide such divine organization in the pantry of a busy family. Everything is in view and preserved from bugs and critters. Even if you start with a few items here and a few baskets there, eventually, you will have what you envisioned. I breathe a sign of happiness every time I open this pantry door.
March 29, 2015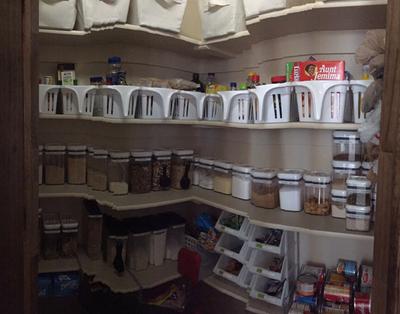 Rated

5

out of

5
 by
TiggerBlueMom
Great Canisters!
Working as a Professional Organizer, I recommend these containers to my clients. They have a tight seal, are easy to open and close, the mechanism can be taken apart to thoroughly wash it and you can easily see what they contain.
March 26, 2015
Rated

5

out of

5
 by
dianaj
Canisters are great
Thank you for the pop top canisters for food storage. They seal nicely and store neatly in the kitchen cupboard. The small ones stack well and all line up for an uncluttered cupboard. I had no problem filling all 10 containers of the set.
March 17, 2015
Rated

5

out of

5
 by
Pittster
Food to Crafts
I have many pieces and have used these for anything that needs to be closed tight. The many size options gives me more flexibility when purchasing storage containers. From small to large, to short, to tall, what fun I have with these in my kitchen and craft room.
March 16, 2015
Rated

5

out of

5
 by
Graciebellek
Amazingly simple.
This is honestly the easiest set up. When you're in college it's already hard enough keeping track of clothes but adding food on top of it makes keeping the room clean and organized a whole lot more difficult. Having this organization for those new snacks or the already opened ones that you're trying to keep fresh is amazing. I have so many friends that use them and I am definitely purchasing them when I buy things for my dorm room.
March 16, 2015