Rated

1

out of

5
 by
MGrace
Lid easy to break!
I purchased more than a dozen of this but now the lid started to break one at a time. Very short lifespan. Promised to self not to buy this item again!
September 29, 2015
Rated

3

out of

5
 by
cobbie1010
Great Concept
Purchased this FlipLock Glass canister by OXO as I was looking for a storage container for my parmesan and/or romano cheese. I was specifically looking for a glass shake top container but have been unsuccessful in finding this type of container. I decided to try this FlipLock Glass container. The glass is of good quality but the lid doesn't seem to lock as tight as it should. When picking the container up, make sure you pick it up by the glass and NOT the lid. The lid will lift off if you attempt to pick it up that way. I would have given the product 5 stars if the lid truly was airtight. I will continue to use this product as I prefer glass storage containers rather than plastic. I am guessing the lid doesn't lock down because the product was meant for countertop/pantry storage and not for the refrigerator.
June 10, 2015
Rated

5

out of

5
 by
luvnlifenow1955
Great find after a long search
After looking forever for something to store my vanilla beans, I finally found this container. It works great and it's tall enough so that my vanilla beans fit perfect. And it's vacuum packed so everything stays fresh all the time. I just love it.
June 3, 2015
Rated

5

out of

5
 by
marv88
Great container
Made the switch from plastic to glass, and love how these containers open and close so easily.
December 15, 2014
Rated

5

out of

5
 by
Neatfreak12
Grand Opening and products
Like the line from the movie, "you had me with hello". My first introduction to the Container Store was on a visit to my sister in Atlanta Ga. I was more than impressed with the overwhelming possibilities I could achieve with the products I might buy at the Container Store. I am someone who loves the idea of being organized--in my home and office. So, upon my return home to Pa I began to look for another store. How disappointing the closest location was more than an hour away in New Jersey. That distance did not deter me however, from several visits of the past few years. A few months ago, while on a visit to our local mall, my husband called to say "I have the biggest surprise for you!" After confirming he was not making dinner that night, he let me know that a Container Store was under construction at K of P. We were at the door at 8:55 for the Grand Opening. No disappointments here. I focused on organizing under the cabinets in my bathroom. One challenge I have always had is how to protect my cosmetic brushes and keep them clean. Check out what I am doing with the flip glass container. The Store is beautiful with more ideas and products than ever.
March 9, 2014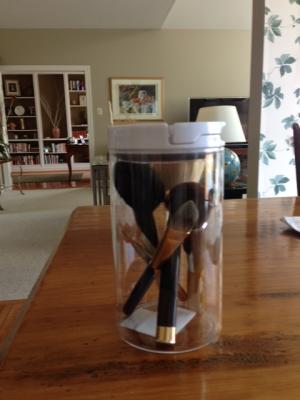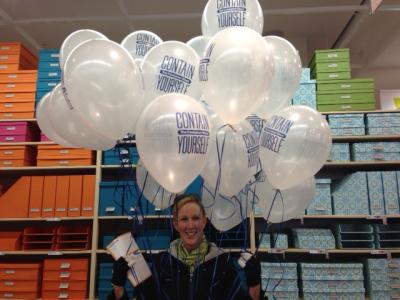 Rated

4

out of

5
 by
CASAmom
Just What I Was Looking For
This is perfect for keeping spaghetti! The locking lid is so easy to use. My only concern was when I brought it home, I took it apart to clean before using. I had a hard time fitting the seal back onto the lid so that it would work properly.
March 8, 2014
Rated

5

out of

5
 by
ContainerJunkie
OXO Rocks Again!
I love all of the OXO containers for food storage but this one is my favorite - my new favorite. The lid is easy to use, very secure and fits the glass glass canisters snugly. I love the glass canister! I've bumped them around a bit - accidentally - so I'm finding them to be nicely durable, and they clean beautifully in the dishwasher. The canisters also stack easily and securely. I've got all the sizes and I like the versatility there... though in a perfect world, I'd also love OXO to add a canister that's about half-way between the small and medium.
November 17, 2013
Rated

5

out of

5
 by
Surele
Sleek and well made
I ordered the tall container to supplement my other tall pasta holders, and now I'm going to replace the others with more of these. The cannister holds a lot in a small footprint. It's lightweight but sturdy and easy to clean, and the lid does seem airtight. And as a bonus, it's a very attractive piece to keep on my counter - sleek and elegant - and the lid really is easy to manage with one hand.
June 2, 2013
Rated

5

out of

5
 by
IanS
looks modern and works great!!!
i just recently discovered these on my last trip to the container store and purchased them. i am so impressed they look great in my kitchen :)
April 28, 2013
Rated

5

out of

5
 by
obxtany
Love the lids!
The locking lids are really user-friendly, I can't wait to buy more
April 16, 2013
Rated

5

out of

5
 by
MinnesotaAnnie
Fabulous Seal
My order was perfectly wrapped and secured upon shipment received. The glass flip and lock containers are very nice, easy to wash, easy to open and seal. All the while keeps my food fresh and safe from unwanted food bugs. I wish I had found these sooner. I would recommend these to all my friends and family.
April 6, 2013
Rated

5

out of

5
 by
Andriana
The best airtight containers ever
I have an addiction to the container store. Now I'm addicted to the oxo airtight containers. They look great on my counter and made so much room in my lazy susan. Love, love, love these things!
March 13, 2013
Rated

5

out of

5
 by
PasoGal
Great Storage for Pasta
Love these storage containers... Switching from plastic to glass for my spaghetti and lasagne noodles. Ordered the largest one for my spaghettic and just ordered 2 more yesterday. Lid fits tight and appears to be airtight. Great product!
March 11, 2013
Rated

5

out of

5
 by
Sheryle
LOVE THESE CONTAINERS!
They are the best storage containers I have ever purchased! Highly recommend them!
February 23, 2013
Rated

4

out of

5
 by
Sebastian50
Great Looking way to Hold Coffee
Purchased 2 of the medium size canisters for ground coffee; regular & decaf. They look great. The seal is probably airtight, although you don't want to pick up a canister by the lid alone. They are lightweight and feel a bit fragile but they are supposed to be shatter resistant? I would use care handling them since they are so sleek and smooth- just to be safe.
February 20, 2013
Rated

5

out of

5
 by
2Blessed
Nice Product!
I use this container for my coffee creamer in the frig. I love the design of the flip top & the fact that it is glass but yet lightweight.
January 15, 2013