Rated

5

out of

5
 by
Athene
Found it at last!
I'd been searching for a vertical storage container that would hold small packages of dry foods upright, so I wouldn't need to empty the packages, label the containers, etc. I'm so very pleased to have found the exact size needed. The clear containers are perfect for quickly finding what I want. Secure storage. No spills on the shelves. More usable space on the shelves. The lids fit well too. I'll be buying more of these.
March 5, 2012
Rated

3

out of

5
 by
MizzCarolyn
Don't drop them!
I wanted clear narrow and stackable storage containers and I thought these were great....until I dropped it. It cracked and put a hole on the bottom. Very bummed. Overall I think these are very nice looking containers. It's perfect for organization and you can see what you have and how much you have without having to open. But the plastic is very hard and can crack or break if it gets dropped. No one ever thinks they'll drop their stuff so it's something to keep in mind. Because of my personal experience with that, I stay away from that type of plastic now.
December 16, 2016
Rated

5

out of

5
 by
sprky182
Wish I had gone with these first
I originally purchased the "Rectangular Canisters" with the colorful lids, which I thought were working great. Unfortunately, I have come to realize that they are not totally airtight and my nuts and nut flours have gotten stale. These "Narrow Stacking Canisters" are actually airtight and look just as cute (although not as many fun colors). I can't afford to replace all the other containers with these, but I have been adding these to my collection whenever I need a new container. I also love the smaller sizes for things that would be swimming in the smallest size of the other containers. These are just perfect!
May 25, 2016
Rated

3

out of

5
 by
Dida
Size of containers
These containers are great however the size description isn't accurate. The product is described as a 40 oz container but doesn't hold 40 oz. This is misleading as I based my purchase on how much product I had to store and then bought containers by size thinking they would be big enough.
April 15, 2016
Rated

5

out of

5
 by
Rani
Perfect
Searched a lot for stacking containers and finally found these with lime lids.. Loved the color of the lids.. They match my kitchen walls.The lids don't get dirty easily unlike the white lids so pretty easy to maintain.They are air tight so great to store dry powders pulses and even spices.brought a couple at first but had to go back and buy enough to complete my whole pantry. Stacks very well on top of each other, leaves you with a lot of space... Best for small kitchens with less cabinet space.. Had a lot of compliments from friends and family.Only complaint would be they scratch easily..(guess happens to all plastic) but once your container is full they can hardly be noticed..
May 4, 2015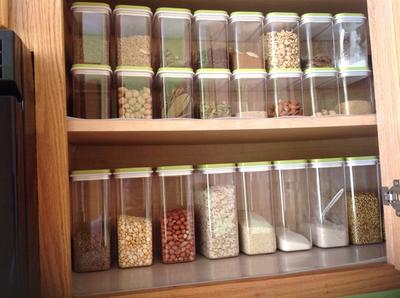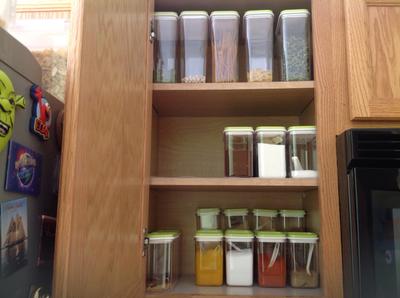 Rated

5

out of

5
 by
NeatFreak82
Sleek Design
LOVE these canisters! I've had them for a year now and the seal still fits nicely and they are scratch free. Currently holding my pasta, although I've had various things in them from time to time - pasta, rice, quinoa, chocolate chips, granola - just about any dry food would be great. These seal really nicely, stack neatly, and make any pantry look neat and organized.
March 26, 2015
Rated

5

out of

5
 by
LizzieCaye
Love These Containers
I love their rectangular shape, they fit well in the cabinets and I use their height to take up more of the vertical space rather then the cabinet surface space. I love them
March 23, 2015
Rated

5

out of

5
 by
GetAlined
Great Price and Great Uses
These canisters are easily stack to make the most of cabinet height, and since the lids are all the same size, it makes using them, washing and reusing a breeze. You can easily see what you have and get to it without a stack of bags and grocery boxes, and food stays fresh. These have allowed me to combine two pantry cabinets into one, making usable space for other items. And the price is fabulous.
March 22, 2015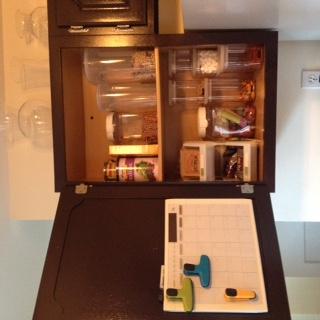 Rated

5

out of

5
 by
DelightfulToni
Perfect Fit!
I have a shelving unit that was custom built. It's hard to find canisters that fit in it perfectly. I purchased these and love them! Not only do they fit but I love that they stack and stay in place. The lids fit snuggly and they are durable. I would recommend them to you!
March 16, 2015
Rated

5

out of

5
 by
Rekha
Nice functional stacking canisters
Thoughtfully designed containers that neatly stack! Cabinet space utilized to maximum. Definitely would recommend.
September 29, 2014
Rated

5

out of

5
 by
omahainky
Perfect Canister
This was a perfect canister to hold my coffee beans. It's a big improvement from having a big 2lb. coffee bag sitting on my counter. I love the narrow size so it fits right up against the wall next to the coffee maker. It's also easy to pour the beans into the grinder because of its narrow size.
July 22, 2014
Rated

5

out of

5
 by
stoehrrl
I gained so much space!
I'm pantry looks amazing and organized. I gained so much extra space with these.
March 11, 2014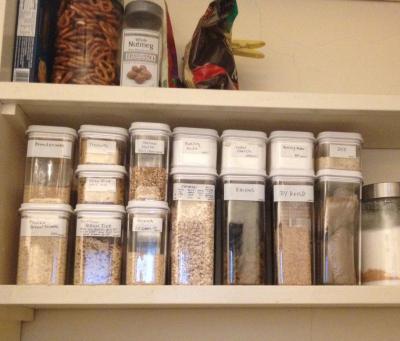 Rated

5

out of

5
 by
RMarchitect
So glad they're still available
I have been using these containers for over 10 years. They are beautiful stacked on open shelves in my kitchen, where my 50+ varieties of dried fruits, nuts, beans, grains, specialty flours, etc. are instantly visible and available for me to use. Every year I order a few more.
January 30, 2014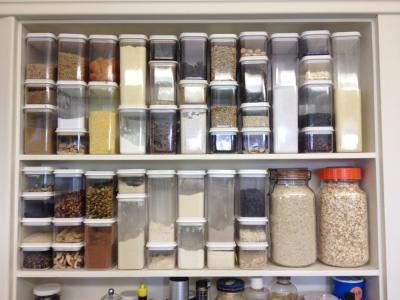 Rated

4

out of

5
 by
DeeInLA
Almost Perfect
I got these rather than the Click Clack or Good Grips cannisters because space on my countertop is so limited and these fit together without gaps in between. They stack nicely enough and seem to seal well. My only complaint is that because the tops of the lids are concave, they catch dirt and dust -- but that's why they stack well, so it can't be avoided. A note to first-time users: The lids look like they are one piece, but they actually consist of two pieces. To wash the lids, separate the hard plastic top from the rubbery plastic bottom (of the top), otherwise you may end up with water in between the two parts.
October 3, 2013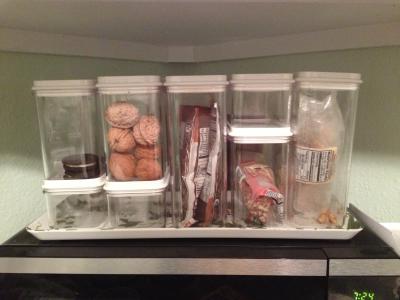 Rated

5

out of

5
 by
Kimberly719
Helps organize bags of nuts / seeds / etc
We buy a lot of raw nuts and seeds in bulk. They come in plastic bags, which can be difficult to store in an organized way. We have a few of these different canisters, in various sizes, that hold all our almonds, pecans, sunflower seeds, chia seeds, etc. I love that they stack, and they are pretty sturdy too! Chances are we will be getting some more of them!
April 26, 2013
Rated

5

out of

5
 by
JennH
Love these containers!
These containers are awesome. They fit a lot of food in their narrow boxes and look stylish to boot. And, being clear, I know when I'm about to run out of something. I also love how they stack, saving me even more space in my small pantry.
April 26, 2013
Rated

5

out of

5
 by
orderly1
Efficient storage!
These canisters are wonderful. They are very streamlined and stack and line up together perfectly. I have them in the pantry and it is so much neater looking now . I love the fact that they are BPA free. The seal from the lid is very strong, holds in place well and nothing leaks,
March 18, 2013
Rated

4

out of

5
 by
rereoley
Happy With the Product
It performs its function wonderfully. Clear, easy to open and close, but with a tight seal. I feel much better with my dry food items in these containers after catching sight of a mouse in my NYC apartment (so gross).
July 18, 2012
Rated

5

out of

5
 by
JamesE
Perfect coffee-bean storage!
I recently looked all over the Internet to find a replacement for a broken clear-plastic storage container for short-term storage of coffee beans. I wanted three containers to hold three different kinds of beans, sitting side by side. My cabinet space is limited horizontally, so round or square footprints make poor use of the space. The 6-7/8⿝ x 3⿝ x 5-1/8⿝ dimensions (hwd) of the 39-oz version were perfect! While the containers will not hold a full pound of coffee (about 13-oz max), I like to break down my pounds of coffee into 8-oz portions, keeping the balance frozen until ready for short-term kitchen storage.
March 21, 2012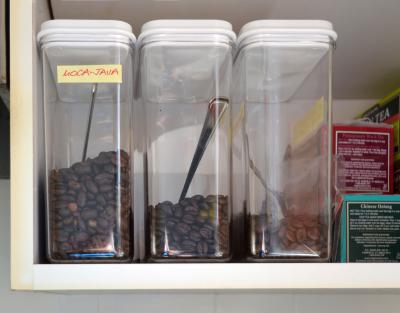 Rated

5

out of

5
 by
Bello
Love these!
This old model is not easy to find, but they are great quality! You wont be disappointed!
March 19, 2012
Rated

5

out of

5
 by
spc17
Great size!
I bought one of these canisters to try. I use it to store my corn starch. It has a great slim profile and seals well. The clear plastic makes it easy to see what's inside. Planning to buy more.
March 9, 2012
Rated

5

out of

5
 by
George954
I'm glad I have them
These are the kind of products you didn't know you needed until you get them. My wife convinced me she needed containers for noodles and these worked great. (She was right again). They keep the noodles fresh and somehow these containers just fit our pantry perfectly. We don't have open boxes of noodles laying flat taking up valuble real estate in our pantry anymore. They stay fesh and look nice.
February 26, 2012
Rated

5

out of

5
 by
LiciaB
Very Nice
I got a variety of sizes, the 64 oz will hold 4 regular size boxes of spaghetti or fettucini pasta, which is great to get rid of all the boxes. My pantry looks so nice and organized with these clear containers and it's easy to see what you have and what your low on. The smaller sizes are good for chocolate chips and baking stuff like that. I also got the 39 oz size and was planning on storing other pasta like penne or bowtie, but you can only fit about 1 1/2 boxes in those, I think it would have been best if I just got all 64 oz for all my pasta. Maybe I'll use the 39 oz for rice or something else. The lids stay on very well and these containers are great quality. Shipping was very fast, the Container Store is a great online store to buy from.
June 10, 2011
Rated

5

out of

5
 by
SuzieBea
Tall, skinny containers
These containers were just what I needed to fit into my space. I will use them to hold cereal. We always keep several types of cereals because everyone in this house likes a different brand. I like to buy in bulk for savings. These containers should keep cereal fresh and that will save money. Now I don't have to worry about someone not closing up cereal bags properly. The sizing works well in my limited cabinet space and I love being able to see what's in there.
May 15, 2011
Rated

4

out of

5
 by
place4evrything
LOVE these for tight pantry spaces
Am SO happy with these containers. The pasta size is perfect, and I love that the containers really do stack nicely and securely - I don't have to worry about toppling over a bunch of odd canisters that don't fit together anymore when I want to reach for something at the back of my pantry. I appreciate that they are practically perfectly square - I have some old ones that narrow at the bottom, and they tip over all the time, and I don't feel like they really utilize my small space the best. PLUS, these look nice, which is an added bonus.
May 12, 2011
Rated

4

out of

5
 by
dushell13
just like advirtised!
saw an article in Redbook about redoing the pantry and these containers were exactly what they said they would be - perfect!
March 17, 2011
Rated

5

out of

5
 by
Tita
These are great!
I bought a bunch of these containers to help organize all the dry goods in my pantry. I love them! The tall, narrow shape is perfect for my space. And they stack beautifully!
February 15, 2011
Rated

5

out of

5
 by
EGChi
Narrow Stacking Canisters
These work great, save tons of room, and seal well. I will definitely get more when I get an actual pantry to fill. Right now they are making the little space I have work much better for me.
February 15, 2011
Rated

5

out of

5
 by
ryemom
Save cupboard space
These canisters are the most space-saving on the market. They are slim, with a straight line bottom to top, so no space is wasted. The tops stay on tightly to keep food totally fresh, and they stack. They come in several sizes so you can customize them to fit in cupboards or drawers. I use my label maker to make labels so I can optimize my drawer space with these canisters. My kitchen is so much neater now, and I can fit much more into the same space.I also like to see the food rather than packaging.
November 30, 2010
Rated

5

out of

5
 by
katalina67
these are great
tried many items to keep crackers from going stale. works great works great for organizing it all, from tea bags (smaller containers) to pasta. stacks great too
May 4, 2010