Rated

5

out of

5
 by
jutsu77
Great purchase for small kitchen
We got these glass jars for our kitchen to show off our snacks and let everyone see what snacks we had. they look great and go well with the Tall Chrome Cupboard Shelf
January 20, 2017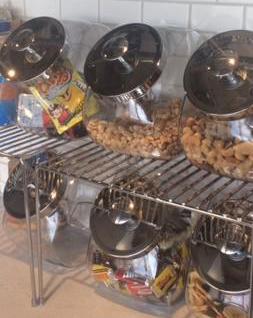 Rated

5

out of

5
 by
TXAG2006
The jar arrived quickly and is just what I needed.
June 15, 2015
Rated

5

out of

5
 by
Vanes
It's as described.... A little bigger than what I thought.
August 10, 2014
Rated

5

out of

5
 by
Dporch
Slant Glass Jar with More!
I know it sounds crazy, but this slant jar has made my work life so much easier - we provide granola to our employees and the previous containers ALWAYS left a mess. Not with the slanted jar, there's room for lots of granola and a scoop and with the slanted design the scoop overflow goes right back into the jar!
April 7, 2014
Rated

3

out of

5
 by
Conscious
Hard to tell
When I first saw this jar online I was super excited at the thought of finding a candy jar similar to the ones my uncle had in his candy store. I was disappointed when they arrived and the tops were of very thin, flimsy aluminum like materials. It holds finger prints and the chrome seems to be chipping already.
January 29, 2014
Rated

5

out of

5
 by
lulylovesmakeup
love it!
Omg I loveee this, I bought it for my lip glosses to go on top of my vanity and it looks amazing it reminds me of the vintage years itslooks so old school I deff recommend this everywhere iI've looked it was $55 $65 $78 but here same size same exact thing for $9.99 love it the container store never lets me down.⿥⿥⿥⿥⿥
October 12, 2013
Rated

5

out of

5
 by
CherylMc
so handy, even the grandkids can handle to get candy
May 4, 2013
Rated

5

out of

5
 by
srp4girls
Dad has man cave - Girls have candy shop
Excellent product at superior priice. Packing was great, no damage. Since first order have triple the number of items purchased. Plan to purchase many more in the next two months. The free shipping helped to be able to add more merchandise at the same price.
May 2, 2013
Rated

5

out of

5
 by
thefullplateblog
fun storage for art supplies
These sturdy jars with metal lids made visually appealing, and easy-to-access storage for cotton balls, and pom poms in our kids' "art area". My goal was to have the storage easy for the kids to access, and see.... so they'd keep it organized!! My next project will be to outfit our pantry in these fabulous canisters!! In the pantry, I'll use them for flour and sugar, since the mouth will be wide enough for measuring cups...
April 2, 2013
Rated

5

out of

5
 by
ChrldrMinnicks
Great office fun!
I wanted a cool candy jar for my desk at work. Not only is it very useful but the clear look lets my staff know when I have jelly beans... I have now become the "candy store" guy!...LOL
March 15, 2013
Rated

5

out of

5
 by
bsirious
Love
I love this design and cool look. I've used these jars for tea bags and candy. Easy off lid.
March 12, 2013
Rated

5

out of

5
 by
cat7252
Great for home made laundry detergant
I purchased this glass jar for my homemade laundry soap. It is perfect! I can see my level of detergant. I like the fact the lid is not sealed, it would make it too hard to take off while doing laundry. I like it! Container store also sells a plastic scoop that I needed for the laundry soap. Great one stop shopping! :)
March 5, 2013
Rated

5

out of

5
 by
titaterry
Great quality
Very classy looking, I can think of many uses for it but for now, I use it to store left over Halloween candies.
November 5, 2012
Rated

4

out of

5
 by
njm23
Great for making a "Candy Bar"!!
I've been wanting to feature a "candy station" at various parties that I throw at my house, but most containers that are cute and practical are typically quite expensive. I happened to be at the Container Store looking for other items and stumbled upon these jars. I loved them because they look like old-fashioned candy containers. They are heavy (in a good way) with a nice lid. I purchased 2 of the large and 2 of the small ones - along with the plastic scoops and they were the hit of my party! One thing to keep in mind is that there isn't a rubber ring in the lid, so I wouldn't keep anything in them that could be compromised by high humidity such as crackers or unwrapped candy. I used them with unwrapped candy, but only for the duration of the party and not for storage. If they had a more sealable lid, I would have given them a 5!
July 18, 2012
Rated

5

out of

5
 by
Oofus521
Great Customer Service
The best part of this transaction was the wonderful customer service you presented! I bought two containers, one arrived shattered and you very quickly shipped out another in record time. Thank you!!
May 6, 2012
Rated

5

out of

5
 by
Qball
Pretty good find
I purchased this candy jar and absolutely love it!
April 9, 2012
Rated

5

out of

5
 by
seajai14
Perfect Look
I purchased two of these to put my K-cup coffee pods in. My husband likes bold and I like medium. They look great on the counter next to the coffee maker. Much better than the cardboard boxes the k-cups come in.
April 7, 2012
Rated

5

out of

5
 by
JCisG
Love these!
These containers are terrific. Very nostalgic, can see what I am looking for and the slanted jar helps when scooping out your favorite snacks!
March 19, 2012
Rated

5

out of

5
 by
iugirl22
Love this item
These reminded me of the old fashioned candy jars and I use them for a baby shower and birthday parties to put snacks or goodie bags in for them to take home. LOVE these!!
March 19, 2012
Rated

5

out of

5
 by
Verified Reviewer
Grab snacks easy!
I used to have boxes of fruit strips and it would be hard to see the different flavors or reach in to grab one, now I can see everything, including how many are left for my shopping list!
March 13, 2012
Rated

5

out of

5
 by
Stylishmom1
Luv these
Bought 3 of them to store candy, snack bars, etc I simply luv them. They look great and keeps everything in place!!
October 15, 2011
Rated

5

out of

5
 by
mysti5000
Good Jars
THey are as they look. they hold stuff. they can sit upright or at a slant. they traveled here without breaking.
May 21, 2011
Rated

5

out of

5
 by
Crosstitch
In my sewing room
This jar has lived in my sewing room for years, holding small pieces of ribbon, seam binding, elastic, yarn, zippers, etc. Nice to be able to turn it around and see what I'm looking for without completely dumping the contents. I have another devoted to old wooden spools and their original threads. It's a very colorful display.
January 28, 2011
Rated

2

out of

5
 by
booya
disappointing
The glass part was fine, but I was disappointed that the lids did not fasten securely. How much more would it have cost to have screw top lids? This item was very overpriced.
August 12, 2010
Rated

5

out of

5
 by
Erika
Wedding candy buffet!
I bought 2 of these jars for my wedding candy buffet. They are reasonably priced which was good for our budget! They made for a retro-looking addition. Looking forward to using them in the kitchen for other purposes, post-wedding!
May 17, 2010
Rated

4

out of

5
 by
KimWS
Nice solution for the kids' snacks
This good-looking canister has been a perfect solution for a shelf in our kitchen reserved for snacks. Our kids easily open and close the jar with granola bars and fruit snacks, and they look really cute. The price point is great as well
March 28, 2010