Rated

5

out of

5
 by
pitch22
Perfect drawer spice rack
I have been looking for an in drawer spice rack and this is perfect. I can see everything and it is easy to grab while cooking. The extra sides are perfect for the smaller sized items I have. This is so great that I wish I had more drawers to use for this spice rack!
August 8, 2016
Rated

5

out of

5
 by
ShoppingIsFun
Love the birdseye view of spices
I had a two-tier lazy susan spice rack and could never find the spice I wanted because it was always hidden. When I remodeled my kitchen last spring, I ended up with more drawer space than I needed. I designated one whole drawer for the spices. When I need a spice, I open the drawer and pull the exact spice I want within seconds. I even alphabetized them so they are even easier to find! It's a great spice rack and it is out of view in the drawer!
March 28, 2015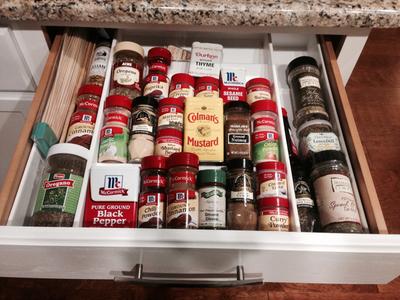 Rated

5

out of

5
 by
JMV0930
Great spice organizer
This is my second expand-a-drawer organizer. Love them! They really help to keep spices organized in drawers.
February 26, 2015
Rated

3

out of

5
 by
VirgoG
Holds lots of spices conveniently!
I am really happy that I was able to find a drawer organizer for my spices that held so much! Now I can use up the duplicates that I had as a result of my previous "system" because I can easily see exactly what I have. The "expandable" sides don't lock in like I thought they would, but otherwise I am very happy with this system.
May 20, 2014
Rated

5

out of

5
 by
Bluesgirl
Love it! Works great. It does just what is intended to do.
February 28, 2014
Rated

4

out of

5
 by
ccappy
nice for drawer next to stove
Great little organizer for the spices, put it in the drawer next to the stove for quick access while cooking. Held about 18 standard size spice bottles and 6 mini spice bottles. Much better than just shoving spices into the drawer and didn't have anywhere for a hanging rack so I'm happy with this.
February 14, 2014
Rated

2

out of

5
 by
BakingFool
Meh
I ended up returning this. It sort of takes up too much room in a drawer for relatively few things that can go in it. So overall I decided it wasn't for me. Quality was a little on the cheapy-feel side, too.
January 27, 2014
Rated

5

out of

5
 by
Remodeler
Versatile Spice Organizer
Needed a way to organize and store a medicine cabinet now located in bathroom drawer. The Spice Organizer was the perfect solution. Everything stays in place and is easy to see. And, of course, it fit perfectly.
January 2, 2014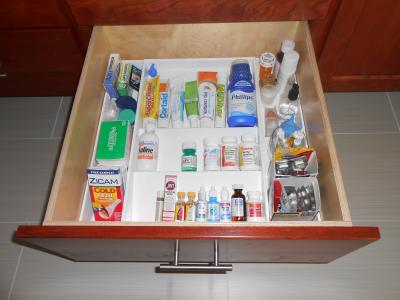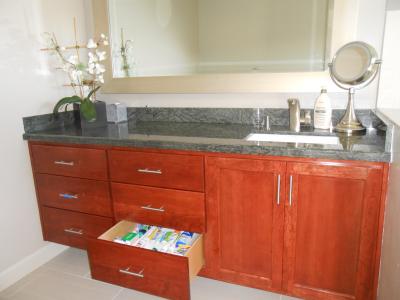 Rated

4

out of

5
 by
cooking
spice organizer
I love the product and will look forward to arranging the spices,even we have to cut just a little bit.
December 13, 2013
Rated

5

out of

5
 by
LessClutter
Great Solution
We've just retired and moved from our big house into our much smaller summer cottage so I had duplicates of spices and needed a good organizing tool in a small kitchen, which has several shallow drawers that are otherwise not very useful (do measure!). GREAT solution, holds tall and 2 stacked short bottles, large tins, giant bottles around the edges. Excellent tool in sturdy plastic.
November 13, 2013
Rated

5

out of

5
 by
lakehouse
Sturdy
Nice and sturdy. Great organizer. Love it! Fits a lot of spices. Great buy.
August 16, 2013
Rated

5

out of

5
 by
kathrynje
Best way to store spices!
This drawer spice organizer is the best way to store large collections of spices and see them at a glance. After switching over to drawer storage, I can't imagine ever going back to digging through shelves of spices in a cupbard to find the right ones again. This is so much easier! I bought 2 of these for a double wide drawer and it holds all 56 of my various spices, curries, salts, etc plus a little room to expand as I discover new cuisines and new spices. The way this is built, the lower 3 rows hold 6 bottles of full size spices each, and the top, 4th section, is sized just right for those smaller half bottles. I haven't had it long, but see no reason it wouldn't hold up well, it is similar material to plastics used for silverware drawers which hold up for years. Ditch the cupboards, go for drawer storage!
May 2, 2013
Rated

5

out of

5
 by
Gabi
Drawer spice rack
I love this in drawer spice rack. It holds most sizes and shapes of average size cans or jars. I put my spices in the drawer in alphabetical order so they are easy to find when cooking.
April 28, 2013
Rated

5

out of

5
 by
MonicaR
Great Product
I have been looking for months for an organizer that will fit in a kitchen drawer! This is the perfect fit, is easy to organize and I can use my existing spice bottles. Super!
April 14, 2013
Rated

4

out of

5
 by
alb007
Great, was just what I was looking for
Perfect, just what I was looking for. Fits the drawer.
April 8, 2013
Rated

5

out of

5
 by
KimfromSF
Great Organizer
We use it for spices and long cooking utensils and it works great!
March 18, 2013
Rated

5

out of

5
 by
LittleMissOCD
LOVE!!!!
My mother recently changed her spice storage from traditional upright in cabinet to drawer storage for ease of access and I thought it was very logical. Unfortunately she did not have an organizer in place to keep the spices in their place and hers were just rolling to and fro in drawer. And alas, I found the expand a drawer spice organizer!
March 10, 2013
Rated

4

out of

5
 by
Alec
Good for an inexpensive solution
This works very well for what it's intended to do. We purchased 2 for a large drawer and they fit well without too much shifting around, although we may put a barrier behind them so they don't move back and forth when we open the drawer. Spice containers are clearly displayed, making finding a spice a breeze. Perhaps a deluxe version could have rubber feet under the rack.
February 11, 2013
Rated

5

out of

5
 by
BestMomEvah
Spice is Nice in Your Drawer(s)
My spices were a complete mess in my kitchen cabinet. I am embarresed to admit there were instances where it was easier to buy a new spice than to dig through the mess. I took the initiative to clean out a kitchen drawer(another mess) and utilize the expandable drawer organizer. Take a peek at the photo--my spices look awesome!! I love it and even my husband noticed, as he he quickly foundl the grilling spices. I encourage others to manage spices differently--one pull of the drawer can allow you to cook with 'spice', ease, & fun!
September 17, 2012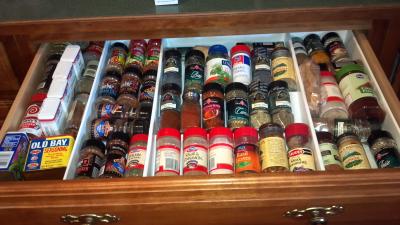 Rated

5

out of

5
 by
MomofTweens
Wonderful Addition to my kitchen
I love my expand a drawer spice organizer! I recommend!!
April 27, 2012
Rated

5

out of

5
 by
Etown50
Organized at last
We used to have our spices all over the place in no real order and they were hard to find. We bought this organizer and things are much better now. All of our jars are alphabetized, easy to see, and easy to find.
March 29, 2012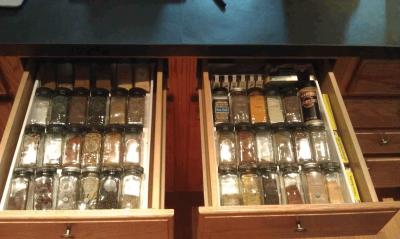 Rated

5

out of

5
 by
pingelita
Love it!
This rack holds all of my spices, even larger bottles on the side. I call it my little "spice stadium!" Everything is accessible and easy to find, and so so much better than the cluttered cabinet that they used to be in. Highly recommended!
March 19, 2012
Rated

4

out of

5
 by
downwith3
great purchase
This is a great product. Keep in mind the larger spices need to go on the expanded sides. Middle can only fit smaller size.
March 8, 2012
Rated

5

out of

5
 by
trelleysgirl
great spice storage solution
I purchased this product after we remodeled our kitchen and I lost my spice cabinet that was previously located next to my oven. At first I panicked, but then after doing a little research I found this and the many positive reviews convinced me to give it a try. I absolutely love it, all my spices are easy to see and very accessable. I did have to downsize my collection a little since the drawer I was using was not as big, but I just put the less commonly used spices in a bin in my pantry. If you had a larger drawer this wouldn't be a problem since the organizer expands to fit larger sizes. Overall, a great solution!
February 23, 2012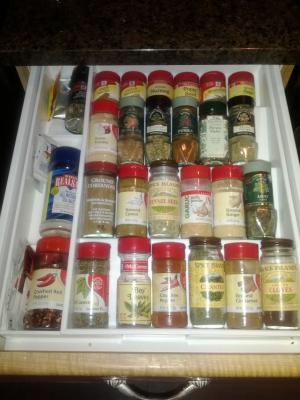 Rated

5

out of

5
 by
robynb7777
The product I have been waiting for
I just recently purchased a home and was very excited to finally be able to have the space to organize my spices. I have been living in apartments for several years and never had room to properly organize my spices so they were always in a cabinet where I could never find them when I needed them or stuck in a box. I wanted to find something that I could keep them hidden but still be able to find them easily. The Expand-A-Drawer is exactly what I was looking for. I have the perfect drawer and this product fits really well and I can actually see every single spice and get to it when I need it. Finally!
February 19, 2012
Rated

5

out of

5
 by
Gray
Spice organizer + Elfa = Perfection!
I created my own rolling "butcher block" using the Elfa medium platinum 7-drawer set. 2 of the "one" drawers, a "two", and a "three" make a perfect baking center. The 2 shallow drawers have these spice organizers, making for easy organization, baking, and cooking. I can roll the unit out by the stove and have everything easily at hand, then roll it back away. In my former house, we left out a base cabinet when we remodeled to have an under-counter spot to park the rolling cart, but in my current home, I just keep it at the end of the counter. Beautiful, functional and saves me a ton high dollar kitchen real estate by organizing the spices sensibly.
October 14, 2011
Rated

4

out of

5
 by
jltl
not quite what I thought
Make sure your the size of your draw is a little larger then the 18 inches. Mine was really hard to fit into the draw and then to expand. I was able to make it work. I am happy with it, but I would let every one know the draw has to be a little larger.
June 11, 2011
Rated

5

out of

5
 by
DoubleJ
Perfect for Drawer
I almost paid for an expensive custom-made spice rack for my kitchen drawer. I decided against it and so happy I did ... this one was reasonably priced and fits perfectly in the drawer. Spices are so easy to find. Very happy with this purchase!
February 4, 2011
Rated

5

out of

5
 by
Allracer
The Spice of Life!
This product has turned my kitchen around. I recently remodeled my kitchen and having a new island constructed and all I really wanted was one big drawer for my spices. This product has been a godsend for me. No more hunting and shuffling, and best of all no duplicate purchases at the grocery store. At the touch of your fingertips to the stovetop is the greatest convenience of all. Thank you Container Store.
January 4, 2011
Rated

5

out of

5
 by
molly99
Works perfectly!
Had such a hard time finding a spice rack that would fit in a rather shallow drawer. I now have 2 of them side by side, holding lots of spices. Saves me space in my pantry. And the price is so reasonable!
July 18, 2010