Rated

5

out of

5
 by
Susiepatuzie
Love this knife holder
Very minimal in appearance. Just what I was looking for to serve the purpose but not grab a lot of attention on my counter. Narrow and neutral. Placed my knives in as soon as I got home and there was plenty of room. Looks so much better than my old clunky wood block.
May 2, 2014
Rated

5

out of

5
 by
YorkieTrouble
GREAT
This is a wonderful knife block takes very little space and holds "lots" of knives. I have 10 plus 1 pair of scissors in the block. Additionally, the inside that holds the knives can be take out of the holder for cleaning. Can not go wrong especially if you have limited space in you kitchen. Knives are readily available without taking up a large area of the counter and no more storing in the drawer.
April 14, 2014
Rated

5

out of

5
 by
ZGabi
This Stopped Me in My Tracks
Truly. And I wasnâ¿¿t even looking for a knife block! Thought they were all too big for little knives. Those were at the time on an under-counter magnetic bar that randomly dropped them in the toaster. Not quite what earns a safety badge. This is so absolutely great, clever and works, plus tucks in nicely with everything else on the counter. The knives can go anywhere and it would hold more knives than shown here. Bodum gets kudos for cleverness! Tell a friend? Who had to, I sent one to a daughter-in-law, who posted it on FaceBook. A friend came over and loved it - so I surprised her with one. It cleans easily, looks great and does the job. And is the subject of conversation with anybody that hasnâ¿¿t been here before!
February 18, 2013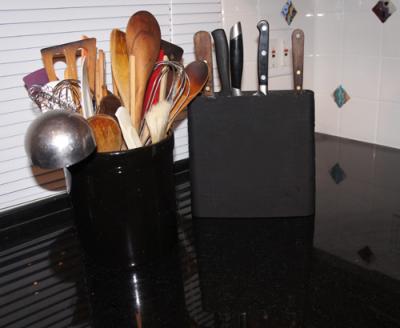 Rated

5

out of

5
 by
JimmyT
Great Knife Block
This block conforms to any size blade, very clever design
April 24, 2015
Rated

5

out of

5
 by
glidermom
Great purchase
Love this!! It is very modern and convenient size. Looks great on my counter... love the color!
January 10, 2015
Rated

5

out of

5
 by
ellenjc61
Best knives holder ever
I saw this on Americas Test Kitchen I have been looking for two years Then I find at the container store. It is as good as I thought it would be.
December 23, 2014
Rated

5

out of

5
 by
michy31
Stylish and Useful
I really love that I am able to put knives where I need to in this holder. There no predetermined slots, so you can slide them in the holder as you wish. It also really looks great!
April 10, 2014
Rated

5

out of

5
 by
StLgirlinIA
Perfect fit
Takes up minimal space on my counter but holds more of my knives!
April 10, 2014
Rated

5

out of

5
 by
gudegast
excellent
Holds a lot of knives in a slim design. What's not to like!
March 20, 2014
Rated

5

out of

5
 by
Skippy24
Great Purchase
Very sleek looking. Takes up much less space than a butcher block knife holder and is much more appealing to the eye. Love it.
March 3, 2014
Rated

5

out of

5
 by
Jenna1561
Love, love, love this block!
I love this knife block! It's functionality is beyond compare. It easily accommodates Most knives and shears. The ease with which knives slip in is refreshing and efficient. I bought the black model and it looks great on my counter top.
February 27, 2014
Rated

5

out of

5
 by
skydancer
Must have
Best item for the kitchen since the fridge. No more cut fingers while looking for a knife, no more wood blocks, where some knives won't fit, and it takes up very little room. I love mine, my daughter loves hers.
February 23, 2014
Rated

4

out of

5
 by
kazuo19
Great Kitchen Addition
I am a big fan of Bodum products and this one is great. I did not rate it 5 stars simply because I'd rather have my knives presented to me at an angle, instead of straight down. I got this to accommodate a pair of Shun knives (chef's and santoku) that I finally decided to splurge on, as well as a bread knife and a couple of paring knives. They all fit beautifully in the space provided and the weight of the block makes it steady, while the slim profile does not take up much counter space. I love it!
February 20, 2014
Rated

5

out of

5
 by
BKLYNHITTERTerrific
Remarkable
This system is amazing. You can fit any size knife and as many as it can hold. There is no restrictions.
January 29, 2014
Rated

5

out of

5
 by
Think2
Great buy!
Absolutely love it! Sleek and streamlined design takes up very little counter top space and multiple knives (more than four shown) drop into the "plunge" material like slipping into water. Have one in both my NY and FL home.
January 22, 2014
Rated

5

out of

5
 by
KimUpstateNY
Outstanding product
I needed something to replace a magnetic bar for my knives. I didn't know such a product existed until I researched alternatives to a wall bar and found the cheapest price here. I love it and it looks great in our kitchen against the new backsplash. Holds many knives. It's quite the conversation piece too!
January 18, 2014
Rated

5

out of

5
 by
LaudM
Excellent purchase
Love it! Love it! Love it! Purchased in Miami, FL.
January 7, 2014
Rated

5

out of

5
 by
scarfinger
Love this knife block
This is great to use and have on the countertop. I had a knife holder that fit in the drawer and it didn't hold bigger knives well. So I was looking for something that didn't take up alot of counter space. This fits perfectly and holds several knives from big to small. So glad I bought this
January 7, 2014
Rated

5

out of

5
 by
MrsHenryHudson
Excellent choice for a small kitchen
This gives me easy access to all my knives and keeps anyone opening drawers--where they used to be kept--from being accidentally injured by one. Sleek, obtrusive addition to a tiny kitchen!
December 23, 2013
Rated

5

out of

5
 by
KayD
Product is Awesome!
The Knife block is super slim and can fit many knives. Currently using it for the knives that do not fit in our traditional wood block knife holder. Fits perfectly on the counter and cleans up clutter in drawers.
December 16, 2013
Rated

5

out of

5
 by
kuching
Functional and Stylish Space Saver
I had a couple of very chunky, bulky and unattractive knife blocks taking up an inordinate amount of space on my kitchen counter. I bought one of these, and it holds all of my knives! It's a little expensive, but well worth it. It looks great, and takes up around 1/5 the space of my previous blocks.
September 10, 2013
Rated

5

out of

5
 by
Simba
Best Invention!
Just moved my daughter into her new studio in DC. We realized right away that she hardly had any drawer space for her utensils. I searched the web and found this knife block and bought it. We were thrilled with it! It uses little counter space and it looks very chic... almost decorative. I loved it so much that I purchased two more for my Jacksonville condo and my NYC condo! I will recommend this to all my friends.
August 13, 2013
Rated

5

out of

5
 by
Verified Reviewer
perfect knife storage solution
If you have limited space on your countertops but still need somewhere to store your knives, this is for you. It's sleek and does the trick without taking up too much space. It's a little expensive for a knife block, but I think that goes for all things bodum. (I bought the black version)
April 1, 2013
Rated

5

out of

5
 by
Missmousie
Great innovation!
This knife holder is just as advertised, sleek and "sharp" looking, while being highly functional. The design is very clever and I love that it takes up next to no counter space.
April 1, 2013
Rated

5

out of

5
 by
LovesTCS
Highly-recommended!
This is a great way to save space on your counter and have knives easily within reach. While compact, this unit allows you to store more knives than the traditional wooden block style in less space. Highly-recommended!
March 18, 2013