Rated

5

out of

5
 by
JCRme
Love this tote!
I ordered one and liked it so much that I just ordered another. I do recommend putting only one nail holder (included) on each side IF you want the handle to be moveable as I did. I am using the first purchased for makeup brushes and powders and like placing it in a vanity drawer that is not tall enough for the stiff rigid handle placement with both screws, but works well with one on either side so that I can fold handle to the side when I place it in drawer. Now to fill the second......
May 13, 2014
Rated

4

out of

5
 by
Azukipie
Great looking and great functioning!
I've had this for about two years and when I first purchased it I was going to choose between this one and the Acrylic Hair Care Organizer. Of course I now still own both! I have used this as the picture described for cutlery at a party but now it lives in my bathroom. Two things of note: 1. be careful of the surface you place this on. The product is still in great shape but it has stuck to the paint on the shelf and pulled some of it off. 2. The handle does get loose over time and if you use the handle often you will need to keep this in mind.
April 29, 2014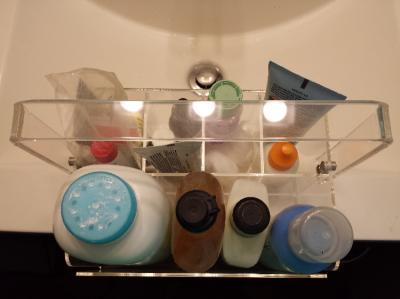 Rated

5

out of

5
 by
Rethasophia
Just the Thing
When your only bathroom storage is a small closet, this is just the solution for having daily products organized into one place. Having the handle makes it easy "grab-n-go." Thanks Container Store!
March 23, 2014
Rated

4

out of

5
 by
Cork
Sharp looking tool
Carry Tote is bright and clear. Excellent to store and move items for use, where needed.
March 19, 2014
Rated

5

out of

5
 by
Msanchez
Multi-Use
I use this for my little one's art supplies (pens, pencils, crayons, etc). Great way to manage and organize supplies. Easy to tote around.
February 22, 2014
Rated

5

out of

5
 by
flacoral
Perfect size
Perfect for my dressing table, holds everything I need.
January 1, 2014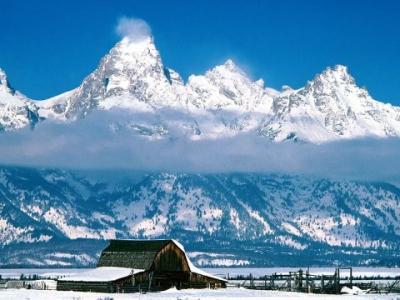 Rated

4

out of

5
 by
Viv405
Pretty good
This tote is perfect for storing my manicure tools (polish remover, cotton pads & q-tips, buffers, etc) so I can easily get them all at once and store them away. The only complaint I have is that the handle should really be foldable, down. As of now, it's a permanent handle that sticks up and luckily it fits in the shelf I'm using to store it, but if it didn't I'd have to remove it altogether. As it is, the screws aren't really that secure, so I can remove it altogether pretty easily but then that defeats the purpose of a totable caddy.
September 4, 2013
Rated

4

out of

5
 by
GEORGEINARIZONA
GREAT FOR ORGANIZING
Not using it as I had hoped to which was in the bathroom. I am instead going to use it in my home office
September 1, 2013
Rated

5

out of

5
 by
chickpea
excellent for flatware
This is a great product! I use it to hold all the disposable utensils we get from take-out restaurants. I didn't want to throw them away but needed a better system than just piling them up in a drawer. This was the perfect solution. I also think it will be handy in the summertime to simply place on an outdoor table where people can easily get their forks, spoons, etc.
April 13, 2013
Rated

5

out of

5
 by
scawolita
Using for makeup
I got this to use to organize my makeup. I have palettes in the back and use the four compartments in the front to separate various eye products. I have liners in one, mascaras and eyelash curlers in another, eye brushes in another and face brushes in the last. The tote is very roomy and it comes assembled with the exception of the handle. I chose to leave that off because I didn't want it in the way, I love this tote and would def. reccomend.
March 9, 2013
Rated

5

out of

5
 by
Clair
Looks great and functional too
I bought this to organize my two girls hair ties and clips. I was looking for something portable that we can carry to a different room when needed. I love the clean look of the clear acrylic and it is nice and thick. Feels very sturdy. I like the divided compartments on the one side - allows us to separate hair ties from clips etc. The back compartment is big enough for a flat iron and their hair product. The handle is very sturdy and it doesn't tip when I pick it up. Will definitely order more of these. Could use for my own styling tools, makeup etc. Cute enough that it could sit out on a counter.
February 20, 2013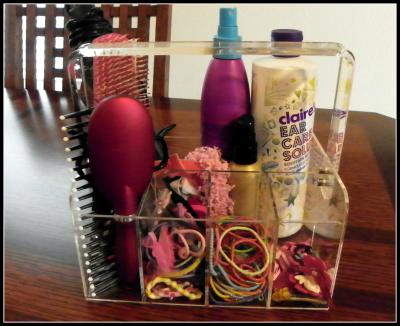 Rated

5

out of

5
 by
Killcherry
Finally! I'm organized!
Okay, the under cabinet in my bathroom was a complete disaster. My husband said: "Enough!" I went to Container Store and picked up this little beauty. It has lots of room for all my jars and potions. I would buy again!
February 14, 2013
Rated

5

out of

5
 by
Margjane
Perfect solution
I purchased this to use as a caddy for make-up and skin products. Everything is now neatly stowed in a cabinet until needed. It's attractive and sturdy. I like this organizer so much I plan to order another one for guests.
December 9, 2012
Rated

5

out of

5
 by
Flipflopmom
Get Organizer
I bought one of these to organize my make up. It holds quite a bit. Since it is clear it is easy to see where everything is. I love the handle so I can keep it under my sink and bring it up the counter. I loved this one so much I bought a second one for my nail polish.
April 27, 2012
Rated

5

out of

5
 by
WSNE
Love!
I love this organizer. I used to for a first aid caddy in my front cabinet downstairs and upstairs linen closet. Bandaids, ointment, and ace bandages fit nicely in the compartments. I keep bug spray and sunscreen in the open area.
March 8, 2012
Rated

5

out of

5
 by
MotherTo4
Awesome for tweens!
I bought this organizer for my tween daughter and its perfect. Enough space for what she needs, compartments are small enough that she can't just throw everything in. Product is very sturdy and looks nice on Bathroom countertop. It also holds a lot without taking up too much space!
March 2, 2012
Rated

5

out of

5
 by
lebcogrl
Great for nightstand
Wanted an organizer to cleanup the mess on my nightstand (that my cat kept knocking on the floor). This caddy did the trick!
August 19, 2011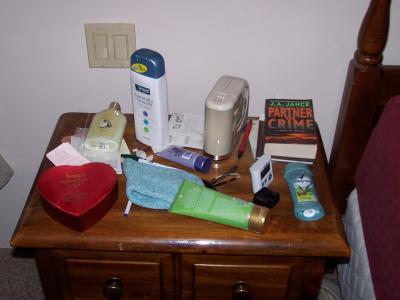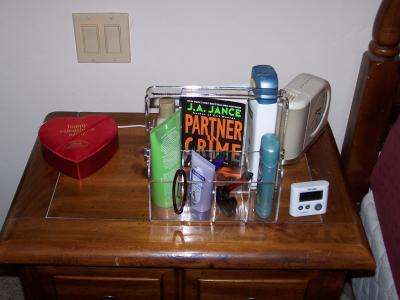 Rated

5

out of

5
 by
music123
Great organizer!
This acrylic organizer was just what I wanted to organize all of my stuff on my bathroom sink. In fact, I am going to purchase another one! Since there is not a Container Store near my house, a friend was able to pick up my purchase from the store. I chose the option to have my purchase waiting at the store. My friend told me that it was so easy to walk in and have it all ready to go, bagged and identified with my name! Next time I think I'll try the super-convenient drive-up option! Thanks so much!
June 27, 2011
Rated

5

out of

5
 by
tuttle
Great drawer organizer
Although the product was meant for flatware, etc, I used it in drawers to keep taller products from falling over and turning into one big mess. The clear acrylic also made viewing the items easier.
March 20, 2011
Rated

5

out of

5
 by
tigereyes20151
Handy little gadget
I had bought one of these months ago to organize all the junk that accumulates on the bathroom sink. It worked out beautifully!! Now I purchased a second one to organize the boyfriends stuff now that I have room for him.
February 23, 2011
Rated

5

out of

5
 by
DeclutterBug
Great Organizer
These have made my bathroom much more manageable. It's ideal for women who want their make up accessible at all times. It is great for brushes, q tips, lip and eye make up and even hair pins. Its great if you are sharing a bathroom and you can bring the tote into the bedroom to finish your make up. Love how durable this product is.
February 15, 2011
Rated

5

out of

5
 by
addressdesigns
Great Storage for Almost Anything
This is a great basic product for storage of almost anything. I was looking for something to hold my art + design markers ... this caddy is perfect! The handle makes it easy to take with me if I want to work in another area. The clear acrylic is clean-looking and not distracting -- I can see every marker easily.
February 14, 2011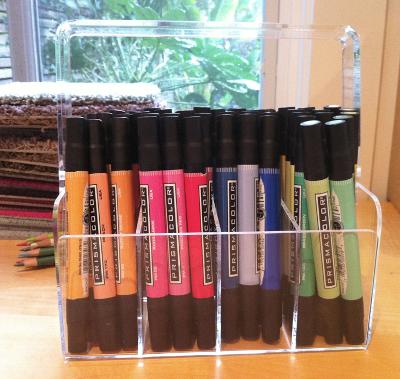 Rated

4

out of

5
 by
HellaG2
useful but pricey
I use this item every day for toiletries. I like the handle cuz I can lift it up to the counter then hide it below the sink. I would like it better if the handle moved a little bit and if it wasn't so pricey
July 9, 2010
Rated

5

out of

5
 by
PetiteandSweet
Great acrylic tote
I read the other review of the girl in D.C. who also has a small bathroom and apartment, and purchased this. My morning routine consists of carting makeup to a makeshift vanity table, along with a portable vanity mirror. This is so much better than my makeup bag that was ripping, and it organizes all my makeup in individual sections (eye section, makeup brush section, lips section.) Super easy to find everything even when bleary-eyed in the morning. :) It is also sturdy and pretty - I love it!
May 26, 2010
Rated

4

out of

5
 by
Megster
Perfect Cosmetic Caddy
I live in a small apartment and find my morning routine to include a dance from the bathroom, to the skinny hallway closet, and over to the bedroom mirror (near a natural light source), and then all over again a few times before I can head out the door. I needed a more efficient way to do my makeup each morning. This caddy is it! It holds all of my makeup (the pieces I typically go to for a pretty day and night face) plus my assorted brushes. The clean acrylics is stylish and allows me too see everything in the container at one glance. The handle is long enough to get your hands around for carrying comfortably and does not get in the way of the brushes. Plus, it has kept me from spending money on makeup that I really do not need (I prefer to keep "everything" in the caddy rather then have overflow in yet another container in the closet). My only complaint is that the four screws that attach the handle to the container tends to loosen on occasion. Easy to tighten if that's the case. Great buy!
March 2, 2010