Rated

5

out of

5
 by
GalwayGirl84
Sturdy Banana Holder
I have always wanted something to hold my bananas on the counter, and this holder with a bowl for other fruit was the perfect find. It's attractive and durable.
April 5, 2014
Rated

5

out of

5
 by
NancySS53
A purchase I can't live without!
I had a problem with my family ignoring or forgetting the fruit I purchased. This bowl is attractive, and not too big. It helps me keep the fruit easily assessable.
March 15, 2014
Rated

5

out of

5
 by
melron
Nice and neat
This was purchased to take the place of our banana holder that had broken. Love the bowl w/ holder. Looks clean and elegant sitting on the kitchen counter.
September 10, 2013
Rated

5

out of

5
 by
cleanit
Fruit dish
Love it would like to find just a bowl, it looks attractive and fits with any decor.
May 21, 2013
Rated

5

out of

5
 by
nononsensemom
Definte Buy
If you like to keep fresh fruits out for our family to snack on, this is a sturdy and eye appealing holder. Highly recommend.
February 16, 2013
Rated

4

out of

5
 by
Verbena
Good Space Saver
Trying to tidy up things on counter of our small kitchen, found this product works very well. As previous reviews noted, fruit should be checked regularly so it doesn't get too ripe causing lines, especially in soft skinned fruits like peaches. It was a little lighter weight than I'd hoped but it looks clean and fits the need.
August 14, 2012
Rated

3

out of

5
 by
Kelmit
Good for bananas... and that's about it.
I wish I had bought just a banana holder and separate fruit bowl instead of this. It looks lovely and is great for bananas, but the fruit at the bottom gets dented from the chrome. There's also not a lot of space for fruit under the bananas.
May 7, 2012
Rated

4

out of

5
 by
momofkids
Nice looking on counter
Great for holding bananas & fruit for a few days! If fruit is in the bowl too long the metal can make soft dents in the fruit-make sure you keep moving the fruit/vegetables around for prevention of bruises.
April 28, 2012
Rated

4

out of

5
 by
CBCo
Great fruit holder
Love this, and looks great on the counter with the bananas hanging! It can be difficult to fit much fruit in the bottom with bananas hanging, which would be the only downside. But I still love it!
April 27, 2012
Rated

5

out of

5
 by
Rozlynn
Love it!
This looks great on our countertop, so glad to reduce the clutter.
April 7, 2012
Rated

5

out of

5
 by
nccc
Beautiful
Looks as good on the counter as it does in the picture.
April 1, 2012
Rated

5

out of

5
 by
SUNSHINEandWAVES
Modern Basket
Finally I have bananas off the counter. I have only had it for a week or so, but the bananas ripened all at the same time instead of the bottom bananas going bad and bruising first. This looks great and I even use the basket to hold bagels sometimes.
March 27, 2012
Rated

5

out of

5
 by
NanaJoyce
Better than expected!
I bought this fruit holder with more than a little skepticism. I've had them before and they were either flimsy and fell apart in no time or were inadequate for the job. NOT THIS ONE!!! I love it! It holds not only a large hand of bananas, and a lot of fruit but it is sturdy and doesn't take up much counter space at all! I am very pleasantly surprised by the quality and sturdiness of this holder. It looks great too!
February 20, 2012
Rated

5

out of

5
 by
Mrobinson
Love this fruit basket and banana holder. I needed something to fit both my bananas and other fruits throughout the year, works perfectly.
February 19, 2012
Rated

5

out of

5
 by
Asmith0711
Sleek
Bought this product to hold fruit on our counter since we have a small fridge and limited kitchen space. So far it has performed it's job well and a couple of my friends have commented on how neat it looks!
September 9, 2011
Rated

5

out of

5
 by
bsanderson24
Great fruit bowel
This fruit bowl is perfect for my family, we always have bananas! The open airy design of the bowl keeps the fruit from spoiling the way a regular bowl would. And the kids can see what fruit we have available.
May 25, 2011
Rated

5

out of

5
 by
jalamcrafts
Attractive fruit container
I have been meaning to get one of these for years. It's neat and keeps the bananas better. The bowl is also good for my apples and other fruit.
March 10, 2011
Rated

5

out of

5
 by
thevahvah
Banana hook/fruit bowl combo
What a nifty fruit bowl! This saves space in my tiny kitchen and it looks nice and sleek. It doesn't hold a huge amount of fruit (for all of you Costco shoppers) but it does hold a good amount. I am very happy with this purchase. I priced out this sort of item, and I think this was the best deal and looked the nicest of all of the fruit bowl/banana hanger combos out there.
March 7, 2011
Rated

5

out of

5
 by
littlestylish
contemporay stylish and sturdy
I really like. It's actually sturdy, works perfectly, saves space and keeps the bananas ripe a litle longer. Looks cute.
February 15, 2011
Rated

5

out of

5
 by
Laylia
Beautiful way to display delicious fruit!
This sturdy and simple fruit bowl is a great way to show off your favorite fruits! I've been wanting to buy this for a while and I'm so very glad I did. Bananas hang easily on the hook while dangling over apples, pears, and oranges! It's a perfect size for a one person apartment.
January 24, 2011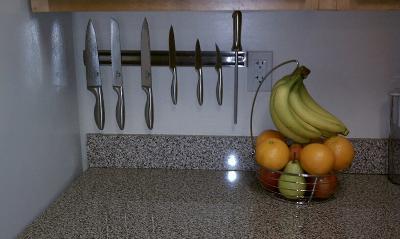 Rated

5

out of

5
 by
LilShopper22
Love the product. It does what its suppose to ...not flimsy at all!
October 28, 2010
Rated

5

out of

5
 by
Adamku
Fruit basket
I hated having all my bananas and fruit on the counter top, so I finally found this fabulous Chrome Banana Holder & Bowl! It holds a lot of fruit in the bowl and it looks just awesome! I really recommend this product to everybody how is looking for something like for your fruit and bananas!
July 18, 2010
Rated

5

out of

5
 by
Chrissy
Love this basket! Looks great, good air circulation for the fruit, and everything's in one place. Very sturdy.
May 25, 2010
Rated

5

out of

5
 by
Lissette
Great item to have in your kitchen.
I personally hate having my bananas laying on the counter top. They get mushy on the side that is touching the hard surface and well I can't stand that. I bought this banana holder and bowl a few years back and love it. Not only is it sturdy (unlike the wood ones) it has the additional bowl underneath to hold other fruits as well. Great for when the kids come home they have easy access to a healthy treat versus junk food in the cupboards.
May 19, 2010