Rated

5

out of

5
 by
Hadassah
The best ever
I bought one of these over 5 years ago and just love it. I just bought a new one so I could take my old one to work with me. Now I have two and still just love them. They work great and stay working great for a very long time. I would like to always have a broom like this.
April 27, 2013
Rated

5

out of

5
 by
Tiogue
Onda Broom is Functional Sculpture
This is the best indoor broom I've ever had. It looks beautiful and can be stood anywhere, so you don't have to go fetching it from a closet. You don't have to go looking for the dustpan and brush. It sweeps everything up and deposits every bit into the dustpan, no leaks. the only complaint is that it is a little awkward to empty the dustpan/stand because of its shape and size. I've bought 4 of them in the last 2 years, 2 as gifts, one for my studio, and one for the kitchen and general use around the house.
December 6, 2010
Rated

5

out of

5
 by
Hatshepsut
I LOVE this broom!
At first, my husband wondered why in the world I'd pay more than 20.00 for a broom. We both found out why! it does ownders picking up the fur our three boxers manage to leave behind our brownstone!
March 3, 2010
Rated

2

out of

5
 by
GDRW
Uncomfortable handle
This is a beautiful broom that sweeps well. However what is supposed to be a comfort grip on the handle makes sweeping painful for me. I am a tall woman - 5'11. Where i align my hands with the handle hurts: it's the wider part of the handle and that platic edging on the sides makes it difficult for me to use. If i slide my hands down to the smaller area of the handle, i hv to stoop over to sweep to all the broom to make contact with the ground - uncomfortable. I will be retuning it.
December 3, 2016
Rated

4

out of

5
 by
HawaiianParadise
Sturdy broom, only 1 quip so far
I've been waiting to get this broom for a long time, but I had to justify the price. I finally bought it online for store pickup when there was a store-wide sale. I can say without hesitation that this is definitely more well-made than a broom at the dollar store and more stylish too. It can be left out and it will blend in with the decor without it being an eyesore. The broom's handle is heavier, thicker, and longer than those generic "dollar store" brooms. The bristles are also more flexible and denser. My only quip so far is that the dust pan's handle could be longer. The handle on my old dustpan (that only costed a few dollars), is 8 inches longer. I'm only 5'6" and still felt that the dustpan handle was a bit too short. I have to stoop a little bit when I pick it up and I didn't have to do that with my old cheap-y one. I just feel that they could have easily made it longer and thus it would be even more functional and versatile than it is. But I'm going to keep it just because of the quality and aesthetics. Hopefully, the company will see this review and come out with a new, improved one.
November 27, 2016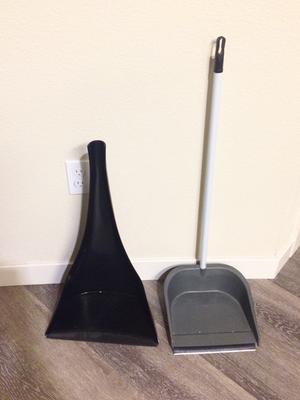 Rated

5

out of

5
 by
Topogigio
Attractive, Easy. Long Handle
I think this broom is great - I like that it has a long handle and that the dustpan has a long enough handle that you do not have to bend down. I wanted something that looks attractive because it is in our office and sits out all of the time - this broom was the perfect solution.
June 25, 2014
Rated

5

out of

5
 by
ModernMama
Best broom ever
I bought this broom to help cleanup after dinner messes with my little ones. The broom and dust pan works so well that I can even use it with one hand, while holding my toddler in the other. I recommend this to anyone that often has their hands full, wants something easy to use, or anyone that just wants a great quality product.
April 25, 2014
Rated

5

out of

5
 by
pupslady
Great Purchase
This broom and dustpan solved 2 problems for me: 1) I no longer have to bend down to the floor to use a regular dustpan and aggravate my lower back problem and 2) I no longer have to rest my broom on the floor and ruin the bristles. I love that this dustpan has a long handle and the broom fits nicely in it for storage. Also, it looks great in my kitchen!
April 6, 2014
Rated

4

out of

5
 by
Geraldo
Excellent Quality
Both the broom and the dustpan are of excellent quality. appearance and utility. Should last for quite some time.
April 3, 2014
Rated

5

out of

5
 by
Xala
Great broom and dustpan
The broom is great--no more bending over to get everything in the dustpan. I've got it in the kitchen and wish it had a slightly smaller footprint, but overall it's great--I sweep up much more now!
December 3, 2013
Rated

5

out of

5
 by
coolStuff
Good design and made well
This is a back saver, especially when you're trying to resume basic household 'tasks' after spinal surgery and can not lift or bend. The only thing is that when I ordered it, I thought the dustpan handle would be same length as the broom handle. So, for the weeks after surgery during which I could not bend at all but could resume some minimal light house chores (in ways modified by physical therapist), I relied on help with the dustpan part. Now that I can bend a little, the 'half-length' handle is doable and far easier to use than traditional short handle dustpans that were torture and can never use again. This broom dustpan combo is very light and the broom bristles do their job very well. The lightness, ergonomic broom handle, narrow width and type of broom bristles makes sweeping under counters, in corners and those odd spaces that elude traditional brooms much easier and with better results. It's also nice that the dustpan really does fit easily and securely on the broom handle yet also removes easily. This combo stands together nicely for storage, whether 'as is' or on a wall hook. Kudos to designer Karim Rashid for well thought out design and product well made.
September 20, 2013
Rated

5

out of

5
 by
momokitty
Great Broom, Smart Design
Works well as a broom and the design is very smart and great for storing. Love that it does not fall over or get in the way.
March 22, 2013
Rated

5

out of

5
 by
Gingerspice
Wonder Broom
Best Purchase Ever, I told my son that I had purchased a new broom and he said, "Good, you can come see us now:
May 15, 2011
Rated

2

out of

5
 by
accidentalorganizer
Great design but not for small spaces
I was looking for a broom/dustpan combo to tuck in the bathroom inconspicuously and thought I'd found it in this. The award-winning designer did a great job with its design, but it's actually very large and doesn't work for small spaces. It would be great if it were half this size to tuck away in plain sight. A picture showing it to scale would help immensely.
June 26, 2010