Rated

5

out of

5
 by
TXShopperGirl
great for groceries
Like a lot of the other reviewers, I'm a highrise apartment dweller who has to carry things in from an adjacent parking garage. This is excellent for hauling groceries! I also used it today to cart a heavy package up from the apartment office. Yes, the wheels don't swivel, so it's no very graceful on sharp turns. But considering the alternative of making a bunch of trips back and forth while straining with heavy bags/boxes, I can live with slightly awkward turns! It folds up nicely, and I have it easy stashed in my (small) coat closet.
September 13, 2012
Rated

5

out of

5
 by
MrsP
Steel cart
This cart has proved invaluable to carrying things to and from my classrooms. It really saves on wear and tear on my back and shoulders. It is very strong. I would recommend the cart to anyone. It is great for bringing groceries in from the car, caring things out to the car, moving laundry around, or any other job you can think of for it! It folds up easily and can be put in the trunk or back of most vehicles without any problem.
April 27, 2012
Rated

5

out of

5
 by
SIEMPERFI
LIFE SAVER !
I bought this with the intention of only using it to haul groceries. This handy little cart can haul its weight and then some! it has been so valuable!! No more multiple trips to the car, you can haul it all with one trip!!
May 7, 2010
Rated

5

out of

5
 by
graciouslyretired
Best purchase ever!
Sturdy shopping cart, easy to assemble, ample size for those of us who shop for one item and find out they bought more than expected. Space saving placement in trunk of car....best purchase ever!!!!!!!
January 25, 2017
Rated

3

out of

5
 by
zanna
Not easily manuverable
The heavier the contents, the less manuverable the cart is. I am a (mobile) professional gift wrapper during the holidays, so I was really looking forward to using this. In addition to not fitting into the second row of my roomy SUV (Highlander), the wheel base is different from front to back. So, while the cart may squeeze through a small doorway (or baby gate, for example) going backward, it may not fit in through on the front. I found myself having to unload all the rolls of wrapping paper into my car, THEN placing the cart lying down in the tailgate, then re-loading the cart when I arrived at my destination. Vice versa when I left... a big hassle.
January 8, 2017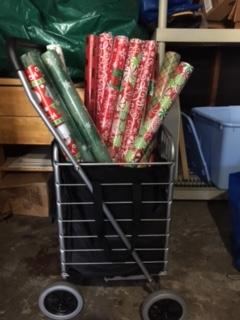 Rated

2

out of

5
 by
LindaKK
Do not like this cart at all.
I found it very difficult to attach the wheels and they still don't seem as stable as they should be. The main problem is that the cart is very difficult to maneuver because the front wheels don't swivel. And when you tilt the cart onto the back wheels to turn it, things fall out, and that also makes the handle too low to hold comfortably, so you have to bend over (and I am only 5'4"). I can only fit three grocery bags in it. After a few months I've decided to replace it, so it was a waste of money. Definitely not worth the price. I don't understand how so many people like this cart.
December 27, 2016
Rated

4

out of

5
 by
LenaB
Great Basket
I bought this to help cart medical supplies for my daughter with a ventilator. It really came in handy.
March 16, 2016
Rated

4

out of

5
 by
jgma
front wheels should turn
I love the lightness of the cart and it moves so easily on a straight surface. The problem is that the front wheels do not turn and it can be cumbersome when loaded and you need to turn a corner.
November 16, 2015
Rated

5

out of

5
 by
univgrad
This is the second one I purchased. My friend saw me using it, and I bought this one for her.
December 26, 2014
Rated

1

out of

5
 by
Lindasj
BEWARE!!!!!
I cannot understand how my experience could be so opposite than that of other reviewers. This cart is a piece of junk. The wheels WILL NOT stay on no matter what you do. The first one I bought I figured was just defective, so I took it back for another. It has the same problem. The store's answer was "yes it can be very difficult!". Well why are they selling it? I am taking it to the trash dumpster where it belongs. If you buy one, don't say you weren't warned!!!!
August 26, 2014
Rated

5

out of

5
 by
Sburke16
My new buddy!
Light and sturdy, nice big wheels good for outdoors and collapses easy. Difficult to turn but oh well... Are any easy to turn? The rest is perfect and the good wheels are key!
April 29, 2014
Rated

5

out of

5
 by
jdm1947
Great shopping cart
This will be my best buddy when going to the grocery store and/or bringing assorted items up to my apartment on the 3rd floor!
April 9, 2014
Rated

5

out of

5
 by
Chrissy1021
Works perfect
We needed a cart to house the newspapers for an assisted living community. This allows for the carrier to have a place to put papers and also allows for easy delivery inside the building.
April 6, 2014
Rated

5

out of

5
 by
HappyJade
Steel Shopping Cart
I am going to get a lot of use from this cart. I keep it in the trunk of my car and use it to get the groceries in the house. It's not too big. It's just the right size for me. And to my surprize it holds a lot of groceries. I'm glad I bought it.
March 23, 2014
Rated

4

out of

5
 by
Maris
Why did the Wheel Pop Off?
I have had this cart for over a year, invaluable for shopping in my neighborhood to 2 or more stores... It's easy to maneuver, etc., but today, while crossing my apartment garage, I stopped to drop off some recycling, heard a little noise, looked down,and the front left wheel was on the ground, with a little small rubber thing (a washer?)... I took the cart back into the lobby, and looked at the good wheel then the one that fell off, and was able to snap it and the pin back in place, but now I feel that this could happen again... Is there a way to get a new left front wheel, and pins, or what does Container Store suggest. Thank you,
February 23, 2014
Rated

4

out of

5
 by
chirpy
So glad to have this sturdy workhorse for lugging laundry, groceries, and library books! A wonky set of shoulders has put paid to lugging all this on my own! Just wish it had swivel wheels in front (as the larger model has) for negotiating turns. Still, swivels or no, I'm delighted to have it!
February 20, 2014
Rated

5

out of

5
 by
Chickster
Steel shopping cart
I have been wanting and needing this item for some time. I carry alot of items in and out daily and needed this item. I have only had it for a little over one week, but have used it almost daily. I love the size as it is not too large to put in car. My only regret, I did not get it sooner!!!
October 3, 2013
Rated

5

out of

5
 by
AuntieEm
Practical and Lightweight
This cart is perfect for storing in the trunk of my car and still having sufficient room for day to day items and family stuff or in my small apartment. Since it is lightweight, you have to be careful handling it - don't bang it around. I saw a review of the wheel coming off - you have to secure them and make sure they are snapped in. I didn't purchase the liner, but it fits lots of items. By the way, the wheels don't turn.
August 17, 2013
Rated

5

out of

5
 by
poppins907
stel frame shopping cart
very sturdy, easy to pull; folds up for storage. Padded handle is very nice and comfortable. Liner protects shopping items from weather and adds color.
July 14, 2013
Rated

5

out of

5
 by
Soniat
Great shopping cart
I bought this shopping cart to replace my old "Fernando" shopping cart. It was sad to see it go. But, this shopping cart is so light and easy to roll. I can push it one hand and it rolls over the bumps and crevices, without getting stuck. This cart is now wearing "Fernando's" name/license plate.
July 1, 2013
Rated

1

out of

5
 by
BostonFan
Poorly Designed
Used once... a wheel fell off and was unable to reattach... a waste of money!
May 28, 2013
Rated

2

out of

5
 by
lalouke
could be much better
I want to give this cart a negative review, but I have to admit that I have had it for more than 5 years and it still sort-of works, so I can't be as negative as all that. I find the cart wobbly and not very well made. The wheels fall off and are held on by clips that get lost which is a problem when you are at the store, however at home a hairpin will work to put them back. I find it to be too short for me, I'm 5"7" and not big enough for shopping for a family of 5. It does push nicely with one hand when you have to hold an umbrella in the other. Now looking for something bigger, taller and sturdier.
April 27, 2013
Rated

5

out of

5
 by
arenilla26
Best shopping cart ever!
got this one about four years ago. still going in one piece after extreme grocery shopping and laundry rounds. people always ask where i got it from. this one was definitely worth the price!!!
March 22, 2013
Rated

5

out of

5
 by
jlatz
Nice
This is a helpful item for my mother-in-law who is 86. She likes this cart.
March 9, 2013
Rated

5

out of

5
 by
Lashlamond
Helping Hand
I needed something to help me carry my groceries and packages to my apartment from the parking garage. I had bought one from another store and it was hard to fit into my trunk. My parents gave me this one from The Container Store and I love it. It folds up nicely and fits perfectly and out of the way in my trunk!
April 17, 2012
Rated

5

out of

5
 by
AllieInCA
Lifesaver
I was in a major car accident that left me with permanent neck and back injuries three years ago at the age of 30. I bought this cart to take groceries from the car up to my apartment (via elevator). It maneuvers well, holds a bunch and has saved me from multiple trips while I carry one bag at a time. Lightweight and stores easily in my car's trunk. LOVE it!
March 19, 2012
Rated

5

out of

5
 by
Dell
This comes in so handy!
I purchased this for my daughter to keep in her dorm room because I was tired of us having to lug multiple packages to/from the car. This cart is a lifesaver! It is really sturdy and has done a great job of carrying really heavy items without any signs of wear. We even used it when she moved to another floor. Best purchase I've made in a while!
March 19, 2012
Rated

5

out of

5
 by
easymimi
Steel Shopping Cart
When I use my cart, whether for the Library, or to the farmer's market, people stop and ask me where I got it! It is so stylish and functional, I have one for work and one for home!
March 19, 2012
Rated

4

out of

5
 by
glimdbea
Sturdy cart
Cart is sturdy, well built. Others commented that it is heavy--I disagree, it is quite light weight. It is easy to fold it up and put in your car. I did not buy the liner, so I cannot comment about how it folds with the liner. I use it to transport a heavy, oddly shaped pitching machine and it works great because it is deep, and well balanced. The one downside is the front wheels do not swivel making it difficult to turn without tilting it back on 2 wheels. Overall, a nice sturdy, light weight cart.
July 16, 2011
Rated

4

out of

5
 by
intelliblonde
Great product
Moved to the city, to an apartment for the first time and noted this to be an absolute necessity. Between runs to the laundromat to toting groceries to and from the car, it's fantastic! Assembly took less than five minutes and we couldn't live without it. Only downside--it only goes in straight lines so it doesn't take turns easily. Had it for nearly 3 months now and is quite sturdy.
October 31, 2010