Rated

5

out of

5
 by
NeatLady
Super product
This Lazy Susan is a terrific product! It turns smoothly and quietly even when heavily loaded or loaded unevenly. I bought three to make better use of the corners in my deep pantry.
February 25, 2012
Rated

5

out of

5
 by
lakechik
Puts it all in reach
I purchased 3 of these for a top corner cabinet where the front of the cabinet is flat rather than cornered. We have one cabinet that has lazy susans preinstalled, and my biggest regret is not getting that for all of our corner cabinets. Before I spent a lot on some of the heavy duty kind that would require some hardware, I wanted to try something like this and the Container Store was the only place I could find these large enough. To make sure they would fit beforehand, I cut a piece of cardboard to 18" diameter. The additional plus was no installation necessary! I completely rearranged some cabinets, getting all of the seldom used appliances out of the top and putting all food items here, and putting those appliances where they are easier to get to (it's a pain to get a blender or food processor out of a top shelf way at the back!). Those appliances are now in a lower cabinet and this top cabinet contains tons of food - from canned goods, to extras (top shelf) of salad dressings and condiments that I don't need to get to often but I can always see what's up there, and when it's time to add something to the grocery list. There is also room on either side for additional items if/when I need it. Nothing is ever out of reach in this corner now!
January 16, 2011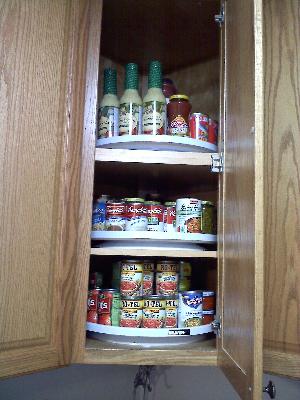 Rated

5

out of

5
 by
jc454
Excellent Spinning Mechanism - Great Quality
Love the quality of this Lazy Susan - some products can feel flimsy or unstable, but this one is really heavy-duty quality and the ball bearings work really well. I use this in a corner cabinet with soups, canned tomatoes / veggies / sauces, etc. Not only does it give me a ton more useable space (as I can spin and stack where previously I would have to dig things out of the back corners) but even fully loaded with 2 - 3 cans stacked on top of one another in many spaces it rolls really smoothly with no stuttes, catching or wobbling.
January 29, 2010
Rated

1

out of

5
 by
SkinCraftOrganics
Cracked all over with under 50 pounds
I fell in love with this big beautiful lazy susan at first! I loaded it up with about 50 pounds of containers of ingredients for my business and it spun beautifully. HOWEVER, after about 2 months, the base started cracking. At first, I didn't really care because it didn't seem to effect its functionality. A couple of weeks later, the entire thing is cracked all over. They need to make this out of a crack-resistant material because this is way too brittle!
November 5, 2016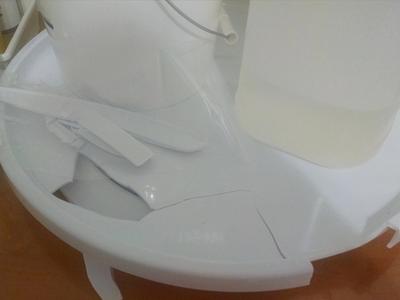 Rated

5

out of

5
 by
BumBack
Excellent for Deep Spaces
Deep cabinets, shelves, and shelving corners in pose a real dilemma on how to access all the products stored without taking things in front out first. This is a great problem-solver. It is sturdy enough to hold heavy bottles or liquid and still move freely. I have used it in a deep bath closet, under-sink and even in the refrigerator.
October 3, 2015
Rated

5

out of

5
 by
RitaK
Great Item...
It turns easily..... Even with heavy items it turns great...
May 27, 2015
Rated

5

out of

5
 by
bkpurcell
Great use of space!
Very sturdy base to make corners easy to access in pantry and cabinets
April 21, 2014
Rated

5

out of

5
 by
EKFL
Hard-to-find well-made turnstile
This turnstile has a pedestal base unlike the traditional flat, flush lazy susans. It's good that the lip is low so items can be easily removed. This large width is hard to find and is perfect in many makes of refrigerator models. I think it's one of the best purchases you can make because it makes storing refrigerated condiments a breeze. Get a good turnstile and it can last for decades.
March 31, 2014
Rated

5

out of

5
 by
ehw88
Great Buy
Bought two of these for my upper corner cabinets. Work great with heavier kitchen appliances and dishes.
March 25, 2014
Rated

5

out of

5
 by
Digiwidow
Item was just as described, came well-packed too. Fits perfectly under my sink!
February 20, 2014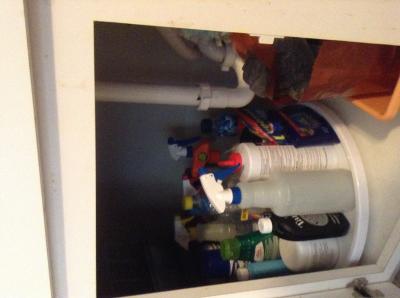 Rated

5

out of

5
 by
Karen107
Lazy Susan
This Lazy Susan fits my corner cabinet for all my tall spices perfectly. So happy to have found it !!!
January 28, 2014
Rated

3

out of

5
 by
sailor12
takes too much space
I bought this for a corner wall cabinet in my kitchen. I didn't notice how tall it was till I looked at it at eye level. I loose nearly 2 inches in shelf height! My tall bottles of oil etc. didn't fit anymore. I'll keep it to use somewhere else, maybe under the sink where I'm not challenged by height restrictions.
December 10, 2013
Rated

5

out of

5
 by
Racegirl29
Lazy Susan
So glad I finally broke down and got one of these. Been talking about it for a long time. I can finally utilize my corner cabinet space and see what I have back there. I always had stuff just piled in the corner and couldn't begin to tell you what I had in there! Now I can actually see with a quick spin of my Lazy Susan! LOVE IT!!
October 22, 2013
Rated

5

out of

5
 by
texas88gal
great lazy susan
Just what I needed.It's very sturdy and the quality is excellent. It holds a lot of stuff and can handle heavy things as well. (jars or cans). Good buy.
August 18, 2013
Rated

5

out of

5
 by
annied528
Works Perfect!
These helped organize my corner kitchen cabinets perfectly. Now I don't have to pull everything out to get that one thing in the back of the cabinet! No more frustration :)
April 30, 2013
Rated

5

out of

5
 by
Hopeful
Blessed Event
For years I struggled with an unuseable corner cabinet. I never realized the joy a simple solution would bring to me. Now I have items I can see to use and am no longer buying duplicates because I didn't know I had one hidden in the corner. If I thought it was too expensive a solution, I was nuts. The cost over time giving me so much convenience would have been worth twice as much.
April 4, 2013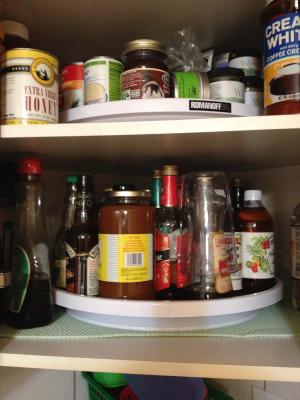 Rated

5

out of

5
 by
puppylover
Helpful in lower/corner cabinet
Does what it advertises. Things are easier to grab and more organized. I originally thought I was buying a larger lazy Susan for my pots and pans, but the 18 inch is better for smaller items (Like photo with Clorox wipes, and cleaners).
March 9, 2013
Rated

5

out of

5
 by
Suziesnowflake
Love it
These turntables make food prep more enjoyable instead of something to dread. I put in on a lower cabinet shelf so I could access heavier items more easily, like baking dishes, mixing bowls, serving pieces etc. it saves my knees and is much cheaper than remodeling!
July 24, 2012
Rated

5

out of

5
 by
oldgreymare
Love this!
This lazy susan makes an otherwise unusable space in my kitchen corner cupboard easy to reach. I don't know what I'd do without it. There were several sizes to choose from, the price was reasonable and it is well made. I'm happy.
May 2, 2012
Rated

5

out of

5
 by
mariag
big helper
I bought 18" Lazy Susan and I love it. The size is right to fit in my corner wall cabinet to the upper shelf. In the past that shelf was the place for forgotten items, because there was no way I could easily reach for something in there. Now it is just one spin and I can get anything from there.
May 2, 2012
Rated

5

out of

5
 by
Beckaroo
Perfect
I don't give 5-star ratings lightly, but this product deserves it. I have it on a deep, high shelf in my pantry and keep all of our cereals on it for easy access. The tray spins effortlessly and I like that it's clear, so it takes up less visual space. Its large size is absolutely perfect.
April 28, 2012
Rated

5

out of

5
 by
MamaNik
Excellent for under-the-sink storage!
This is great for storing large cleaning supplies under the sink...don't have to stack a bunch of cleaning supplies in front of one another, never knowing what's stuffed in the back!
April 26, 2012
Rated

5

out of

5
 by
Bennygirl
Love This Item
I have a small pantry. I have one of these lazy susans on every shelf because it makes it so easy and quick to find anything I need. I recommend it highly. Very sturdy and turns very easily. Planning to buy more for my under sink areas.
February 17, 2012
Rated

4

out of

5
 by
thecatshandmaiden
exactly what I wanted
I'm using this lazy susan to store cleaning products under the kitchen sink and it works great. It holds a lot of stuff and it turns smoothly. Plus, shipping was FAST! I'm a happy camper.
January 12, 2012
Rated

5

out of

5
 by
Lorivanb
Best Product, Ever!
I purchased this product to use in a blind corner cabinet. All I had to do was load it up, with my juicer and crock pot (which I could never get to), and they were then within easy reach. The juicer is much heavier than the crock pot, but the lazy susan is so sturdy and stable it never tipped over, and rotated very smoothly. I can't imagine my life without this great product.
February 15, 2011
Rated

5

out of

5
 by
RedThread
Wow!
I can't imagine my life without my lazy susans. It turns a small space into usable space, which is greatly needed in our current home.
September 8, 2010