Rated

5

out of

5
 by
Margiee
Perfect for under my bathroom sink
I purchased two of these and they gave all the extra space that I needed. My husband put stainless knobs on the front for easy pull out. These were definitely a great purchase.
September 2, 2012
Rated

5

out of

5
 by
TurboChat
Great organizer
I had a coupon so I used it for this organizer, good choice I made. I have it under my bathroom sink and it fits perfectly in front of the water pipe (as of it were actually made to fit in my space). The top drawer I use for hair products because some cans/bottles are large. Amazing how many products fit in these drawers. The bottom drawer I use for all the little odds n ends...sample size products of hand lotions, shampoos, tin of Bobby pins, etc. Heavy duty and well made, comes with screws and covers should you want it stationary.
December 8, 2016
Rated

5

out of

5
 by
runmom23
great under sink organizers
Have no idea why it took me so many years to think of ordering these for under my sinks! They're a no-brainer and easy/quick to install. I purchased 5 and they worked under all but one of our sinks. That one has a large lip on the cabinet, which would not allow the bottom drawer to pull out. These drawers were most needed under our kitchen sink, where esp. with the pipes , items would get lost and hard to find. I'd end up taking out a bunch of items to find the one that was in the back. But I love having them under our bathroom sinks as well. So much better organized and easy to locate items.
November 10, 2015
Rated

1

out of

5
 by
bkl9678
doesn't sit level
This seemed like a good idea, but when I got it out of the box and set it on my counter I found it is not level. It rocks back and forth because the frame is not straight. I am returning.
June 6, 2015
Rated

5

out of

5
 by
juice
perfect for my needs
this product is just what i need to contain my products while keeping them out of sight because of limited space. the product is very well made. i like it a lot. very good buy for me. i have no complaints.
May 12, 2015
Rated

4

out of

5
 by
modernmomma
Great under cabinet organizer
Purchased for use under our kitchen sink. Great way to neatly organize items and free up precious space.
April 6, 2015
Rated

5

out of

5
 by
Dcshults
Great Space Saver
Really like this product. I have very tight spaces under bathroom sinks and this product allowed me to put more items under sink.
March 2, 2015
Rated

5

out of

5
 by
Spuds
Good purchase
Works perfectly in my pantry with all my baking products.
December 29, 2014
Rated

4

out of

5
 by
LJMama
Great Item
I would have given it a 4.5 but it won't let me. Used them under the kitchen and bathroom sinks, they work nicely. They are a little difficult to get in the grooves and the little pads they come with didnt fit right. But otherwise would buy again and again
December 5, 2014
Rated

1

out of

5
 by
GoldenBoyz
Poorly made
Perhaps I got a "lemon", but I found this to be very poorly made, cheap-looking and over-all wobbly. It was too much of an embarrassment to put in the guest bathroom so has been relegated instead to my craft room.
November 15, 2014
Rated

3

out of

5
 by
KKNOLA
mostly adequate, with minor adjustments
Easy to assemble, but poorly constructed components. Some of the metal bars were bent and had to be re-shaped with a rubber mallet, while the drill holes on the feet had burrs that had to be sanded out. The wire mesh is relatively thin, and the crimped, folded edges could snag a delicate item placed in the basket. Cans, bottles, jars, and small boxes would be fine, but not fabric or soft plastic.
May 19, 2014
Rated

4

out of

5
 by
CC02
Arrived damaged but otherwise ok
I was bummed to see that this was damaged but I waited a long time for it to arrive and since it still functioned properly, I decided to just suck it up and keep it. With that said, I really liked this item! There is enough spacing so that items can stand vertically and the drawer will still slide in and out. The metal can be a little snaggy but as long as your not using it for cashmere scarfs you should be ok.
May 19, 2014
Rated

5

out of

5
 by
speedtaz
greatest purchase ever
I found exactly what i was looking for in the right size.
May 8, 2014
Rated

4

out of

5
 by
oddiva
Silver 2 Drawer Mesh Organizer
I recently purchased 2 to go into my master bathroom. I love that they fit perfectly under the sink.
May 2, 2014
Rated

5

out of

5
 by
OrganizedinMA
Great in the pantry!
I know this is shown in the bath section, but we've used two of these in the pantry. They hold all different size cans perfectly, pull out easily, and have a really small footprint in our pantry. It's a great way to keep all the cans organized!
April 27, 2014
Rated

5

out of

5
 by
Clm334
Great for small bathrooms
Perfect product for small bathroom cabinets! Keeps items organized and in place
April 26, 2014
Rated

3

out of

5
 by
Rosey01
Looks better
This product looks better than it performs. The grip on the bottom of stand doesn't stay and the baskets don't slide out easily and get stuck so then the whole thing comes out when you try to pull one drawer. It's a great concept just looks better than it actually works.
April 26, 2014
Rated

5

out of

5
 by
mcgeekit
for under the counter or on the counter
I got 2 of these. I put one under the sink in the kitchen and 1 on the table in my sewing room to hold tools.
April 25, 2014
Rated

4

out of

5
 by
Par71
Great under-sink space.
I put this under my kitchen sink. It affords good additional organized space.
April 25, 2014
Rated

5

out of

5
 by
Rg1584
Great Buy!!
This product looks attractive and nice. Doubles shelf space, conveniently slides out so you can reach things in the back. Sturdy. Highly recommended.
April 25, 2014
Rated

5

out of

5
 by
Talie
Surprisingly useful
I fit 90% of my makeups and cosmetics in this (tall stuff on the top, like nail polish remover, lotion, etc.; small stuff on the bottom) and I love it. Super convenient and easy to find stuff now. I didn't even need to screw it in because the weight of the items in it keeps it in place, but if you were putting lighter items in it, the process looks easy enough. Just be careful that you have enough room under your sink with the u-bend and any hot/cold knobs - I could fit this under one side of my sink, but not the other.
April 25, 2014
Rated

4

out of

5
 by
chloezoe
Great cabinet organizer
I bought this for my under the sink cabinet, which used to be a mess of big piles of toiletries and make up supplies. I would forget what I have and buy more of the same thing. After I used this drawer organizer, everything is now visible and my cabinet looks a lot neater!
April 18, 2014
Rated

4

out of

5
 by
Kkadela
Great under the sink storage
Simple and sleek looking. Two of these for comfortably under my bathroom sink and are just enough space to organize all the odds and ends under there! Great value too!
April 18, 2014
Rated

5

out of

5
 by
achwo
awesome
finally, a basket set that fits under my counter! A pleasant surprise, and definitely a plus, it comes equipped to screw in place permanently.
April 17, 2014
Rated

5

out of

5
 by
MistyThomas
Doubled the space...
This double drawer organizer not only made better use of the emptiness hovering under the sink, but allowed me to better access and keep track of my ever-growing supply of hair and beauty products.
April 15, 2014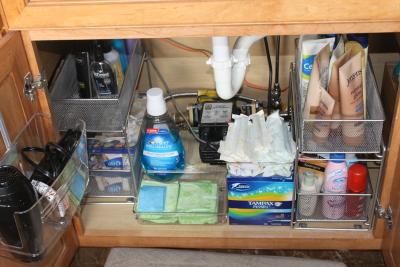 Rated

5

out of

5
 by
dvcrztb
Quality Organizer
I have seen a copy of this in a big bargains type store, but when I tried to sit the top basket on the runners, it wouldn't sit. This one from the Container Store is well made and not at all flimsy. We are using it for his and hers medications, but I could see it in a pantry or linen closet, under the sink cabinet.
April 13, 2014
Rated

5

out of

5
 by
deshacrafts
Great Storage Unit
I bought this for my bathroom storage cabinet, it works perfectly for my make-up. It is very sturdy and the drawers slide nicely.
April 12, 2014
Rated

4

out of

5
 by
TiggerToo
Bathroom storage
Put two under my bathroom sink. Great for organizing toiletries. But because of the lip/overhang on my cabinet, only really short items can fit on the top shelf otherwise the drawer won't slide out.
April 8, 2014
Rated

4

out of

5
 by
ccqdesigns
Added Storage
I really needed a way to add storage in the bath and had a ton of smaller items that fit perfect in this rack. It was slightly narrower than I expected but still worked fine.
April 8, 2014
Rated

5

out of

5
 by
a1b2c3
2 Drawer Mesh Organizer
The cupboard under my bathroom sink had become unmanageable. I purchased the 2 drawer mesh organizer, and could not believe how much in held. Not only am I organized, but there is actually room leftover now. I love being able to pull out the drawers to reach what is stored in the back. Love! Love! Love!
April 8, 2014