Rated

4

out of

5
 by
OrganizingMachine
Does the job
This holder certainly does the job. We have a set of Cuisinart pots and pans, and they fit fairly well. (I think that is also what is pictured above.) It's a bit hard to get the middle lid in and out of the rack if the other 2 are in there, but it's far better than our old solution of leaving lids on the counter or strewn about in cabinets. Construction is good, installation is an easy 10 seconds. The lip fit right over our cabinet door with no problem. It feels secure, and it is hardly noticeable when the door is shut.
April 14, 2014
Rated

4

out of

5
 by
Lara79
Compact and noninvasive lid organizer
I chose this lid holder over others as I did not want to drill into the cabinets, as a renter. Although I would have preferred a version that held more than just three lids, this has been really great at keeping my cabinets less cluttered.
March 11, 2014
Rated

5

out of

5
 by
KC78
Love it!
Sturdy and functional. Perfect for my needs. Fits 3 large and 1 small lid and makes my life a lot easier! I fit mine over one of my upper cabinets in a corner. It doesn't look out of place or bulky and the construction of it is very strong.
April 3, 2013
Rated

2

out of

5
 by
JenC1037
Mostly fits lids
I use this for standard pot/pan lids that have a knob on top at the center (like the one in the product picture but a know and not a handle). They all fit nicely enough, but I usually have to empty the whole holder anytime I want one lid. The design makes it hard to remove one lid without it catching on the others. Also, some of my lids don't fit snugly into the little dip like they are supposed to. A good concept but a flawed design.
October 1, 2016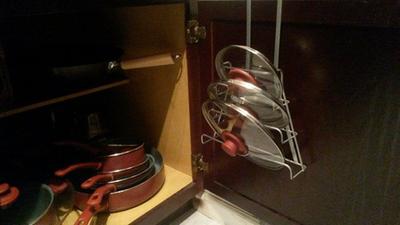 Rated

4

out of

5
 by
Cheryl1
Great Idea
I thought that this lid rack would solve my problem. It is good looking and sturdy and the hook that is visible on the front of the cabinet is not obtrusive. But, my lids didn't work for this item. My Farberware lids worked, but I really wanted it for the large skillet lids that take up too much room in my cabinet.
May 3, 2014
Rated

1

out of

5
 by
Frugalminimalist
Only fits FLAT lids
Although this design was nice, it only holds completely FLAT lids. My lids are rounded and would not fit into the narrow slots. It was a great idea in concept, but a complete failure in design for my type of lid. Thankfully The Container Store has many other options.
May 2, 2014
Rated

4

out of

5
 by
MrsWhite
Great space saver
Big help in making room in the pots & pans cabinet as well as keeping the lids easily accessible.
April 25, 2014
Rated

2

out of

5
 by
kfagan
Wobbly Lid Holder
I bought this lid holder thinking it would help me clear up some of the clutter in my cabinets but it only made things worse. It does not grip a typical cabinet door well and therefor the lids bang about every time you open and close the door. In photos it looks like you can store large lids but reality says that only small lids (much smaller than the width of your cabinet) can be stored using this holder.
April 25, 2014
Rated

4

out of

5
 by
Organizekk
Helps De-clutter!
Love this!It holds a large lid but not securely in the notch, but I was able to get four lids to fit in one cabinet rack, three in another and though the big lid isn't a perfect fit it's not going anywhere. It's so nice to have less clutter when trying to get out a pot/pan! To hold much larger lids the standard cabinet width would not be enough to accommodate opening and closing. I have a 12 and 14" lid in ours, but any wider and my door wouldn't shut. Wish I'd bought one of these racks sooner!
April 14, 2014
Rated

3

out of

5
 by
earthlyhome
Too small to be of much use
I had hopes of storing my lids neatly. Only smaller lids store well on this rack. I'd like to see a larger version, my lids need a home.
April 13, 2014
Rated

4

out of

5
 by
minion2014
neat
no more moving a dozen items to get to my pan or have to hear the clanking of the lids either!
April 10, 2014
Rated

1

out of

5
 by
Icetastical
Not big enough
Nice idea, but not at all practical. Needs more space between the sections - unless of course all your lids are 6" or smaller.
March 10, 2014
Rated

1

out of

5
 by
BrittleStar
Only good for very small lids
I was really exited about this when I brought it home. It fit well over my cabinet and was not an eye sore when the cabinet was closed. I have a very small kitchen and needed all the space I could get. Unfortunately, the largest slot on the holder barley held my smallest pan lid. I am not sure that even a very tiny lid when placed in the highest slot (if it fit) would not interfere with the cabinet closing.
August 29, 2013
Rated

4

out of

5
 by
IncredibleFlyingPhoebe
Great Product
I bought these for my kitchen because I hate pot lids falling out all the time. I like them.
August 18, 2013
Rated

4

out of

5
 by
missyr
Convenient - and no screws necessary
Can use in apartment w/out ruining cupboards. It bangs against the door when opening it but that's a minor inconvenience.
April 19, 2013
Rated

4

out of

5
 by
moki
Great for Organizing Lids!
This product functions excellently. It's sturdily built and flexible due to its being over-cabinet. The price is a little high, but overall it is a good value.
February 23, 2013
Rated

5

out of

5
 by
Moviequeen
Handy Pot Lid Holder
I purchased two of the lid holders for the cupboard under my cook top. They hold all the lids I needed them to, and are barely noticeable. Very handy item!
January 30, 2013