Rated

5

out of

5
 by
Like2Shop
Linus Open Cabinet Organizers
Two of the Open Cabinet Organizers fit on each shelf of my pull-out in the kitchen. They are sturdy, hold much more than the organizers I had in there for the past several years. The quality is excellent. I highly recommend this product. NOTE: I went to the Container Store to look at the products available, measured the shelves and cabinets, and ordered the sizes I needed on line.
November 28, 2016
Rated

5

out of

5
 by
Cat52
Good product
I ordered several for my pantry. It helps keep items together, increasing my storage space and keeping it neat. Because they are clear they are almost invisible and my pantry looks so nice when I open the door. I also purchased the long narrow bin for my spices. I will purchase more to finish the job.
April 18, 2016
Rated

4

out of

5
 by
Franky
Fantastic!
Like the clear hard plastic and the size is perfect for my small pantry. Can load them up and still be able to close the pantry doors without disruption.
November 24, 2015
Rated

5

out of

5
 by
DainaNJ
Love!
I just pulled out my wire shelves and installed wood shelves instead and after a trip to the container store, I was able to organize it top to bottom. I bought these containers to store my hubby's snacks for work. They're perfect!
March 25, 2015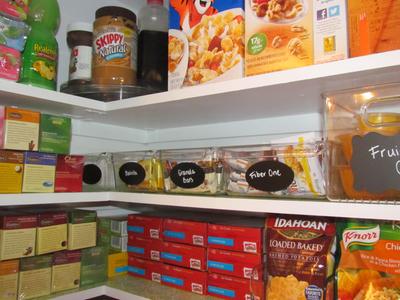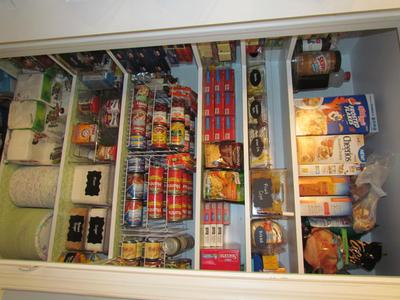 Rated

5

out of

5
 by
NWOhiomom
easy control
I keep my boxes of pudding and jello in this. When I need one, I just grab organizer & have item quickly. No more rummaging in cupboard to find the one I need. I also have one for packets of instant oatmeal. No more guessing if I'm running low.
February 6, 2015
Rated

5

out of

5
 by
AnnaNYC
Improved my pantry 100%
I have the 12" deep Elfa shelves in my pantry, and all the smaller items (pasta boxes, rice bags, tea, sugar, you name it) are hard to reach and easily get knocked off the shelves... Grr... Enter Linus Wide Open Cabinet Organizers. Problem solved! The bins are sleek and allow me to utilize the full depth of the shelves while giving me easy access to all food items at the same time. I already have a few of them, will buy more. The narrower size is less useful in my opinion, since the size limits what can be stored. But I have one of them since I can only fit so many of the wide ones side-by-side.
September 29, 2014
Rated

5

out of

5
 by
doverdiva
Great pantry help
These organizers are a godsend for a messy pantry or shelf with many items with expiration dates. Now I can see all my sauces, pastas and baking ingredients at a glance. Would highly recommend!
April 21, 2014
Rated

5

out of

5
 by
NoviceOrganizer
Perfection!
These were exactly what I needed for my pantry. I love that they're clear so I can see what's in them, and the handle makes them easy to pull out. Perfection!
January 28, 2014
Rated

5

out of

5
 by
LastOne
Quality
I put all my baking supplies in the cupboard with these bins.They are sturdy and hold heavy weight easily. Being see through makes it easy to tell if I need to get more of anything.
November 20, 2013
Rated

5

out of

5
 by
labmom62
Love these!
Just purchased 2 for our freezer. Love the different sizes that are available. I was able to get 2 that are just right. Like that they are clear, also. I will be getting more for the freezer and for other areas of the house.
November 3, 2013
Rated

3

out of

5
 by
kateskouros
needs a redesign
i measured my cabinet depth to be sure these would fit before ordering but when they arrived i discovered that the lip on the front of each container was not taken into account on the product specifications. it's impossible for me to store these in my upper cabinets facing forward, except for the one made without the lip, that stores salad dressings and the like. i get how it would be nice to have something to grab onto to pull the whole thing down, but this design is seriously flawed.
October 6, 2013
Rated

4

out of

5
 by
AccessibilityQueen
Very good but getting a perfect result can be hard
This is the second time I've used these dividers. The first time was in my old kitchen, and this time I used them to customize a Pandan Shirt Box to store ties and belts. I like them a lot because they allow me to create customized compartments inexpensively. But the accuracy of installation is completely up to the user placing the self stick mounting brackets precisely. Otherwise the compartments don't come out perfectly square. The smooth surface of the dividers is easy to clean, but it's not so easy to clean around the mounting brackets. A suggestion I would make would be for the manufacturer to lightly emboss straight lines across the slats to enable more perfect measurement, cuts, and placement of brackets.
September 27, 2013
Rated

5

out of

5
 by
Maryflrn
Baby food
Works great for sorting and storing the baby food in the cupboard, I sort the meat veggies and fruit and when it is meal time I just pull each down and able to easly select which I want and return the container back in the cupboard.
August 3, 2013
Rated

5

out of

5
 by
Elizamom
Simple and durable storage
I love this bin! I bought it to store all of the individual snacks like granola bars, fruit rolls, and popcorn that my kids and I love and the width is perfect to display them. It saves space considerably since I can recycle the bulky boxes they come in as soon as I bring them home from the store and the curved handle in the front allows us to pull it forward, make a selection, then slide it back into place. I would recommend this bin to anyone!
June 8, 2013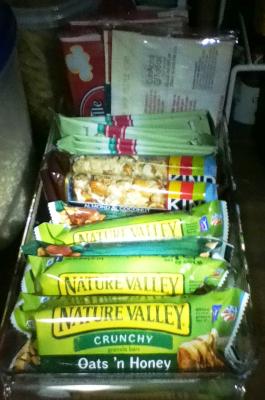 Rated

5

out of

5
 by
poppinz
love the clean,clear lines of these bins.
This is great for every neat freak out there. With these bins in your pantry - you will be able to organize things nicely.
May 4, 2013
Rated

4

out of

5
 by
Kcohagen
Can't wait to purchase more
I bought three of these containers to organize my baking supplies and spices. They fit my cabinets perfectly and it makes accessing the items in the back so much easier. I am hoping for a free shipping coupon soon so that I can organize the rest of my shelves.
April 29, 2013
Rated

5

out of

5
 by
annabeth
beyond fabulous
I have purchased many, many of these cabinet organizers in various sizes. I use them to hold smaller items in my pantry, and for supplement bottles in other cabinets. They are like little drawers in the cabinets, but I can easily change the sizes and contents as the need arises. The quality is amazing, not a cheap, brittle plastic product but a good weight, Lucite type material. I will be buying more of them.
March 25, 2013
Rated

5

out of

5
 by
worthwhile
very versatile
Used these containers to organize our junk drawer, utensil drawers, and bathroom drawers. Love them. Nice size options. Only drawback was occasionally the price stickers were directly placed on container making it difficult to remove.
March 18, 2013
Rated

4

out of

5
 by
Nadia
Nice product!
Good quality plastic; very clear to see inside if there is a spill. I use this to access cabinet items and to ensure things like flour and sugar don't make a mess in the cabinet. My only critique is the price. I bought 10 of them when I got my new kitchen and it really put a dent in my wallet.
March 16, 2013
Rated

4

out of

5
 by
Verified Reviewer
Love them!
I love these acrylic containers! Great quality with a grip on the bottom so your stuff will stay put. Plus I like how they use the stickers that won't get stuck on the container and leave an ugly sticky mark!
March 11, 2013
Rated

5

out of

5
 by
priyat
good choice
This product is not something that you can use for only one thing. its all purpose storage thing.
February 17, 2013
Rated

5

out of

5
 by
Cwee
Great purchase
I bought the narrow and wide open Cabinet organizers. I am using a narrow bin to store my gravy/mix packets. The wide bins I use to store spice bottles and boxes of pasta. They easily slide in and out of my cabinets and hold everything together in one spot. I'm very happy with them.
May 20, 2012
Rated

4

out of

5
 by
SpokaneLeanne
I like them, but for my deep wire shelf pantry, I think I should have planned out what I wanted to do with them first. They fit a lot of my baking items: powder, soda, vanilla, etc. And that was my main use. They also are holding smaller items like Jello boxes and small mixes. (i bought 3 of the bigger one) It keeps small items from moving all over, which I like. You can buy plastic storage containers at big box stores, but then there's usually an unnecessary lid to contend with. I think I'd like it better if they had a larger version - something to put bags of chips or noodles in.
May 2, 2012
Rated

5

out of

5
 by
Aptgirl
Organized My Kitchen
I ordered two of these are they were exactly what I expected! I plan to order more in the future. They are great for storing food in deep cabinets. I set them in my wood cabinet and they slide without any problems.
April 22, 2012
Rated

5

out of

5
 by
anncsells
Great buy!!
This product has really made it so easy to organize my food cabinet. Now I can put all my boxes in one place. No more searching!!
April 12, 2012
Rated

5

out of

5
 by
Kari73
Open Cabinet Organizers
I love this product and I need to get more! It keeps my jello boxes stacked and organized. I also keep my bottles of olive oil, etc in them as well.
March 19, 2012
Rated

5

out of

5
 by
SueInCO
Perfect for my spices
I'm using these bins to store my spices in my kitchen cabinet. It's easy to pull them out of the cabinet and quickly spot what I'm looking for. I was hesitant to order because the size was exactly the depth of my cabinet and the product description does not say if the measurements are outside dimensions or the content dimensions, but I was happy to find those are the full dimensions of the container so it fit perfectly in my cabinet.
December 9, 2011
Rated

4

out of

5
 by
studegirl
Helpful purchase
Although these organizers are advertised as Cabinet Organizers, I purchased it to use in my freezer and it works great. I have a side-by-side refrigerator and the shelves are tall and narrow which results in frozen items being piled up and falling out. The Linus Organizers are a big help to aid in that problem.
June 22, 2011
Rated

5

out of

5
 by
gms7542
I absolutely LOVE these bins (and the Fridge Binz). They are made from thick, study plastic, so they can hold heavier items. I use them to organize a tall pantry cabinet. The handles make them easy to pull in and out of the cabinet, and the clear plastic lets me see everything in each bin. They have really helped me get organized in the kitchen.
June 15, 2011