Rated

5

out of

5
 by
Laurene
Lid Organizer - love it!
As you can see the before photo shows my lids one on top of the other, just waiting for me to pull one from the bottom and have others topple and crash on the kitchen tile floor. The after photo shows my lids stored in a perfect row, by size, where I can grab an individual lid with no adverse affect on the other lids. This was not an expensive purchase, but my oh my has it made me happy!
May 31, 2016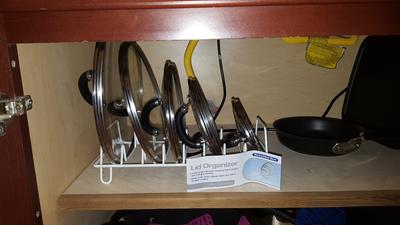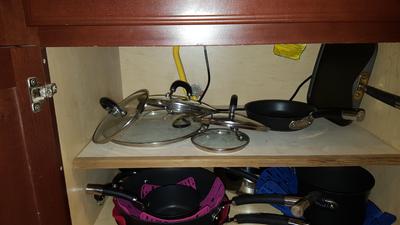 Rated

5

out of

5
 by
glitzjeep
Saves time and space
This has been great for wrangling my pot lids. The rack slides out easily so I can grab the lids in the back. I can now easily find the lid I need.
October 6, 2010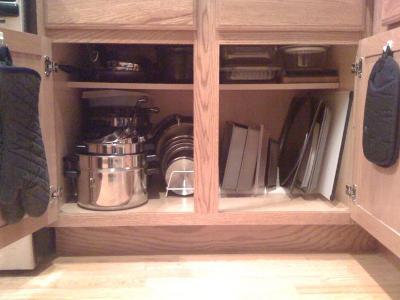 Rated

5

out of

5
 by
HeySillyGirl
One Of My Favorite Buys
This simple lid organizer turned out to be the one of the most functional thing in my kitchen for storage. I hated putting lids up in the cabinets after washing them and half of them would wind up shoved in other cabinets - now it's neat and organized and saves space. Simple and useful! I bought one for my sister too and she loves it!
January 8, 2017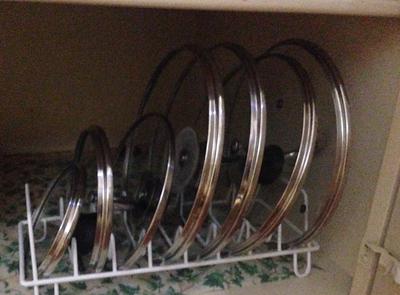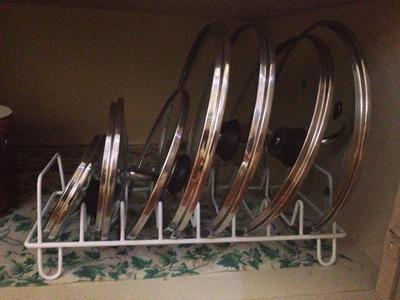 Rated

2

out of

5
 by
patacake
Disappointed, but may work for others.
This organizer did not hold my large heavy glass lids without toppling over, as the slots are not deep enough to keep them stable at the correct angle. Having purchased two of these organizers, I have had to divert the use of one of them to another area, like my office, where I don't really need it. I will probably give the second one to a friend who may be able to use it with less heavy lids. For me, regrettably it did not work.
September 24, 2016
Rated

5

out of

5
 by
Barb8174
Very Good Buy
I purchased 3 of these products and I am so pleased with my purchase. My new cabinets are so organized now it makes cooking a breeze. Having the lids at my fingertips is awesome.
March 29, 2016
Rated

5

out of

5
 by
GwenH
Best $6 I ever spent
Functional and not expensive. Nothing to put together. I just pulled off the tag and placed it in my cabinet and put the lids in it by size. So much neater than before.
June 2, 2014
Rated

4

out of

5
 by
Vaish
Very useful
Finally, I found a best way to keep these lids organized.
May 15, 2014
Rated

5

out of

5
 by
TheOrganizingMachine
Great lid organizer
This lid organizer works great! It fits all three lid styles I have, as well as every size. Now I don't have to fight with the lids or have them falling on the floor while I'm trying to get to the lid I need.
May 1, 2014
Rated

5

out of

5
 by
pressF11
useful and compact
I bought it as I needed a small dish rack, and it works perfectly that way.
April 2, 2014
Rated

5

out of

5
 by
PPinkies6254
Been looking for the right lid holder for awhile.
This is the perfect lid holder. While I wasn't sure it would work. It's awesome it doesn't tip over at all. I really love this product.
March 13, 2014
Rated

5

out of

5
 by
Jeezy
Life changing
I've been wanting something like this for a long time. It's such a simple thing, but it makes a big difference. Not only do you not have pot lids falling out of your cabinets, you can also organize by size to make it easy to grab the right one.
February 17, 2014
Rated

5

out of

5
 by
2Blessed
Multiple Uses For This & What A GREAT Price!
The size of this did not work out for what I bought it for. However, I found another great use for it. My son uses it to store his pile of books that are usually laying around on his nightstand.
September 6, 2013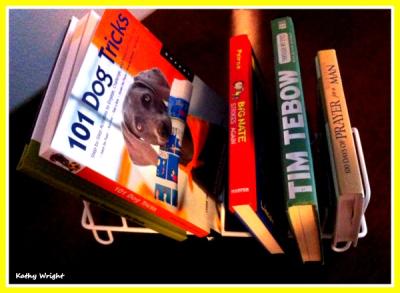 Rated

4

out of

5
 by
Commander
Lid Organizer-Why Didn't I Already Have This???
Compact, perfect for lids so you don't have to search for the right one. Lids aren't scattered in a drawer or on a shelf. Highly recommend!
August 11, 2013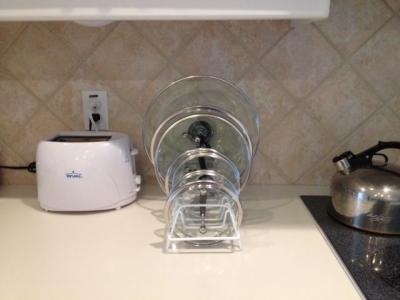 Rated

5

out of

5
 by
momaimp
organized lids at last!
Finally, I don't have to search for a lid, nor do I have to figure out where to put them. This not only keeps my lids in one place, but it frees up space for my pots! I love this and wish I had purchased it sooner!
August 8, 2013
Rated

5

out of

5
 by
Louise23
Was surprised it really works!
I had my lids in a plastic bucket and always had to shuffle them around for the needed one. I really didn't expect this simple rack to work, but it REALLY does, fits in the same space, and makes those pesky lids handy. Thank you for all your space-making items.
June 8, 2013
Rated

4

out of

5
 by
JShops
Simple space saver
The lid organizer works well and saves 50% more space than the haphazard stacking method I was using before.
April 28, 2013
Rated

5

out of

5
 by
MEfromDUBAI
Amen! So much better than the 'lid drawer'
A WONDERFUL idea to keep the lids organized! only, they should stand up a little more. Right now the lids lay down a bit too flat, but still useful.
April 5, 2013
Rated

5

out of

5
 by
TiffanyW
Brilliant
I LOVE this product. I fit all of my lids easily in my cabinet and it does not take up a lot of room. I don't have to wrestle to dig lids out of the back of the cabinet and I don't make a lot of noise getting one lid out. I can't say it enough: I LOVE THIS PRODUCT
March 19, 2013
Rated

3

out of

5
 by
Bayerischfrau
Great Buy for Small Spaces
I live in an apartment with limited space so I needed one of these. Having just graduated from college, I don't have unlimited funds, so it was the right price. I have glass lids for my pots and pans, and it works just fine for what I need it to do. It was affordable and not bulky, which is the main reason I picked it up. My larger pot lids take up a lot of room, so I'm really glad this doesn't. If you live in an apartment, need something that isn't cheaply made but is priced well, and you don't have a million lids, this is the one to get.
March 2, 2013
Rated

3

out of

5
 by
TreeLady
ok but not great
Unfortunately too low to really hold lids in line. May be fine for metal lids but we will have to add panels to it so Corning glass lids are not banging into each other.
August 25, 2012
Rated

3

out of

5
 by
carl327
Lid Organizer
It is a good value. Holds most of my lids. My cabinet was not tall enough to hold some of my bigger lids.
April 30, 2012
Rated

3

out of

5
 by
cantusemyname
Didn't work for me
I have every size and shape lid possible made from different materials and for different uses. this gizmo does not accomodate different types of lids stored together. I am amazed at kitchens in which everhthing matches.
April 27, 2012
Rated

3

out of

5
 by
lovethebeach16
Not bad
I didn't expect anything amazing for the price. This does the job of holding up lids, but it doesn't fit into my cabinet very well. I thought it would give me more space but it actually gives me less since I previously had the lids stacked on top of each other. But, it definitely reduces the noise I used to make when trying to find the right lid. :)
April 5, 2012
Rated

5

out of

5
 by
ADA1030
So useful
Keeps my lids super organized! I keep my lids organized from smallest to biggest and it saves space and time! Love it
March 20, 2012
Rated

5

out of

5
 by
SaraS
Does the job
Holds tops of pots but a secure place for dishes too.
November 27, 2011
Rated

4

out of

5
 by
Sandimay
smart decision
purchasing that lid organizer was the smartest decision I had made in a while, The price was much lower than expected and PRESTO! no more lids scattered all over my cabinet.
October 15, 2011
Rated

4

out of

5
 by
Chinadoll
Fit in a drawer by stove
This rack fit in a pullout drawer by my stove . I had a couple of larger knobby lids that seemed bulky but this worked if I put those together. Now, I can see the lid I want without plundering through them.
July 16, 2011
Rated

5

out of

5
 by
notyou311
Compact and just what I needed
This is a wonderful item for a small condo kitchen. It fits into a cabinet and saves all kinds of space. Now i'm not pulling my hair out looking for the right lid for a pot.
March 27, 2011
Rated

4

out of

5
 by
Astraea
Not what I bought it for
Realized after I bought it that it wasn't going to work in my pots/pans cabinets to store my pot lids. Quickly realized, however, that it works wonderfully as a dish drainer for me. I wash very few dishes as most go in the dishwasher, but this sitting on very little counter space beside my sink with a towel underneath works great for those pots and things I want to "air dry"
February 15, 2011
Rated

5

out of

5
 by
Oceanz81
Awesome!
This lid organizer is fantastic. I'm definitely going to buy another. (I have a lot of lids.) Some lids are thicker than others and this organizer has been able to accommodate. Great product!
February 14, 2011