Rated

1

out of

5
 by
Deedra
Poor Product
It doesn't self advance the cans. Always seems to be stuck.
March 13, 2016
Rated

4

out of

5
 by
carolynk
Does the job
This works as advertised. It holds a 12 pack of pop. I didn't have any of the issues some of the other reviewers had about the cans falling out, but I have a row of them on one shelf, so maybe they hold each other together. But, it works beautifully for me, and I get rid of the collapsing boxes in my refrigerator. Love it!
November 23, 2015
Rated

4

out of

5
 by
calaughingdog
space saver
takes a small effort to fill but the payoff is easy access to beverage cans. Was a little taller than I anticipated so didn't fit on the shelf I originally wanted to use but fit nicely on the top shelf.
November 10, 2015
Rated

1

out of

5
 by
DCCat24680
Pretty flimsy, doesn't hold cans in place, basically doesn't work.
June 24, 2014
Rated

4

out of

5
 by
Kelcey
Great addition
My boyfriend is a huge soda drinker and this handy product keeps all the sodas organized in the fridge. It is narrow and the sodas slide forward when you remove one. I would recommend this
April 25, 2014
Rated

4

out of

5
 by
GingersaurusRex
Works Flawlessly
When it comes to the art of holding soda cans in a refrigerator, this baby takes the cake. I was a bit concerned as to it's functionality, given the symmetrical design of soda cans had been done away with, giving me a fear that this wouldn't operate to it's fullest capacity, but whew, was I wrong! I bought a 12 pack of [REDACTED FOR COPYRIGHT REASONS] at [REDACTED FOR COPYRIGHT REASONS] and was able to put them into the organizer with no problem! Highly recommended to anyone who is generally lazy enough to just leave the soda on the counter instead of putting it into the refrigerator!
April 25, 2014
Rated

4

out of

5
 by
singinlady19
Great Dispenser
I used to have my soda cans all over the fridge. I could never find them among the other things inside. After a while I just stopped having cold pop altogether. I found this handy thing about a month ago and ever since, I've had cold soda! It's so easy to fill that you can mix up whatever you want. I recommend filling the bottom first and then the top as the cans sometimes get off track and fall through the bottom.
April 15, 2014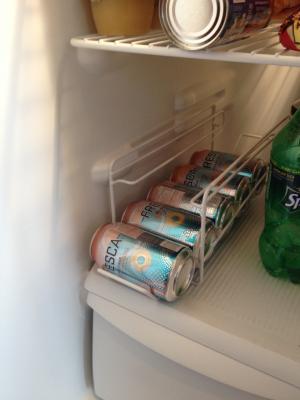 Rated

5

out of

5
 by
spunkycowgirl
Perfect Economical Soda Storage
These racks are a perfect efficient use of space to keep soda cold in the fridge. I don't understand why other brands don't design for 12 cans like this one does...it just make sense to store in quantities of 6 since that is how soda is sold. This will hold a 1/2 case perfectly without stray leftovers.
April 1, 2014
Rated

1

out of

5
 by
Natty16
Good idea; poor construction
I love the idea of this product, but it needs better design/construction. I have three of these, and they each have a different issue. I used clear tape to narrow one (the cans had too much room), I pried another apart (the cans did not have enough room), and chucked the other because the cans would fall vertically out the back end. It would be a better value if the product were constructed better even if it inflated the cost.
February 18, 2014
Rated

5

out of

5
 by
debeH
Finally!
I didn't think I really needed this. But I purchased it anyway thinking I'd probably return it. Well it's now in my fridge and NOT going back to the store. I like things organized, and this so helps.
January 7, 2014
Rated

1

out of

5
 by
oregonshopper
Disappointment
Ordered three and none usable. Cans will not roll and instead fall through; product is so misshapen that it cannot be realigned by my hands to hold the cans. They are all three misaligned in the same way, so suspect manufacturing problem. This dispenser should work well because of its excellent capacity, but was a total loss for me.
September 22, 2013
Rated

5

out of

5
 by
4Kate
Perfect fit.
These hold cans easily, and worth the small price.
September 18, 2013
Rated

5

out of

5
 by
tiredmomma
Awesome Organizer
I bought three of these to store my canned goods in the pantry. Three was not enough so I'll be back for more!
September 9, 2013
Rated

5

out of

5
 by
TomD
Great Product
We bought these to replace the ones we had for years that were thrown away in a move! These are very similar and actually a little better. Great design and price.
August 12, 2013
Rated

1

out of

5
 by
SuzieB
Beverage Can Dispenser does not work
In the picture you see how angled the top rack is well its not that way when you fill the rack the top row rolls out and there is no way to adjust it higher so the cans will not fall out the top-- really disappointed - now i have to waste money to send it back
April 29, 2013
Rated

4

out of

5
 by
flashlightbuff
Great product to organize fridge!
This was a great addition to our cramped fridge, lets you put an entire 12 pack in the fridge and toss out the cardboard, rather than keep it around filling fridge one by one
April 24, 2013
Rated

5

out of

5
 by
jwmwbw3
Can dispenser
I really like the dispenser. Makes it so easy to grab drinks. Nice for guest to be able get to easy.
April 16, 2013
Rated

5

out of

5
 by
mrsanne
perfect for cans
I used to have the old ones, but they died long ago. I have an extra fridge in the utility room for drinks and overflow. Keep the cans there for the grandchildren. With three of them, I have more room for my overflow!
April 15, 2013
Rated

5

out of

5
 by
MandyR
Great idea
This rack holds the cans better than just placing the box in the refrigerator. Cans get colder and you can see how many you have left.
April 11, 2013
Rated

4

out of

5
 by
ExtremeOrganizer
Pantry renovation
I really needed an organizer for my cans of soda and soups. This works perfectly!!! I bought 4 of them! I had seen a much larger and more "extreme" version of these on a popular TV show about couponing. This is a much more realistic version that works in my pantry.
April 11, 2013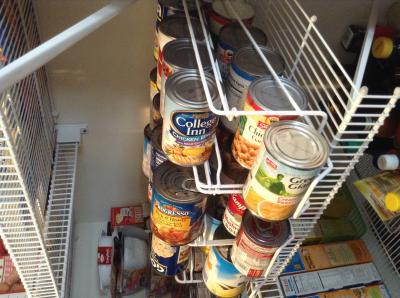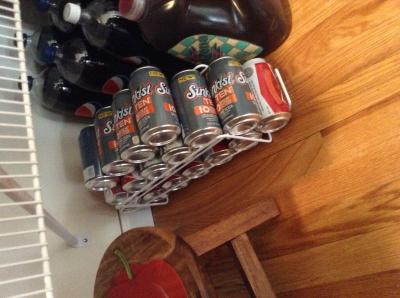 Rated

5

out of

5
 by
shorty43
Great Product
This product has been a life saver in my tiny apartment-sized refrigerator. With space being at a premium, this product keeps my fridge neat and organized! For $6 it is a great help!!
March 29, 2013
Rated

5

out of

5
 by
sav913
Beverage Can dispenser
Very useful - looks great in the fridge! Recommend!
March 18, 2013
Rated

4

out of

5
 by
draegonflye
Great for corralling sodas in the fridge
I bought this to corral sodas in the fridge, and it does a great job. The only con is that, even if you put the sodas on evenly, they don't always roll down evenly if it's not full. Sometimes they get stuck sideways and have to be fixed, but it doesn't take long to get it back on track.
March 18, 2013
Rated

3

out of

5
 by
geos
Can't really complain about a $6 item, but it could be designed much better. Cans don't fit perfect and don't feed perfect, but you get what you pay for.
February 23, 2013
Rated

5

out of

5
 by
eliteeliza
Great
Love it, it makes my fridge look so much better and tidy.
September 5, 2012
Rated

5

out of

5
 by
sinatra69
Beverage Can Dispenser
I love the fact that it is solid steel coated in plastic. It holds 12 cans which is more than most .The price of $5.99 is great . It is much cheaper than many inferior product . My only complaint is that the angle of the topp rack could be a little more . I have place both of the racks that I purchased on a 1/4 inch high 1 1/2 inch board & it porks wonderfully . A great buy !
July 17, 2012
Rated

5

out of

5
 by
Amanda257
LOVE THIS!!!
this product does just as it should! very durable! i'm impressed!
June 29, 2012
Rated

1

out of

5
 by
susan123
12 can dispenser
This dispenser is too long for counter depth refidgerators and Container Store does not offer a shorter one.
June 19, 2012
Rated

5

out of

5
 by
Vanessa2004
Great Purchase
This fits easily in the fridge and helps makes much needed space in the fridge. I wish i would have bought at least one more.
May 24, 2012
Rated

1

out of

5
 by
wishuponastar
Doesn't work
The cans fall off. they don't roll from the top to the bottom correctly and then they all start falling off.
May 21, 2012