Rated

5

out of

5
 by
kberry1823
Not only holds butter, but is kitty proof!
Love this butter dish. New kitty knocked it off of a counter onto a porcelain tile floor and not even a chip in the dish or the floor!
August 25, 2015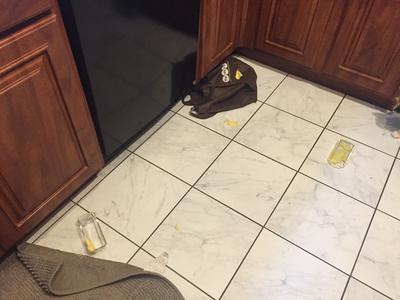 Rated

1

out of

5
 by
HemoglobinHeretic
Too smooth, even for glass
I'm uncertain whether the other reviewers actually used this butter dish, or I received one whose design has been recently changed, but the slope of the cover's sides and its too smooth, even for glass, texture make it hard, if not impossible, to lift the cover off. To take the top off, you'd have to flip the dish on its side and let the cover fall off and hope the butter won't fall out. Talk about design defects! Though it has a nice simple design, and you could enjoy the view of your butter through its clear glass and it has a nice heft, I suggest you take a pass on this glass butter dish. There MUST be better designed butter dishes elsewhere. Thanks for reading. H. H.
December 19, 2014
Rated

5

out of

5
 by
IrishOne
Glass Butter Dish
This 2-piece clear, glass butter dish is the perfect size and weight.
July 6, 2014
Rated

5

out of

5
 by
AHmom3
Simple
Good and basic. Just what I needed. Price is right.
April 26, 2014
Rated

5

out of

5
 by
JenSueB
Best Price Around
This glass butter dish is the most affordable out there. The quality is outstanding and the price is incredible! I had to order 400 of these to give out as sponsor prizes for a major event in our county. The service I received from the Container Store was exceptional!!
April 25, 2014
Rated

2

out of

5
 by
TravelingGirl42
Awkward
The sloping dome of the lid makes it difficult to take off the dish. I kept it because I really needed a butter dish, but I don't love this design.
March 21, 2014
Rated

5

out of

5
 by
develi01
Love it!
I had been looking for a good, basic butter dish for a while and was thrilled to find exactly what I wanted at the container store! Basic but classic! Love it!
March 19, 2014
Rated

5

out of

5
 by
nerdminnie
great product
Just what I was looking for (and knew I'd find it at the Container Store)
March 14, 2014
Rated

4

out of

5
 by
amwilson
Like the dish
The only detractor of this butter dish is the slick sides on the lid. It is difficult to pick up the lid without getting butter all over the inside, or having it slip out of your hands. The tapered top doesn't give anything to grip easily. And, if you have any hand troubles like arthritis, you will have even more difficulty. But, I love that it is a dish with sides so that if the butter melts at all, it doesn't run all over. Everything else about it is great.
December 2, 2013
Rated

5

out of

5
 by
TheHappyCooker
Simple Clear Glass Butter Dish
I have been looking for a plain butter dish to keep on my counter but also to be able to put on the table. This one fits the bill. Nice weight glass; will go with any decor.
April 13, 2013
Rated

5

out of

5
 by
ValDee
we love it! great product!
love the old fashioned feel and it keeps the butter perfect!
April 11, 2013
Rated

5

out of

5
 by
mozaix
Just what I needed!
Simple, classic, easy to clean. I just wanted a simple, covered butter dish without frills or crazy designs that clashed with my decor. I can't stand those "butter bell" type contraptions. I live in the desert southwest. In summer, the butter softens and falls out of the "bell". My only other choice was to keep it in the frig all the time--not spreadable. Since my cats LOVE butter, I needed a dish with a cover that they can't knock off easily. I wanted clear glass so I could see how much room temperature butter is available at any moment. This is the perfect covered butter dish.
February 28, 2013
Rated

4

out of

5
 by
DolceMamma
Simple, classic design
This classic, simple butter dish will work in any setting, making it an ideal purchase.
October 30, 2012
Rated

2

out of

5
 by
psg1
Wrong size for today's butter cubes
Today's sticks of butter are short and fat, but this dish was made for sticks that are long and thin, so the butter sticks to the inside of the lid and has to be pried loose every time it's used.
March 11, 2011
Rated

5

out of

5
 by
kswttu
nice and simple
It is very nice with simple lines. It replaced my old plastic one and this one looks much nicer on my counter.
February 18, 2011