Rated

5

out of

5
 by
BeverlyMom
So many uses!!
I first bought this as a spice rack, and I loved it! Then I started getting creative.. I have 2 more in my hall closet for medicines and I have another 2 hanging with all my nail polishes! The uses for these racks surpasses just a simple spice rack. Love them! For the nail polishes, they do bounce around a bit, but I can fit 2 rows of bottles per shelf with room to spare. You would not regret buying this rack, even if you do not need it for spices you will find a use for it!
March 18, 2016
Rated

5

out of

5
 by
Barbie8
fits small spaces
I needed more pantry space and a place to store spices where I could see what I have (three containers of nutmeg!). The spice rack matches my shelving and was easy to install. I used anchors just to be sure the rack couldn't be pulled down. It perfectly fit available space within my pantry. making use of unused wall space.
December 18, 2016
Rated

5

out of

5
 by
DeeBee2
Great Organizer for pantry in kitchen.
Excellent quality, easy to install, perfect solution to my 'drawer and shelf clutter' of countless spice containers. I bought 2 and installed them on the pantry door. Easy access when I am cooking and easy to put spices right back away.
December 8, 2016
Rated

5

out of

5
 by
L2SHAN
Best spice rack
I had also bought these years ago but unfortunately had to leave them behind when I moved.
October 17, 2016
Rated

5

out of

5
 by
alliecal
I mounted it to the cupboard door and its worked out well. It even holds a small ketchup bottle.
July 11, 2016
Rated

5

out of

5
 by
DXB21
Great Spice Rack
Bought one awhile back and returned to purchase another.
March 17, 2016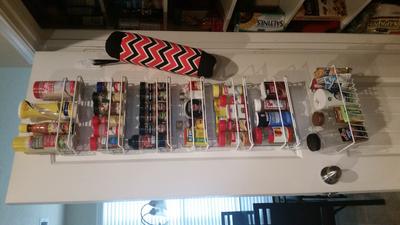 Rated

5

out of

5
 by
CraftyGirl29
Great product!
I'm so happy I found a spice rack for our small kitchen. This sits securely to the wall with the hardware provided (I mean, securely... this thing does not budge at all). And it's the perfect size to accommodate different size spice jars.
March 7, 2016
Rated

5

out of

5
 by
missmrsmz
Just What Every Home Cook Needs!
Saw this idea on Pinterest and immediately went on a hunt to find spice racks. These are perfect! Installation was a breeze, screws are included, it took maybe 5 minutes a piece (and that's only because I kept stopping to admire them hanging up lol). If you are thinking of putting these in your kitchen cabinet, I would recommend buying multiples instead of the 3-rack set just in case you need to adjust the height for your shelves for when the cabinet door is closed. Get these - your spices will thank you.
May 14, 2014
Rated

5

out of

5
 by
TCSismyAddiction
Use of Useless Space
I live in an old quadraplex where the kitchen has been updated but is still small and does not provide enough storage space. In the kitchen is an old ironing board storage area, unfortunately its not big enough to store pots and pans or really groceries. I then had an Ah-Ha moment and thought I could put my spices in the space instead... Ta-Dah!!!TCS had the perfect storage shelf solution and now I can happily put my old Ironing Board Storage area to good use!!!!
April 28, 2014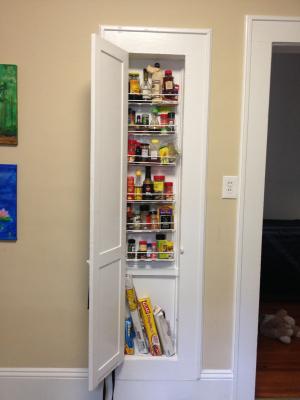 Rated

5

out of

5
 by
uglig
really handy!
Just the right size, sturdy and easy to put up. Also bought a single shelf unit to fit my large cabinet door space exactly. Wish I had done this years ago! Now I can finally see what I have at a glance and it actually makes cooking a bit easier and more fun. Well, almost.
April 16, 2014
Rated

4

out of

5
 by
ChrissyBear
Very convenient, wish it was a little bigger
I mounted this on the side of my pantry and it looks great. I was able to fit maybe 4-5 small spice bottles on each rack. There was a gap that was maybe 1/2 too small on each row so it was sort of like wasted space. I couldn't fit an extra bottle so I just squeezed in small bottles of extracts. I might get a second one just because I have so many spice bottles.
April 10, 2014
Rated

5

out of

5
 by
SpicesGalore
Problem Solved!
I have been looking for spice racks to fit on the back of my cabinet door forever. They were all too wide, not spaced correctly, or just not very functional. These spice racks are perfect! I got 3 of the individual wire racks and I could space them so they wouldn't hit the shelves in my cabinet. They are a good depth, not too much space but enough to fit some larger items. I can fit 5-6 spice bottles on each depending on how big the bottles are. I might be purchasing more of these racks for other spaces!
March 18, 2014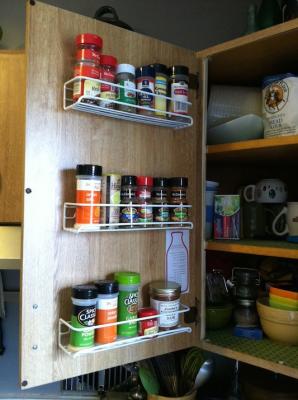 Rated

4

out of

5
 by
rwnall
Nice Product
Easy to install and very sturdy. I will buy three more to store other small jars.
March 14, 2014
Rated

5

out of

5
 by
DSJONES
Single Spice Rack
Love this item. I like the single racks because I was able to adjust the height and width on the wall. I didn't order enough since I have many spices.
March 5, 2014
Rated

5

out of

5
 by
geezerette
Excellent spice rack
This spice rack meets my needs exactly. It fits the space and holds my spices in a more efficient way than just turntables inside the cabinet. After reading other reviews, I was concerned about the depth of the screws. Since our kitchen is an expensive remodel, I wanted to be careful of the wood door. My solution? 3M Command hanging hooks. They fit the screw spaces perfectly, hold the rack securely and no worries about damage.
March 2, 2014
Rated

5

out of

5
 by
AnneN
OMG Love this spice rack!
I actually purchased 3 of these and hung them on the inside of my pantry door. I love how organized my spices are now.
February 22, 2014
Rated

5

out of

5
 by
Mainah
Spices revealed!!
Don't you hate pulling out that basket of spices and sifting through them one at a time before you find what you want - always the last one you look at? These screw-onto-the-doors spice racks immediately make those dark, unreachable spaces into models of efficiency, and allow you to see more on the actual shelves, too. Every kitchen cabinet door needs these!!
February 15, 2014
Rated

4

out of

5
 by
Mardella
They work great
I purchased 2 of these racks for spices. I had my bf screw them to the pantry door. The only problem is the screws are not long enuf so we needed to get different ones. Additionally, we put one screw on the top of the rack to hold it in place on the door. They shud put better screws in the packages. That's why I gave it 4 instead of 5 stars. A plus with these spice racks is that stuff won't fall out of the bottom of the racks because there is a lip on the bottom which is great. Great price too!
September 3, 2013
Rated

4

out of

5
 by
Guildheim
This spice rack does exactly what it needs to do.
Wall-mount spice racks are hard to find in my area, and I didn't want a spice carousel taking up my limited counter space. This rack is exactly what I needed, it's not fancy but it gets the job done. I wouldn't put a lot of weight in it and the screws should probably be about 1/4" longer to keep the rack more secure. But those issues don't matter if you're using it for just spices. I might buy a second one and mount them side-by-side.
August 11, 2013
Rated

2

out of

5
 by
DIYperson
OK product
The size of the rack was ideal for its purpose. The main problem is that the screws are not long enough to hold the rack to a door or wall. The way the rack is designed prevents the provided screw to gain a grip into the wood or drywall. Get some 3/4 - 1 inch screws to handle the job.
June 24, 2013
Rated

4

out of

5
 by
karena
Wire Spice Racks
I gave 3 of these Wire Spice Racks to my son because they have a small apartment and kitchen....they absolutely loved them and were able to put all their spices and some other items to store in them. They are very pleased!
April 27, 2013
Rated

5

out of

5
 by
RepurposeForArt
Perfect!
Spice rack worked exactly as I hoped. Easy to install and freed up so much space in my cabinets from my spices. It screws right into the cabinet, so if you can't or don't want to have holes in your cabinet, I would recommend something else, but otherwise, its perfect! I'll probably be getting another one soon!
April 26, 2013
Rated

5

out of

5
 by
wvallejos
Easy and Accessible
Not only does this spice rack make it easy to read the labels and keep it organized, but it makes it easy to track what you need.
April 13, 2013
Rated

5

out of

5
 by
2ContainME4U
Wire Spice Rack
Excellent spice rack! Now that I have installed them into my spice cabinet I find myself looking in all cabinets to see if one will fit. So many uses besides spices. They are sturdy and easy to install and a super great price!
April 3, 2013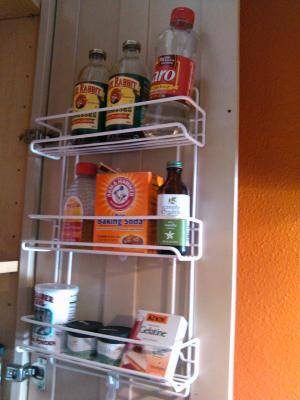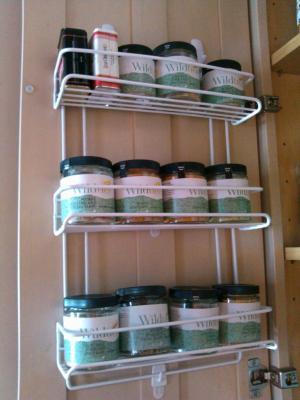 Rated

5

out of

5
 by
MsOrganization54
LOVE THIS
Perfect not only for spices, but anything else kept in small jars. Think workshops, craftrooms or even bathrooms for nail polish. Great product at a great value.
March 25, 2013
Rated

5

out of

5
 by
Organizinglady
Love these racks!
I bought 2 racks and put them on the inside of my pantry door. What a great way to store my spices. Absolutely LOVE these spice racks and would recommend them to my friends.
March 19, 2013
Rated

5

out of

5
 by
katyd
Great solution for lots of spices
This rack is wide for extra large spices, and holds about 15-18 regular sized spice jars. It is perfect to attach to a wall or door and hold all that you need it to.
March 19, 2013
Rated

4

out of

5
 by
Misch
Easy
Very easy to install, fits nicely even in small cupboards and holds items securely.
March 18, 2013
Rated

5

out of

5
 by
JulieJules
3-tier wall spice rack
I mounted rack on cabinet near my stove and has been so convenient making adding spices while cooking easier.
March 1, 2013
Rated

4

out of

5
 by
notmyrealnameduh
Nice and narrow
This spice rack is priced right, and fits in a tiny alcove in my pantry. However, I suggest NOT using the short half-inch long screws that come with the rack. Buy a giant box of drywall screws and use those.
February 22, 2013