Rated

5

out of

5
 by
longpointer104
Very effective
HIghly recommend these dividers; they make organizing a wide drawer a snap.
August 18, 2010
Rated

5

out of

5
 by
jalexlaw
Fit perfectly
These fit perfectly in the drawers in the Kitchen. They keep the utensils from getting hooked together and turned around when you close the drawer. These also fit in the lower cabinets that have the pull out drawers.
August 21, 2016
Rated

5

out of

5
 by
Titan777
Things where you need them.
This is my second set and they are an asset in the kitchen, they keep what you want where you want it and at your finger tips.
July 17, 2015
Rated

4

out of

5
 by
Rancholiebe
Did exactly what I wanted!
Kitchen drawer with knives, whisks, can openers - always junky and high likelihood of getting cut. Did exactly what I wanted by separating the cutting stuff from the stirring stuff from the measuring stuff.
January 18, 2015
Rated

5

out of

5
 by
Jmb260
It works
With the great help from your staff when my order/pickup was brought out to my car, I asked about another item. & explained to the sales person that I needed info on another drawer organizer, giving her the dimensions & items for the drawer. I was shown the dividers instead of the items I had questioned, the original items would not fit. These do the job in a VERY narrow drawer. Also made me organize it better & get out the items that really belonged elsewhere. Instead of going home with 1 bag, I went home with 2! CS may be my new favorite store for organization!
July 5, 2014
Rated

5

out of

5
 by
RedKeds
Adjustable and easy!
I purchased these for unusually narrow but long kitchen drawers. Since they are adjustable and tension mounted, they installed instantly and fit perfectly. I was very pleased with how simple, quick, and easy these were to use. Great product.
July 4, 2014
Rated

5

out of

5
 by
Snakers2
Simple but effective
I had my eye on a more elaborate drawer solution, but this was cheaper, so I bought it. It's perfect! The dividers keep the whisks amd spaghetti fork from hooking up. I don't feel like I'll have to "empty the drawer to find anything."
April 27, 2014
Rated

5

out of

5
 by
BayleeK
My Drawers are SO Organized Now
This product helps me keep all my clothing in perfect order! Best purchase I could have made.
April 4, 2014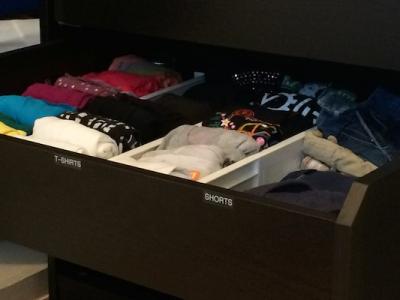 Rated

5

out of

5
 by
RASR
Great drawer dividers
I bought these to organize my utensil drawer in the kitchen. So far, the dividers stay put better than the last set I tried. They are a bit on the bulky side since they are spring loaded.
April 1, 2014
Rated

5

out of

5
 by
woodc33
Very useful!
I was skeptical about the plastic dividers for the drawer, but I was happily surprised that they work well and keep things neat. It was an inexpensive way to meet this need. Highly recommend.
March 25, 2014
Rated

5

out of

5
 by
WindRiversOrganizer
Snap it is Tidy
Straightened the jumbled utensil drawer in minutes. Cleaning and cooking is breezier.
January 19, 2014
Rated

5

out of

5
 by
cf762
Great product. I plan to buy more and organize my my drawers
December 3, 2013
Rated

5

out of

5
 by
Love2org
Great organizing product!
I love to use these in my kitchen--such a snap to use! Also love the ones you can use in your dresser!
March 30, 2013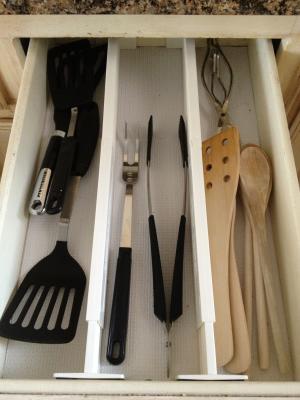 Rated

5

out of

5
 by
AZsunny
great way to organize your cooking utensil drawer
Literally took seconds to assemble and install this clever device and got immediate control of my chaotic utensil drawer. Being a disorganized person; this item gave me instant organization with minimal stress. End result? No more burnt food because I can't find the right utensil.
March 19, 2013
Rated

5

out of

5
 by
OrganizingOCD
going back for more of these!!
I bought these for my daughter's drawers to separate socks and other items. I love them!! They fit like a glove in the drawer but are easy to move given the spring system in place. I want to go back and get more for all the drawers in my house!!!
March 18, 2013
Rated

3

out of

5
 by
FrazzledWorkingMom
Leaves something to be desired
This is a great idea, but the overall quality is not what I expected. They are not as sturdy as I had hoped. The two pieces easily come apart if they are not held tight when installing or if they are not installed exactly perpendicular to the drawer front & pack. I bought too many of these expecting the same quality as the Elfa products and have been very disappointed.......
March 7, 2013
Rated

4

out of

5
 by
RetiredinMaine
Simple to use
Easy-to-use product separates drawer space as you need it. Dividers are plastic and seem durable.
March 4, 2013
Rated

3

out of

5
 by
SLoren
Skeptical But O.K.
A bit flimsy but works. I had a hard time installing it in the drawer, but once it was in it was very secure. It definitely helped the large drawer in my kitchen be organized and is keeping my large utensils in great order!
March 1, 2013
Rated

1

out of

5
 by
tripletmom1999
Great concept - poor execution
My husband went to move these over just a fraction right after they were put in and they broke. The flimsy tab holding the spring in place broke.
January 17, 2013
Rated

5

out of

5
 by
bellaa
They work well
I used these to divide up a very wide kitchen drawer. They work great and my drawer is now nicely organized! I wish I had bought these sooner. No complaints. Just be sure you get the correct ones for what you intend to use them for -- these kitchen ones are not as deep as the ones for a bedroom drawer.
October 29, 2012
Rated

4

out of

5
 by
mamajones
big help
I got these for a very deep kitchen drawer that was always a big jumble of utensils. It has made a nice improvement. It helps keep the drawer more orderly, but I feel like the depth is wasted. Maybe a 2nd set stacked on top of the first set would make better use of the depth? Possibly. The quality of the product is great and they look nice in my drawer.
May 18, 2012
Rated

2

out of

5
 by
nanis
Serves the Purpose, But...
These dividers are pretty flimsy, and they don't stay in place all that well. I used them to divide a small drawer into sections to store my silverware. They work, but I have to be careful not to dislodge them. I know if I had kids, they wouldn't last a week. I'm disappointed, but I am using them, thus 2 stars.
May 5, 2012
Rated

5

out of

5
 by
Merilamb
Useful and Goodlooking Purchase
I am so satisfied with the bamboo drawer organizer. It is roomy, expandable and very handsome. I want it for all my brother's kitchen drawers and mine as well!
April 25, 2012
Rated

4

out of

5
 by
Smartshop
Does the job!
Does exactly what it is supposed to do! Good purchase!
February 14, 2012
Rated

4

out of

5
 by
NJJane
Great Storage solution
I used these to keep all my kids pots and cups in place - makes a huge difference to a large drawer space.
December 1, 2011
Rated

5

out of

5
 by
Shannocita
Great buy!
These are great, the are super-easy to install and do just what you expect. They stay in place and work like a charm. I would buy them again.
November 23, 2011
Rated

5

out of

5
 by
Ginseng
It works!
I'm using this for a large drawer in my kitchen which holds spatulas, ladles, mixing spoons, etc. It is so convenient to have everything organized rather than jumbled. Love it.
October 17, 2011
Rated

5

out of

5
 by
Missouri
Love them
I bought these for 2 of my utensil drawers and think I just might be able to find what I am looking for now. Would highly recommend them if you like being organized.
September 19, 2011
Rated

5

out of

5
 by
Coco318
Dream Drawer Organizer is AWESOME!
I love these drawer organizers! They were effortless to install and they work great.
July 1, 2011
Rated

4

out of

5
 by
HappyHome1
Great Product
So far it works terrific. I have used drawer organizers for kitchen utensils and they usually don't hold or break after awhile. So far, these are holding well and keeping my kitchen utensils organized and unjumbled.
May 12, 2011