Rated

5

out of

5
 by
bookmaven
Excellent, Excellent Excellent
This is by far one of my favorite of all the "clear" products the Container store offers. I've moved this baby around so much and it still holds my earrings in place. It holds a ton of studs. I use the small holes for studs, the hanging earring area specifically for feathered earrings and the long hang necklace area for quirky or delicate necklaces. I've had mine for several years now and it holds up wonderfully. I use this container in addition to having created a designated elfa peg board specifically for necklaces and bracelets and another for hanging earrings. It's a great space saver. I also use the elfa jewelry trays and find this jewelry screen to be an excellent compliment to it as well as the elfa utility board for my earrings and necklaces. If you have a fairly diverse collection of earrings and jewelry I think that you too will find this item as a great compliment to other CS products for jewelry organization
September 2, 2014
Rated

5

out of

5
 by
ReginaGeorge
love it!
I love this product! Holds all of my earrings and my good necklaces. Tiny hoops are tricky to get through the holes but place them on the scallopedido edges and they fit fine.
June 21, 2014
Rated

5

out of

5
 by
Azukipie
Why did I wait so long?
I had been eyeing this for a while but wasn't sure it was what I needed. But for my birthday I decided to just go for it. Now I'm just mad I didn't do it sooner. I find it to be very customizable for what ever type of earring you have (although I will admit that not all plain lever back earrings fit). I love that it folds down to make a small footprint AND I love that it is clear. For some reason with me out -of-sight can mean out-of-mind and then translate into never-worn so having this clear display on my dresser has caused me to wear more of my jewelry.
April 7, 2014
Rated

5

out of

5
 by
bennie25
Better than expected
I got this as a temporary jewelry holder until I could figure out a more permanent solution...but it looks great the way it is! I was really surprised at how much could fit into it. It saves so much clutter and space. Also, all of your jewelry is layered over each other into a very pretty looking set up. The only con is that noise it makes when all of your jewelry is hitting the acrylic. It can get loud in the early mornings.
March 17, 2014
Rated

5

out of

5
 by
waccon
So far I love it!
I haven't had it long, but so far I really love it. It fits a lot of earrings and several necklaces. I arranged my earrings by color and it really helps to see them all at once instead of digging around in multiple little boxes like I had before. It folds up and takes very little room on my dresser. Minor issues: It takes a few seconds to reach over and undo the earrings as opposed to having them in a box or tray. I had a few pair that had very tight/small hoops and couldn't get them through the holes so I had to just 'hang' them on the screen. Not a biggy, but would have preferred to put them through the holes. Bigger earrings will overlap or take more space than one pair of holes. Overall it has been a great solution and I am very happy.
September 9, 2013
Rated

5

out of

5
 by
Sissywest
College girls wish
My granddaughter is a freshman in college and had a friend who had one. She was able to fit all her jewelry in this easy to see case that folds. She has the Black Dress holder, but loves this one.
August 20, 2013
Rated

5

out of

5
 by
surggyn
Compact, Large Capacity
This folding jewelry screen can hold a lot of jewelry in a small countertop space. It easily accommodates numerous pairs of studs, hoops and dangling earrings in the center. The outer wings hold many necklaces and bracelets. The entire unit closes up to be dust-free. All options are easily visible when the screen is opened fully. It has made jewelry selection much easier than digging around in a box or bag.
April 26, 2013
Rated

5

out of

5
 by
tybye
Oustanding Purchase
I bought one of these at Christmas. Both daughters wanted it for their jewelry - now we each have one. great for organization and decorative.
April 18, 2013
Rated

5

out of

5
 by
LiaL
Great Quality
I am actually happy now that I broke my old jewelry organizer because it brought me to this one. I really like how well it is designed to hold my earrings and necklaces. It is a good quality organizer that will last me for many years.
March 18, 2013
Rated

5

out of

5
 by
myalkalik
Love it!!
This is a great product! Holds lots of earrings.. studs and dangling ones and still has plenty of space for necklaces! I also love how it folds together so it doesn't take a lot of space!
March 18, 2013
Rated

5

out of

5
 by
Fabi18
Pretty+pretty useful
Best buy I've made at the store! (And I buy a lot there) It's not just for earrings, it can hold rings and necklaces too. Beautiful look, simple and classic, super useful and great display!
March 18, 2013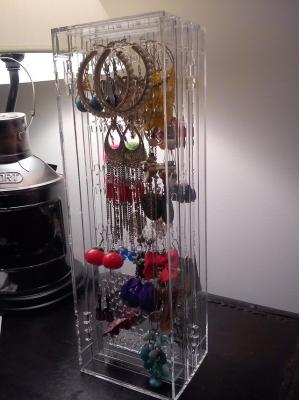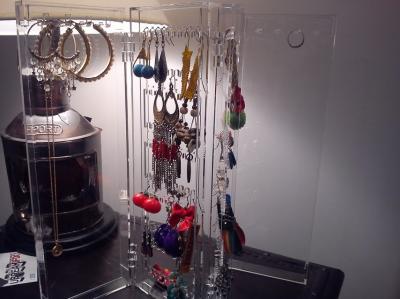 Rated

5

out of

5
 by
Prescott2
the best gift for a dorm living
This folding screen keeps everything in order and visible. But the best part is that it is easy to pack up and move. Moving from dorm to dorm or to an apartment is such a hassle.This screen folds up securely and off you go. No more untangling necklaces after moving.
March 18, 2013
Rated

5

out of

5
 by
CMAG
Great earring organizer
This product is amazing to put your earrings you can see all of them at the same time. I guess they are mainly used as earring display but I am a very organized person and love earrings so I use this at home.
March 3, 2013
Rated

5

out of

5
 by
KimR
great product!
I love this, it is pretty enough to put out on my dresser and I can see all my pretty earrings and necklaces at a glance.
January 6, 2013
Rated

5

out of

5
 by
DJones168
Best Earring Holder for the Monday
This is a very reasonable storage option that allows you to easily stored LOTS of earrings and it doesn't take up too much room or stand out to much. I can finally see all my earrings at once and I have been thrilled with this purchase.
March 26, 2012
Rated

5

out of

5
 by
Superimpose1977
Must Have....
Purchased becuase my earring collection has rapidly expanded....but if out of sight....out of mind. Great for display purposes and if you're working with a small space for storage. So popular that when my mom complemented me on it and asked where I'd gotten it I went back to purchase one as a stocking stuffer for her for Christmas.
November 29, 2011
Rated

5

out of

5
 by
Babyboo
Great Organizer but dont drop it.
it's a great organizer to store your necklaces and earrings. I dont really think you can store 158 pairs of earrings as stated in the description but it should be able to handle a decent # of earrrings. You can either leave it open so it stand like a folding divider or you can fold it together so that it looks like a retangular box and keep the dust of your earrings. Overall, it is decent for the price. However since it is made of acrylic, (plastic), it's not meant to withstand a drop, so if you accidently drop it, you will most like need to get a new one.
November 22, 2011
Rated

5

out of

5
 by
NeedsToOrganize
Better than earring screen
I like this product for organizing earrings and short to medium length necklaces. I also purchased the earring acrylic screen and find that the earrings fall off. That is not a problem with this product. I think the fact that the folded acrylic folding jewelry screen is a closed box means that if something did fall off it would be less of a problem.
September 11, 2011