Rated

5

out of

5
 by
Eeore58
Perfect
. Purchased 2 sets and the fit my drawers perfectly.
July 9, 2016
Rated

5

out of

5
 by
Wats
An organizer's dream
Such a great way to organize and spruce up my desk drawer. I plan on using three of these drawer sets to store my home office supplies and make up! I used some leftover paper placemats for a fun lining since these drawers are clear you can use any fun pattern to add color to your organized space
August 11, 2015
Rated

5

out of

5
 by
mariu
Great Desk Drawer Organizer
I liked this so much I went back and bought another. Fits very nicely in my desk drawer.
March 22, 2015
Rated

5

out of

5
 by
Grandbabies
Display Units
Product worked great for displaying our skin care line
March 13, 2014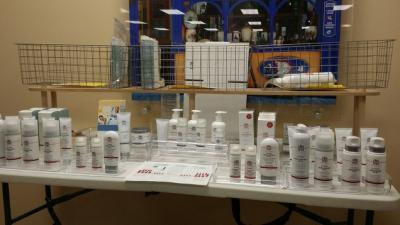 Rated

5

out of

5
 by
KitKat26
I love this product!
I bought one set in the store for the top drawer of my nightstand. I liked it so much that I ordered another set. I have both of the sets in the one drawer. I keep them in the cardboard tray that they came in so they don't slide around. However, I didn't like the picture of the office supplies on the bottom of the tray so I cut out a piece of fabric to put in the bottom of the trays. It looks fantastic! They keep everything organized, and I love this product!
May 12, 2013
Rated

5

out of

5
 by
nmc2
Finally Organized!
I love this Drawer Organizer and my desk area is finally organized!
May 2, 2013
Rated

5

out of

5
 by
lesmis012000
Acrylic Drawer Organizer Set
I LOVE this set. I had been looking for a clear set that was sold together. All I could find were ones that were sold separately, which was very expensive. I came across them while in NYC and grabbed 2 sets because they were on SALE! They are heavy duty, and fit perfectly in my drawers. I also am very happy that they stack and I can see through them to see what is underneath on the bottom level. I will purchase more in the not so distant future.
March 22, 2013
Rated

5

out of

5
 by
space
great value and versatile
I recently purchased these drawers to subdivide a small 3 drawer antique wooden box I have to convert it to a jewelry box. I bought them because they are see through and had several sizes-- they have made my box so much better and for a very small investment.
March 18, 2013
Rated

5

out of

5
 by
Magnaronomous
Perfect Fit!
This worked great in our narrow kitchen junk drawerm, with a compartment for everything. To keep from sliding in the drawer, I kept the individual boxes in the cardboard box it was wrapped in so compartments move as one unit. Quality product.
March 12, 2013
Rated

5

out of

5
 by
Lolita
Useful and beautiful
I have been purchasing these drawer organizers for years, I love them, you can use them in any space, inside or out and it always looks clean. Generally, I like clear containers, because you have to keep them clean and organize and can't hide the dirt and mess :)
February 18, 2013
Rated

5

out of

5
 by
Maggie13
Acrylic drawer organizers
Veritile, worked great doe nightstand will order more in the future
February 1, 2013
Rated

5

out of

5
 by
TennSwimMom
Finally! A good way to organize my makeup drawer!
I bought one of these to start organizing my makeup drawer and use the space efficiently. After it arrived and I tried it out, I bought 2 more sets--one to finish organizing my makeup drawer, and one to do my drawer in the kitchen where I put my essential daily items for family communications--paper clips, business cards, extra eyeglasses, etc. Very handy sizes.
June 23, 2012
Rated

5

out of

5
 by
Nudubarb
Versatile, well designed, durable way to organize
Great design--compartments hold a range of office supplies and craft supplies. Durable, clear plastic holds up well + makes it easy to find small items within the compartments. Recommend highly.
April 28, 2012
Rated

5

out of

5
 by
Maroosh
Love!
This organizer fits perfectly into my desk drawer and it keeps me so kept together and organized. I put pencils and pens in the long draw. In the 3 smallest drawers, I put paper clips, pushpins, and erasers. And the other two drawers are for just random small things, like stray earrings, so that I don't lose them. I love these drawers! I'm considering purchasing another
April 13, 2012
Rated

5

out of

5
 by
Verified Reviewer
Excellent use of space
Purchased a large amount of these acrylic drawer organizers due to a large internal corporate office move. Everyone has utilitized these organizers in their spaces and just rave about them. We purchased many other organizational items as well and its made staying organized so much easier on a large scale!
March 19, 2012
Rated

5

out of

5
 by
arogers
Love these!
These drawer organizers are the best! I use them for everything! Scratch resistant.
March 14, 2012
Rated

5

out of

5
 by
milocoop
neat and tidy
a place for everything and everything in it's place.... plus it is clear so it allows me to see my sweet looking drawer liner
March 7, 2012
Rated

5

out of

5
 by
Stack9
Just what we needed.
Great for keeping large drawers organized and also seem well constructed. Not cheap.
April 10, 2011
Rated

5

out of

5
 by
ellarose
a must have for a college dorm room desk! keeps everything so organized, and makes it easy to find everything
February 8, 2011
Rated

5

out of

5
 by
jennjtill
Great organizer set
They are stackable & have different sized storage units which is nice.
April 24, 2010
Rated

5

out of

5
 by
ChaosCured
Flexible Drawer Organizers fit the spot!
I had a wide but pretty shallow drawer to organize with all kinds of office gadgets. I bought several packages of these acrylic organizers as a solution. I can move them around to whatever configuration I want, and they stack! Since they are clear, you can see what's in the bottom one from the side or through the top one. They are well sized for a variety of office stuff and are working out beautifully to tame the office supply chaos that had overwhelmed the top of my desk.
April 8, 2010
Rated

5

out of

5
 by
Nicole
Great for kids' work spaces
These see-through organizers are perfect for kids' desks - so versatile, durable and can be used for anything, and being see-through it's easier for kids to keep their space clean. I also like to use them in the medicine cabinet to corral like items, cough drops etc - and still be able to see what's on the top shelf. Awesome!
March 5, 2010