Rated

5

out of

5
 by
Madre2five
Small Closet Solution
I purchased the sweater and shoe organizer and they fit in a tiny closet in my old house as if they were made for it. Sturdy and I love the color. Found boxes that fit perfectly inside to make a "drawer" for socks! Small room solution to a dresser. Love it!
January 8, 2017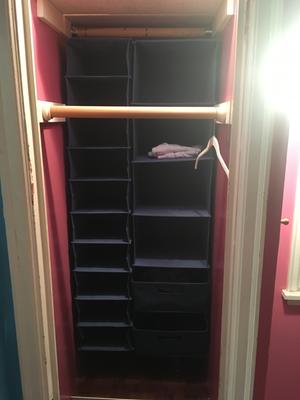 Rated

5

out of

5
 by
Moony
Closet Improvement!
I bought this after reading "The Life-Changing Magic of Tidying Up." One recommendation in the book is to fold, not hang, clothing. I have stuffed this sweater bag full of neatly-folded sweaters and long- and short-sleeved t-shirts. The top remained completely flat and level - no bowing at all! I highly recommend this! I didn't find any at other stores or online that had the glowing reviews like this one, and they were accurate.
March 20, 2016
Rated

5

out of

5
 by
Sunnybrook100
After searching for the right product...
I have spent a number of years looking for a reasonably-priced hanging shelf system, and every time I have purchased one in the past, it has been flimsy and not able to hold more than one item on each shelf (at the most!) This held its shape with multiple sweaters in each compartment, and I am extremely pleased with this product after being disappointed with everything I have tried in the past. Definitely happy with this purchase!
November 29, 2015
Rated

5

out of

5
 by
Chris01
This 6-Compartment Hanging Bag is a great purchase
When I open my closet door now and see this deep blue canvas shelf, it fills me with such satisfaction. At last a tidy appearance to replace what I had settled for before buying this terrific item. I'm glad I didn't get the natural color, which was out of stock, because the deep indigo is a very satisfying color. The items I have placed on the shelves are within easy reach. Some are folded like thick sweaters. Some items are rolled to get more on the shelf since I wear long sleeve sweatshirts and other type tops besides just sweaters. Everything about this item and the quality of I would highly recommend to anyone. Thank you
November 23, 2015
Rated

4

out of

5
 by
Crippy
Hanging storage
This item was exactly what was pictured. It has deep pockets that I use to store sheets for my guest room.
July 6, 2015
Rated

5

out of

5
 by
rarejewel2011
Increased closet capacity
Before this purchase, we folded the clothes that didn't fit in the closet or dresser and put them on the closet floor. Now, they have a much better place to go! This set of compartments is sturdy and looks great.
September 15, 2014
Rated

5

out of

5
 by
wanderme
Useful
this is very helpful in organizing my closet. I used it for light weight long sleeve shirts, and color coordinated them.
May 1, 2014
Rated

5

out of

5
 by
universitychick
Works for dorm living
This hanging sweater bag has held up perfectly after an entire year of being stuffed in a tiny dorm room closet. The shelves are still straight and strong (not like cheaper versions where the shelves fold in half with any significant weight) We were even able to find some little storage bins that fit in the bottom two shelves ---great for storing lingerie. The hooks held all the weight, no rips in the fabric. Great quality and well worth the price!!
April 25, 2014
Rated

5

out of

5
 by
BAryn
Works great
I got this for my son's closet. It works great for his clothes that need folded instead of on hangers and I can see them all well. It is also very sturdy. I have each compartment full and I'm not worried about it coming apart.
April 2, 2014
Rated

4

out of

5
 by
Jazzchick
I like the blue color
Im so tired of every thing being either black or cream things get lost in black and the cream gets dirty Blue is a nice alternative.
March 11, 2014
Rated

5

out of

5
 by
CindeW
Another High Quality Product from Container Store!
Not only is this product easy to set up, stable, and attractive -- it lets me keep my sweaters organized and in shape. Not living in really cool temps, I can also use it for a variety of things to keep at my finger-tips when dressing...or undressing -- like socks and overnight clothing. Great product and addition to my now really organized closet!
December 21, 2013
Rated

4

out of

5
 by
Raspberry
Cool
Great purchase I bought. I was looking for something to put my additional shoes, since I'm short on space. This bag can in great use. If off the floor. I don't have to bend down to get my shoes anymore.
July 14, 2013
Rated

5

out of

5
 by
MommyofFour
Great for creating space!
My husband had SO many sweaters, vest and jackets cluttering his closet. They took up a LOT of space that could otherwise be used for hanging shirts and pants. It never really occured to me none of these tihngs needed to hang/be ironed and they could simply be folded. Then I saw this product on the site; they get folded but are still in sight and I get lots more space in my closet! It looks very neat too. I was able to fit up to three sweaters. For bulkier items like hoodies and light jackets, I just rolled them up and was able to fit in two side by side. It also seems sturdy and well made. Love that it can be hung and doesn't have to be slid onto the rod like other sweater bags. Great purchase.
April 30, 2013
Rated

5

out of

5
 by
travel5
Great way to organize closet without shelves
Love this Hanging Sweater Bag. It gives the convenience of shelves without actually having to install shelves.
April 7, 2013
Rated

5

out of

5
 by
StenoRPR
Great for purses!
I was looking for something specifically to store purses in my closet. This is a sweater organizer, but here in Florida, I don't have many of those. But because it's for heavy sweaters, the whole product is sturdy and thick. The "shelf" dividers are heavy duty and don't bend under the weight of several purses in each cubby.
March 28, 2013
Rated

5

out of

5
 by
kelly92
works great
Helpful for adding room in the closet. hangs nicely on the closet rod.
March 20, 2013
Rated

4

out of

5
 by
1artiste
Organizing hanger bag
I have chosen to fill this bag with large purses and misc. oversized items. I like having the items within view and also being off the floor. The best part is actually using the items, because when they are tucked away, they seldom get used.
March 9, 2013
Rated

5

out of

5
 by
Veggie
Best Buy Ever
I love this product because you can use it for so many things. For example I use it not just for hanging up sweaters but I use it to plan out my outfits every day of the week so I don't have to rush around in the mornings
February 13, 2013
Rated

5

out of

5
 by
LarryHome
Great space saver and organizer
I bought two Firenze 6 Compartment Hanging Sweater Bags for the bottom rung of my daughter's closet. They are great, and we just collapsed the bottom two shelves as our space was more limited. As we did not have to cut them, we may be able to use them in a taller space another time..
September 26, 2012
Rated

5

out of

5
 by
AuntRuth
Hanging Sweater Bag
It is well constructed and I love the color. It will work well for me.
March 31, 2012
Rated

5

out of

5
 by
NewWalkInCloset
great quality and sturdy
I bought two of these. They are very sturdy and provide great storage (can fit three "fat" sweat shirts in each compartment).
March 21, 2012
Rated

5

out of

5
 by
EC492
Great Product
This is a great addition to my closet. I store various items of clothing, from jeans to sweaters to camisoles. It has freed up a lot of space in my closet. The quality is great. It keeps its shape, even when empty, and can hold a lot of weight.
March 19, 2012
Rated

5

out of

5
 by
jery
Sturdy & Better than expected
I bought this to replace a cheaper version that had broken at the seams towards the top. I've had it for a week completely filled with everything from tank tops to jeans. No rips so far, and it's even roomier than the last one (the kind that used velcro). Getting another one of these for the rest of my clothes.
March 5, 2012
Rated

5

out of

5
 by
Annie1234
Works Fantastic
I originally bought this product for sweaters and purses. Much to my surprise, it works great for high heel shoes and holds two pairs per shelf! Very sturdy and looks nice too.
February 27, 2012
Rated

5

out of

5
 by
kevinx
Make my room so nice!!
useful!! help keep everything really neat! I have a small room and it help keep thing the way I like it,
February 20, 2012