Rated

5

out of

5
 by
Happyinthe626
The solution I was looking for!
I was looking for something that my husband can use as a valet as he would use the trim around the door of the laundry room after ironing his work clothes. At times I would run the washer and/or drying at night so I'd need to close the door. I liked how it could be hung over the door and didn't need to be mounted. However, it could also be mounted. I would actually rate this 4.5 stars because as it does hang lower and sticks out when in use, which gets in the way a bit if clothes are hanging on it and you're walking through the door. Minor thing though.
January 21, 2017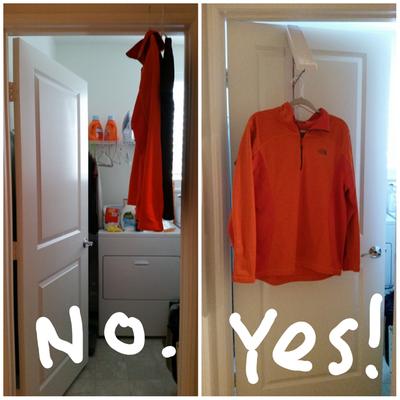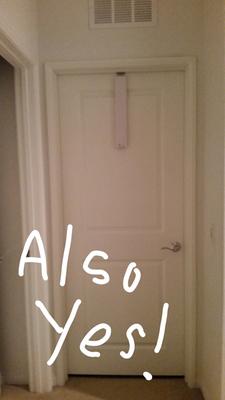 Rated

5

out of

5
 by
pottergal
great rack for the laundry
I have a compact laundry room. This hangs well over the pantry door and is there when needed.
August 3, 2014
Rated

4

out of

5
 by
Sarampg
Love this, but we aware
I love the InstaHanger...it has worked perfectly for us BUT be aware that the over the door hook it comes with is meant for indoor doors only. I tried putting it on my back door and the hook was not wide enough. We had to screw it in instead.
June 26, 2014
Rated

4

out of

5
 by
BevG
great use of space!
I have this over the door to my bedroom. I use it when I am organizing clothes right out of the dryer or when I am ironing them and need to just hang them before organizing. Its strong and holds a bunch of hangers.
June 21, 2014
Rated

5

out of

5
 by
BondFanGirl
great - no mounting necessary
Great for a situation where you have a door near the dryer and need somewhere to hang a garment (or 5 or 6) on a hanger. No mounting necessary - that really sold me on this product - just attach the metal hanger and then hang it over a door. And it closes away when you don't need it.
May 4, 2014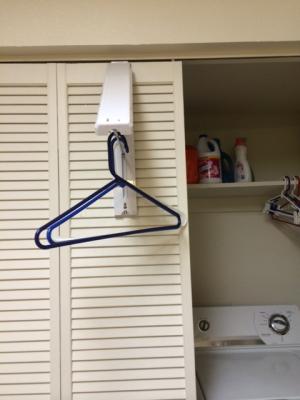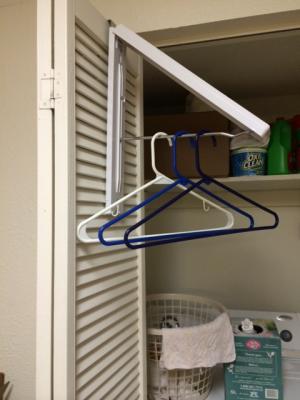 Rated

5

out of

5
 by
justmovinin
Perfect
Just moved into a new home with a small laundry room. This is perfect - easy to install and holds just the right amount of clothes. When not being used folds out of the way.
February 17, 2014
Rated

5

out of

5
 by
krb1114
Love this product
I was excited to find this product as I had been looking for a holder to hang clothes on when ironing or to hang dry, etc. This works perfectly and I love the way it closes when not in use. Very happy with this purchase.
February 13, 2014
Rated

5

out of

5
 by
Verified Reviewer
Perfect for my needs!
We like to hang our clothes straight out of the dryer, but our laundry room is too tight for a conventional hanging rod. The InstaHangar works beautifully! When not in use we can fold it down so we don't bang our heads against it, and when we do need it we can pop it back out. Not only is it convenient, but it is incredibly strong - we've had over a dozen denim jeans hanging from it with no problems! We highly recommend this product.
April 26, 2013
Rated

5

out of

5
 by
Stonehedge
Super handy
Bought this for the laundry room for hanging clothes as they are ironed. It is perfect and very easy to install...includes a paper template that it is fool proof.
February 25, 2013
Rated

5

out of

5
 by
NYDOLL
This is a great help for a small closet!
I have a very narrow but deep entry way closet....it was always really useless with a rod hung across the back...not many coats fit and it had a lot of wasted space. I had shelves put in the back of the closet and use this insta-hanger at the front of the closet for guest coats. I had plans to have it attached to the wall (and even thought about one on each side of the closet) but for the moment it's been hanging over the door, and is perfect. When I'm not using it it's out of the way and when I need it, it's easy to pull out and hand coats on.
February 18, 2013
Rated

5

out of

5
 by
Verified Reviewer
Just what I was looking for!
This is fantastic! I have been searching for something to hold some wet clothes while they dry, in my laundry room. I don't have a lot of space so this works perfectly. It can hold eight to ten items with room to spare. LOVE IT!
January 24, 2013
Rated

5

out of

5
 by
gbrod
Great Addition to my Laundry Room
Like to hang shirts right out of dryer to prevent ironing, but had no place to hang them except on a handle of my rug cleaner. Now, this product is perfect for my needs.
May 22, 2011
Rated

5

out of

5
 by
Shortiex8
Fits the bill!
My old, old over the door rod broke recently and I was in a quandry over what to do with things coming out of the dryer. I found this over the door hanger online. I am very pleased with this product and how it self stores when not in use! Highly recommend this product.
August 9, 2010
Rated

5

out of

5
 by
CinderellaB
Perfect for Laundry Room
I have three in our laundry room to air and hang dry clothes. I like how they close up and are unobstrusive when not in use, but still hold a fair amount of clothes.
July 16, 2010